The Line Austin, the third hotel in Sydell Group's 2014-launched The Line brand following openings in Washington DC and Los Angeles, has opened its doors. Marking a collaboration between the group and a local pool of creative and design talent, the 428-key hotel occupies the former Crest Inn, a modernist, mid-century building that is part of an evolving downtown landscape.
Once home to a dance club and radio broadcast station, the structure forms a distinct modernist fixture in the Austin skyline, and has undergone a comprehensive renovation with interiors overseen by Los Angeles-based Sean Knibb, and architecture by Michael Hsu.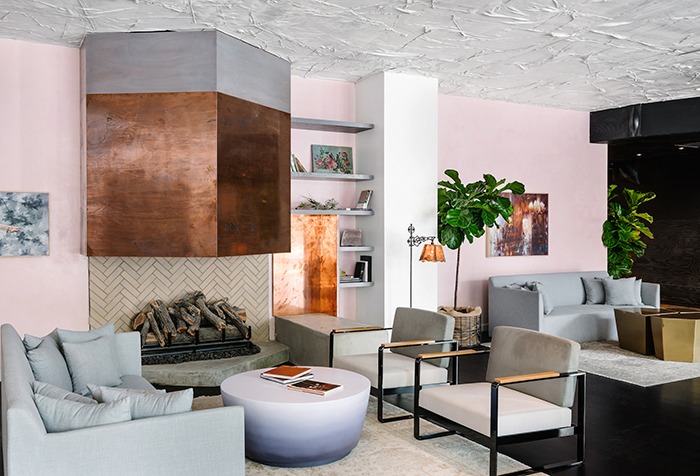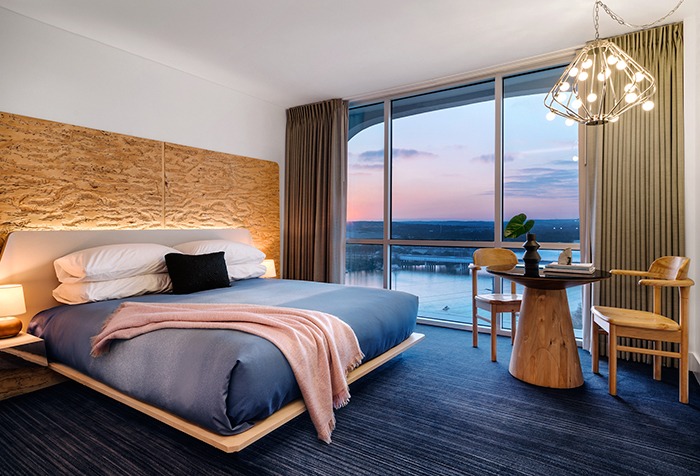 Comprising a lobby that blurs the line between indoors and out, a wooden-clad central bar designed by Bastrop-based artist Michael Wilson that overlooks the lake and Congress Avenue Bridge, over 500 original pieces of art by Central Texas artists, an artist studio and residency programme, The Line Austin, like its sister properties, highlights local culture, and is intended as a reflection of the surrounding neighbourhood.
Elsewhere, the F&B programme includes Arlo Grey, the debut lakeside restaurant by chef Kristen Kish, a Top Chef winner from 2010, who melds technique rooted in French and Italian traditions with explorations of Central Texas ingredients. Interiors feature personal touches in the design, including artwork made from Kish's cooking notebooks and childhood mementos, along with floral illustrations of Dayflower, an indigenous perennial.
Brian Floyd heads up the beverage programme with a menu of classic cocktails, whilst an outpost of Los Angeles-based Alfred sits in the lobby. The property also incorporates an infinity pool serving cocktails and poolside fare.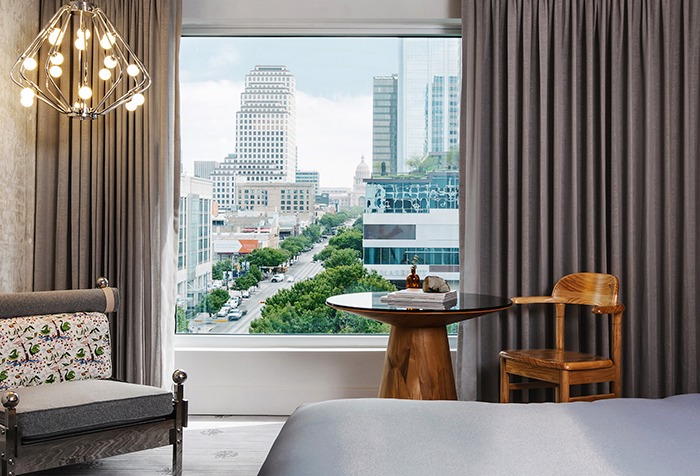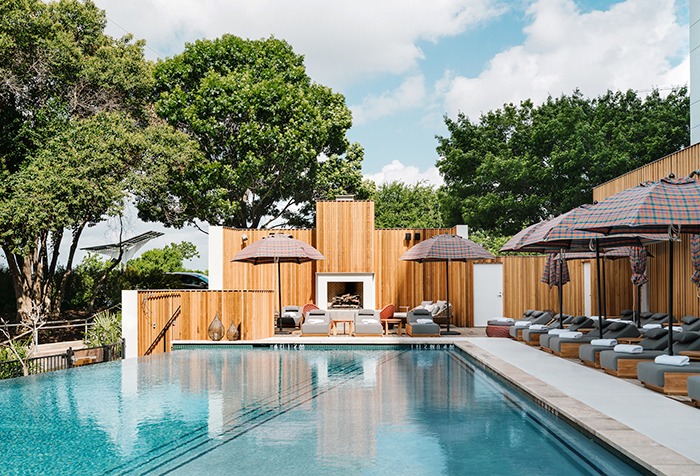 The 428 guestrooms, featuring 108 suites, are available in 11 configurations including Lakeside Suite, Town Lake Studio and River Suite, emphasising the views each side of the hotel affords. Guestrooms balance old and new by way of a minimalist design focusing on the essentials: bed, desk and chair. Exposed concrete columns, finely patterned wallcoverings and sandblasted plywood headboards add texture, whilst a lounge chair with chrome piping and saddle leather straps brings together ranching culture with the hotel's modern sensibilities.
20,000ft² of meeting and event space, incorporating the Onyx Ballroom, a screening room and display kitchen, complete the amenities, whilst Sydell Group's signature cultural programme will again play a large role, from partnerships with local organisations and music performances drawn from the acclaimed Austin music scene, to bat viewing at Congress Avenue Bridge – home to the world's largest urban bat colony.