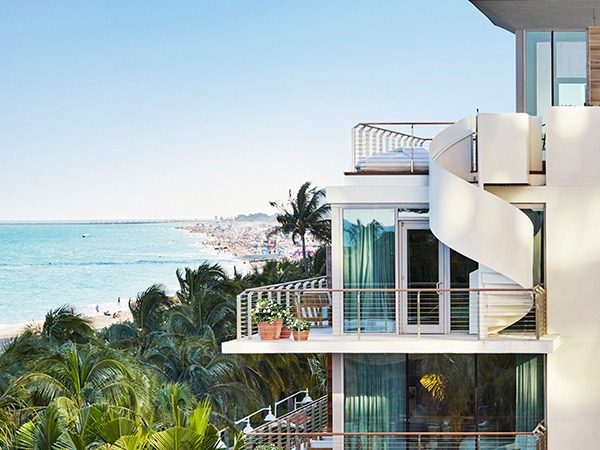 The opening of the Miami Beach Edition, a next-generation urban resort by Ian Schrager in partnership with Marriott International, offers the city of Miami a unique waterfront complex designed for 21st century recreation, socialising, networking and business.
Located in the Mid-Beach area, the historic heart of Miami Beach between North Beach and South Beach, the latest hotel sits on a three and a half-acre private enclave stretching from Collins Avenue to the ocean shoreline. The project represents a careful renovation of the historic Seville Hotel, built in 1955, which was for many years a global playground for the rich and famous, and was regarded as one of the most prestigious hotels in the Mid-Beach area.
The Miami Beach Edition is an elegantly designed, intricately interlinked complex of structures, spaces and settings that together offer a new kind of resort environment. Every aspect of the traditional beach hotel has been reimagined for the needs of a new generation, with emphasis on enhancing a guest's stay for relaxation or for work. It comprises 294 individually designed guest rooms and suites, including 28 private bungalows, some with two stories, and a spectacular rooftop penthouse, together with an unusually wide array of public spaces, dining and drinking places, landscape and resort features, event rooms, entertainment hub, and other amenities.
Arne M Sorenson, President and CEO at Marriott International comments: "Ian Schrager will once again redefine the destination with the opening of Miami Beach and a one-of-a-kind experience that only he could create."
The Miami Beach Edition embodies a lifestyle revolution for a new generation of businesspeople. Based on the thought that today's professionals have little interest in doing business in a formal or tradition setting, and prefer to work in places of comfort and style, staying fully connected anywhere, the resort will not only integrate work and play, but combine it with the elevated experience and superior levels of comfort and convenience.
"We're rethinking the relationship between a resort and a businessperson," explains Ian Schrager, "and we're saying, you'll be able to come here for your business, and why shouldn't you be able to have fun, and enjoy life while doing business, and networking, and being with a lot of like-minded people, in a new kind of space that is almost a kind of business club."
The hotel lobby, with pristine white marble floors and polished white pearl Venetian plaster walls, highlighted with subtly variegated tones of gold and the deep green of indoor palm trees, will bring to mind such iconic gathering places as the world-famous Coconut Grove in the golden age of Hollywood. One of the few hotel lobbies in Miami Beach to offer a view of the ocean, the spirit of the space can be summarised as "barefoot chic", or "new tropical". Filled with a variety of comfortable seating groupings and intimate lounging areas, the lobby will embody the Edition's next-generation spirit, a place where the lines between work and play, socialising and networking, begin to blur.
Just off the lobby is the Market, an imaginative reinvention of the classic 24-hour Miami Beach coffee shop by Michelin star chef Jean-Georges Vongerichten. Offering its own street entrance on Collins Avenue and inspired by the century-old markets of San Miguel in Madrid and La Boqueria in Barcelona, this 21st century food bazaar will offer casual gourmet fast food around the clock at a series of bustling counters, an open-air café overlooking the avenue, and a take-out area. "Just like the great old coffee shops on Collins Avenue," Schrager notes, "it's a place that can be your first stop of the day, and your last stop of the night."
Over on the beach side of the hotel is two stylish interior spaces that evoke classic Miami Beach elegance and sophistication: the Ocean Bar, a chic, elegantly designed lounge whose wide glass walls overlook the Atlantic, and the Matador Room, the hotel's main restaurant. A grandly proportioned, glamorous oval-shaped space that recalls all the excitement of Miami Beach's heyday, the restaurant is where Jean-Georges will create a modern interpretation of Latin cuisine influenced by Spanish, Caribbean and South American flavours.
These rooms will link to the hotel's extraordinary outdoor resort area, named "Tropicale" in honour of the historic 1950's Havana nightclub that inspired it, the Tropicana. Landscaped by Madison Cox, a series of landscaped outdoor rooms, each with its own personality, will offer guests different kinds of experiences over the course of the day, but link together seamlessly to create a single relaxing environment, transforming the evening into a magical outdoor nightclub.
Also outdoors, the Terrace Bar overlooks the pool area, with a second, even larger landscaped pool located on the way to the private beach, which is completed by an outdoor movie screen. Accompanying this is an outdoor fire pit, and a village of private bungalows set within a pastoral landscape.
The vision of a next-generation resort hotel that is also a business hotel comes to a culmination in the Forum, a 10,000ft² amenity that reimagines the traditional conference centre and event space. Accessible both from the lobby and its own entrance on Collins Avenue, the Forum features a large daylighted reception room and landscaped exterior event space that together create a "cultural park," with gallery openings, art exhibitions, film festivals, and cultural programs. With a ballroom designed in a contemporary style that avoids the ornate chandeliers and fittings of the typical conference space, the stylish meeting spaces are equipped with state-of-the-art A/V, projection and teleconferencing.
Downstairs, in the evenings, hotel guests and visitors can find a new kind of multidimensional entertainment hub, "a sort of red-light district, but legal," Schrager says, "for the wild at heart". The micro-club will act as a modern-day version of Schrager's legendary Studio 54, with world-class DJs, dance floor and soundstage-quality sound and lighting systems by Patrick Woodroffe.
Meanwhile, the bowling alley and lounge is reimagined with sound, lighting and luminescent bowling balls, as well as customised shoes designed by famed artists. Beyond that, the indoor ice-skating rink allows skaters to glide to beats from the superb sound system, while the wide windows onto the street offer a surreal and Dali-esque spectacle for those passing on Collins Avenue.
Miami Beach Edition's rooms and suites will be luxurious by every standard, generous and elegant in their design, their warm wood finishes and relaxed, beach-house feel offering a "refuge," in Schrager's words, with "everything your need and everything you want." Embodying his deep belief that "simplicity is true luxury," the rooms will also carry through the hotel's mission to become a place where recreation and work can blend into one comfortable whole, through features ranging from oversized desks to ergonometric seating to sophisticated lighting, that allow them to serve equally well as micro-workspaces as places of retreat.
"It's a new kind of place, it's the next-generation urban resort, and the next-generation business and lifestyle hotel. There's nothing else like it on the beach or anywhere else," concludes Schrager.
Two overall goals have informed the concept and program of the Miami Beach Edition. The first is "one-stop shopping," providing everything a guest could imagine; dining, nightlife, socialising, recreation, culture, work and meeting space within the complex. Once there, in other words, one has no reason to leave.
The other goal is to draw upon and enhance the deepest traditions of glamour and sophistication of one of the world's greatest resort destinations: post-war Miami Beach, or the "Billion Dollar Sandbar," as it was known in the 1950s. A stylish and thoughtful renovation of the landmark 1955 Seville Hotel by architect Melvin Grossman, whose "tower-on-a-pedestal" design represented a key step in the evolution of "Miami Modern" hotel architecture, the Edition not only preserves much of the historic fabric, but evokes in its interiors the spirit of tropical elegance that defined Miami at its greatest.
"The sophisticated approach to modern luxury through design, culinary and entertainment elements so unique to Ian Schrager, combined with Marriott's well-known service and operational culture, is what makes Edition one of the most intriguing brands in the industry," explains Sorenson. "The experience we've been able to co-create with Edition, beginning in London and now in Miami, is one that excites a new generation of travellers. The future is bright for Edition, and we are thrilled to introduce such a stunning and extraordinary project to Miami Beach."
www.edition-hotels.marriott.com