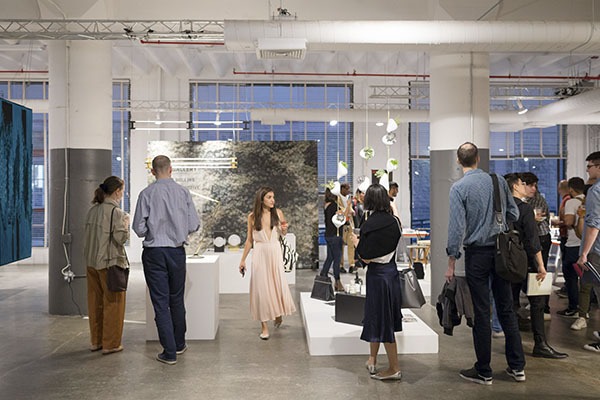 WantedDesign has announced its 8th edition, with strands taking place in Brooklyn's Industry City from 17-21 May and Manhattan's Terminal Stores from 19-22 May. Offering a selection of new design-led programmes including launches, workshops and interactive activities, the show will unfold as part of the wider NYCxDesign event.
Originally conceived as a crossroads between culture and commerce, WantedDesign has evolved into an immersive showcase of premium design and a platform for collaboration and development, broadcasting new work from architects, manufacturers, interior designers – both emerging and established – to an audience of international manufacturers, distributors and curators.
Early highlights from this year's edition include the second coming of Wanted Interiors. Part product showcase part entertainment space, the platform delivers an interactive concept designed by a group of students from the New York School of Interior Design, bringing together furniture, lighting, textile, material and technology for a look at the talent of tomorrow, presented by Alpi and Flos.
Elsewhere, the 5th edition of the Launch Pad ­– a further showcase for emerging talent – will see 35 rising designers in the fields of furniture and lighting compete to create products meeting high levels of concept, creativity and design. An opportunity to collaborate, share and create, participants will be given the chance to display their work to an international presence, with confirmed WantedDesign exhibitors for 2018 including groups from Finland, Colombia, Turkey, Mexico, Chile, and more.
Look Book, a new programme dedicated to North American design studios, will occupy 500ft² of space in the Tunnel, the main exhibition space for WantedDesign Manhattan, serving as an in-person portfolio for interior designers and architects to connect with selected makers. In association with the exhibition, the show will also produce a physical book referencing all the participants. Meanwhile, as part of the Brooklyn edition, WantedDesign will join forces with Industry City to a create a destination within the district showcasing Brooklyn as a hub for diverse, multidisciplinary thinkers, makers and entrepreneurs.
Lastly, for those seeking mental stimulation, the event will partner with Design Milk and Modenus for a series of talks and networking events. Each morning will begin with a trade-focussed discussion, then a midday keynote speaker, and finally a conversation dedicated to design from a different region of the world.
For more information, visit the link below.