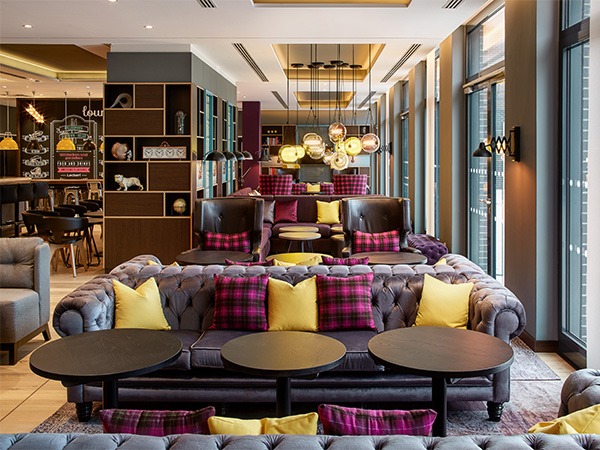 In collaboration with JOI Design, JSJ Design has announced the opening of Frankfurt Messe, Whitbread's first Premier Inn hotel in Germany.
Adopting European-style open-plan lounge, dining and reception areas, the new hotel remains true to its heritage and carries a distinct British charm.
Sarah Simpson, Head of Product for Premier Inn comments: "JSJ led the entire design process from partner brief to detailed decision-making to final design sign-off. As one of our lead design partners, they played a critical role in ensuring successful delivery of the Frankfurt hotel with a distinctive design tailored to the German market."
Designing many of Premier Inn's latest UK hotel interiors, including the chain's flagship hotel in Kings Cross and others, JSJ has formed a deep understanding of the brand.
Jeremy Scarlett, Interior Designer and JSJ Design co-founder expresses: "I've worked on various Premier Inn projects over the last ten years and while they're all unique, Frankfurt Messe is like no other. Setting it apart from the UK hotels, the focus for the entire ground floor was to create a versatile public space, functional through day and night. In achieving this, the brand is moving away from pure function and into a realm where customer experience is key. It will seriously raise traveller expectations of budget hotels."
JSJ Design collaborated with Hamburg-based designers JOI Design to ensure the English brand catered to its new European cliental. In addition to the open-plan communal areas, points of differentiation can be found in the bedrooms and bathrooms, where showers replace baths and an imaginative new room layout was developed to meet local hotel expectations.
Scarlett comments: "Building on the subtle but distinct English sense of humour, Frankfurt Messe features an array of strategically placed accessories, typically associated with London and all things British. Embracing our quirks adds bags of character and brings a little cheekiness to the interior."
The hotel utilises British motifs including the British Bulldog and the Chesterfield sofa in retaining its native image. Meanwhile, a natural-colour palette of light and dark wood and warm tones are offset by bright shades of turquoise, sunny yellow accents and pink and purple highlights.
The statement pendant lighting works to differentiate spaces, from focused and bright in the Work Zone, to warm and cosy in the lounge and dining areas.