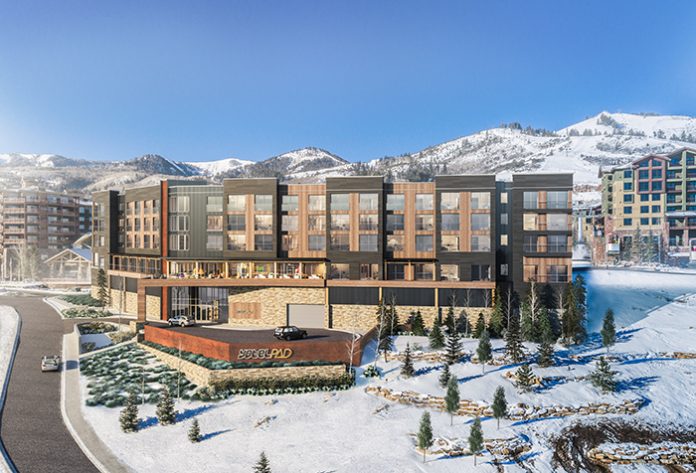 Yotel has announced the launch of its third YotelPad project in North America, after revealing details for properties in Utah's Park City and Miami earlier this year. The result of a partnership with Replay Destinations, YotelPad Mammoth will cater to the Southern California market with 177 units including 21 town-homes.
Building on the design principles of Yotel and YotelAir cabins, the design and development of YotelPad offers purposefully compact luxury serviced apartments at an affordable price. Each resort pad will be designed with multifunctional features such as adjustable furniture, built in-technology and dynamic lighting, alongside Yotel's signature monsoon rain showers, fully equipped kitchens and floor-to-ceiling windows. Communal areas and amenities will offer space for socialising and entertainment, and include a 24/7 gym, bike and gear storage, Amazon lockers, fix-it crews and laundry.
Located adjacent to The Village Lodge at Mammoth and a short walk to the village gondola, YotelPad Mammoth will provide guests with convenient access to the mountain, while on-site facilities include several fire pit areas, a hot tub and an outdoor pool. A pool deck will also connect the outdoors with indoor social spaces comprising a lobby, games room, games room, kids' zone, restaurant and bar.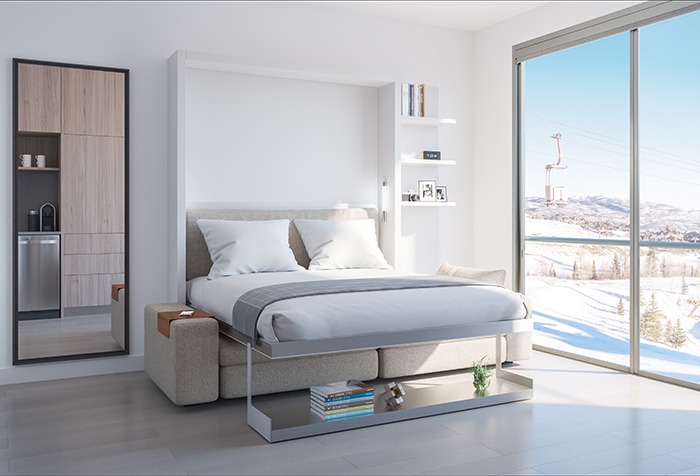 Hubert Viriot, CEO of Yotel, adds: "With their expertise in the resort development industry, we saw an opportunity to partner with Replay again to bring innovation and affordable luxury living to another sought-after mountain resort in North America.
"We're seeing an increased demand for a new way of living that offers technology and experiences coupled with social interaction and design," Viriot continues. "We're confident that YotelPad will offer an intuitive and flexible experience for guests, regardless of whether they're staying for business or leisure."
The opening of YotelPad Mammoth in 2021 will mark the third of its kind in the US, with both YotelPad Miami and Park City opening in 2020.  The Yotel group is also launching four more YotelPads worldwide; one in Dubai Business Bay and three in the Geneva Lake district, bringing the brand's total key count to over 1100 pads.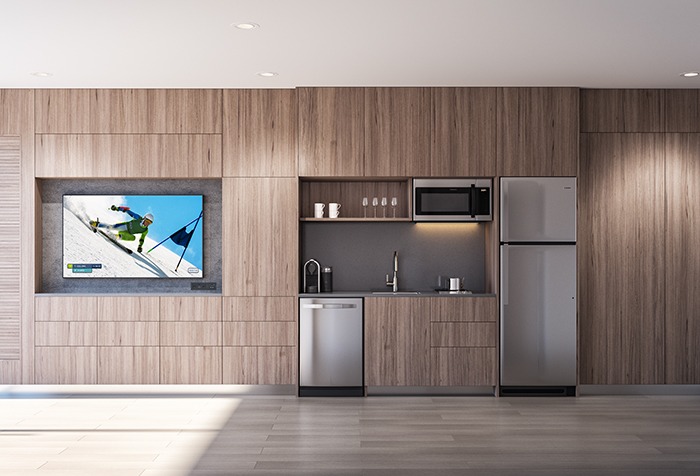 "Our vision is to provide innovative and affordable vacation home ownership at the top mountain resort destinations in North America where the price of real estate for prime location has become unattainable for many," says Gary Raymond, Managing Director of Replay Destinations.
"Our success in Park City drove us to immediately find the next YotelPad location. Park City Mountain is one of the top ski destinations in North America and Mammoth Mountain is equally significant in the ski resort industry.  At YotelPad Park City, we've had a lot of buyers from Salt Lake City which validated our early inclination that the YotelPad concept would appeal to a drive-to market. With the majority of the fully furnished pads priced between $290,000 and $350,000, the price point resonated well with both the nearby Salt Lake market as well as buyers from around North America."
Mammoth Mountain is owned by the newly-founded Alterra Mountain Company and is part of the Ikon pass, allowing owners access to 14 of the world's four-season resorts. It is one of California's premier drive-to mountain resorts, and is the third most visited ski resort in the US with over 1.1 million skier visits each season. As the primary drive-to ski location for Southern California, Mammoth Lakes sees more than 2 million annual visitors with an annual hotel occupancy rate of 65% in the village.