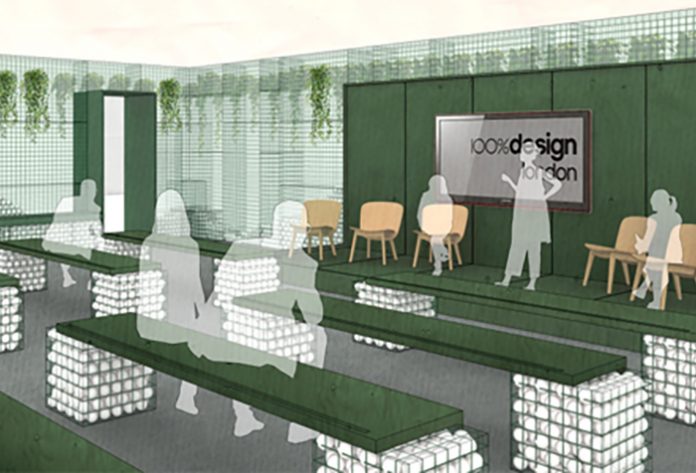 100% Design has announced the return of its annual talks programme, with this year's agenda set to feature a series of compelling headline talks, trend forecasts and panel discussions with both established designers and up-and-coming talents. Celebrating the 25th anniversary of the design event and curated by Katie Richardson, the live programme is located in a new and visually striking Auditorium, sponsored by Aritco, and will have an increased focus on issue-based content such as wastage, sustainability and how design is making a difference.
Architectural practice Selencky Parsons have been tasked with creating the auditorium, which will address the topic of plastic usage and waste through its design.  Over the four days of the show, there will be a diverse selection of more than 50 conversations and debates with designers, architects and curators. Retail gurus Fitch will discuss their work with Lego on the concept of 'Play'; MET Design Studio will provide insight into how experiential design tells the story of the Singapore Bicentennial; and BIID will analyse the best forms of practice for interior design studios, while New London Architecture are set to explore the restoration of London's iconic buildings, and a session with Maggie's asks the question – can buildings make you happy?
Other subjects explored in 2019's programme include the future of British design, African design, sustainability, how colour can influence wellness and how design can counteract the throwaway culture of today, with a focused session on restoration chaired by interior stylist and design journalist Roddy Clarke. The Forum, a separate stage, will also play host to a series of CPDs and bite-sized seminars giving further insight into materiality, architectural modelling, lighting, fireplace design with Focus, wellness and this year's Design Fresh Awards.
Discussions will begin on Wednesday September 18th with an 'in-conversation', featuring the award-winning American architect and designer David Rockwell, chaired by Max Fraser, discussing Rockwell projects that merge theatre, performance and architecture and include hotels, restaurants and cultural institutions. Alongside his fascination with immersive environments, Rockwell will also be unveiling his latest furniture collection, Sage, for Benchmark, which focuses on bringing wellness to the workspace.
The final day of 100% Design will see a lively discussion on social media and interior design, including interior designers who use Instagram, and Instagram influencers and bloggers who have become designers through social media. What makes an interior 'instagrammable', and how can social media enhance and support design?
Elsewhere at The Forum, Design Fresh 2018 winner Atticus Durnell will chair a panel alongside emerging talents Clemence Grouin-Rigaux and Adam Davies, discussing sustainable design and innovative materials, while a trends forecast with Domus Tiles will look at current and future trends in surface design, and Nulty will explore how sleep and light are so closely connected.
The full talks programme can be viewed here.