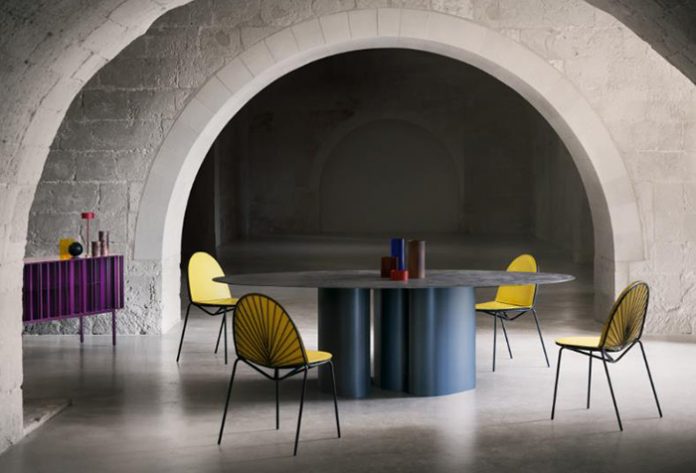 To celebrate its 25th anniversary, this year's 100% Design will present a stellar line-up of more than 400 exhibitors showcasing the latest products across furniture, lighting, textiles, glazing, surfaces, accessories and more. The four-day event will also present striking installations, inspiring collaborations and thought-provoking projects that push the boundaries of design.
New for 2019, 100% Design will showcase 'A Sense of Finland' curated by Finnish/English designer Hanna Laikola, founder of Hemlo in collaboration with Nordic brand Tapio Anttila Collection, and Polar Life Haus, the long established eco log house company. The Finland pavilion will allow visitors to experience the sounds, sights, touch, smell and taste of the country, with a specially built eco log house filled with calm sounds of the forest and timber floors sourced from Finnish wood. The house will also present Finnish furniture, products and lighting that are focused around sustainability, wellbeing and healthy living environments.
Another key area of the show is Design London – which for this year has been carefully curated to include a selection of interior brands such as Arper, Benchmark, Dare Studio, Boss Design and Antonio Lupi. Other brands include Swedish furniture makers Gärsnäs, Bsweden and contemporary Italian furniture company, Da a.
Also on the agenda for 2019 will be the brand new exhibition space, Detail London. Located within one of Olympia's Victorian reception rooms, the exhibition will showcase the latest contemporary soft furnishings and wallcoverings from the likes of Amsterdam-based Studio DeSimoneWayland, Glamora and Barbara Osorio Fabrics. The space will benefit from its own dedicated entrance on Olympia Way, as well as direct access to 100% Design.
This year's edition will see the return of Design Fresh too, a celebration of emerging talent selected by 100% Design at New Designers. Each designer has been chosen for their explorative ideas and original products, and following the success of the 2018 show, the feature will welcome back previous Design Fresh creatives to nominate the next wave of talent.
With the growing impact of social media platforms like Instagram in mind, 100% Design has also chosen seven designers working in interiors to create 'inspiration kiosks', selecting images from their personal accounts that reflect their inspiration. The installation will highlight interior designers using Instagram to create spaces that connect and inspire guests, with notable participants including Charlotte Rey, Duncan Campbell, Lee Broom and Suzy Hoodless. 
The show will be part of the West Kensington Design District, which will be brought to life by partners including the Design Museum. Textile studio, Kirkby Design, will also bring an original 1967 Victoria Line tube carriage to 100% Design as an immersive venue; the interiors of the tube will be upholstered in Underground Volume II fabrics, a new collection of velvets that recreate iconic moquette designs used for seating fabric across the underground from the 1930s to the present day. The show will further collaborate with Material Driven to create Material Studio, a showcase of 22 innovative materials with a number of them being shown in the UK for the first time. The area will address some of the key issues in today's market, such as sustainability, performance, energy efficiency, waste, health and wellbeing.
Meanwhile, Talks with 100% Design returns for more than 50 in-depth conversations and debates with designers, architects and a specialist look at trends and current issues. Curated by Katie Richardson, the four-day programme will see an increase in issue-based content, exploring topics such as climate change, wastage, materials, the circular economy, sustainability and how design can and is making a difference. The talks will run across the main stage and Forum area, with an hour each day on the Forum dedicated to architecture. 
Highlights of the talks programme include presentations from interior designer Marcel Wanders and American architect and designer David Rockwell, as well as highlights from the Conservation and Retrofit section of the New London Awards by New London Architecture. A panel of emerging architects will also be brought together to discuss the challenges of starting out in the industry, with BIID's Dan Hopwood presenting his top tips for interior designers in a session that features Anna Burles from Run for the Hills.
Elsewhere, 100% Design will provide a platform for new interior brands and established names including British furniture maker Benchmark, who will launch the Sage furniture collection by American architect David Rockwell, which has a specific focus on health and wellbeing within the built environment. Hayche Furniture will also be debuting four new collections at 100% Design, including Dune by Pauline + Luis and Backer by Daniel Schofield.