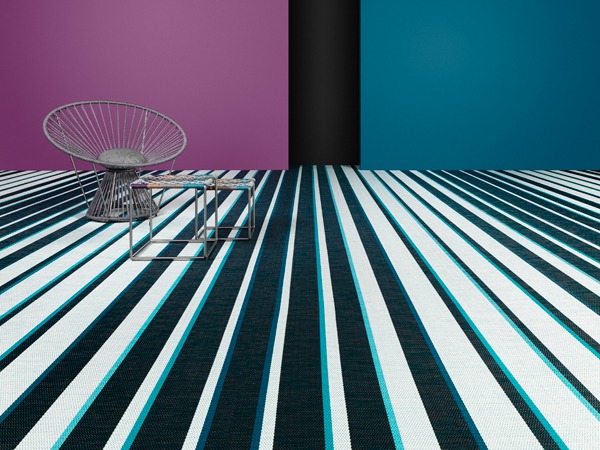 The brilliantly coloured, uplifting and energising collection of exclusive woven floors gives new and exciting expression to Missoni's beloved and characteristic attributes.
"My sister Marie and I came into contact with Missoni a few years ago and we quickly found common ground," says Annica Eklund, Managing Director of Bolon. "The same philosophy about life, views about design, both Bolon and Missoni are strong family businesses with their own production lines, third-generation entrepreneurs, our products are woven – as you can imagine, we saw eye-to-eye on most things. The idea of entering into a partnership also came naturally. As you know, we love finding new dimensions and setting ourselves new challenges. Creative collaborations, like this one with Missoni, give us the energy to shift into a higher gear."
The new flooring collection, Bolon by Missoni, is based on Missoni's classic patterns and generous range of colours, which Bolon has reproduced thanks to the latest weaving technology in a very impressive way. The collection is available in three designs –Optical, Bayadere and Flame – with each design offered in a variety of colours. In total, there are no less than nine different versions.
"I must say we are very impressed by Bolon's weaving technology and skill in translating our patterns into a modern innovative colourful flooring collection – an important addition to Missoni Home," concludes Rosita Missoni, Creative Director at Missoni Home.
The Bolon by Missoni collection will go on sale in July 2012.