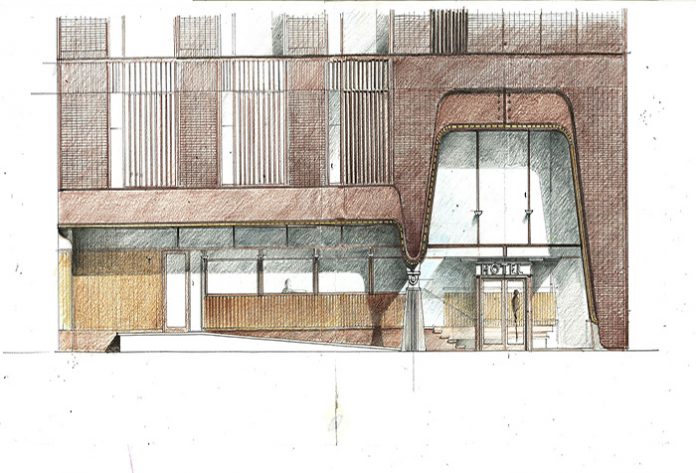 Marking the brand's first Canadian property, Ace Hotel Toronto is set to open its doors in Q3 2020. Situated in the city's dynamic Fashion District, adjacent to St. Andrew's Market and Playground, the newbuild property will be designed and delivered by Toronto-based studio Shim-Sutcliffe Architects.
The 124-key hotel seeks to pay homage to the rich history of industrial buildings that sit in its predominantly warehouse-occupied neighbourhood. Red bricks and exposed, unadorned board-formed concrete draw from the surrounding architectural landscape, whilst inside, public spaces will feature North American materials including doug fir, steel and red Toronto brick – valued for their intrinsic strength and link to the city's natural resources. Exposed knuckles and joints will be architectural focal points, reflecting an admiration of form and material.
Shim-Sutcliffe will further look to the neighbourhood and surrounding nature to create structures that feel welcoming, playful and intuitive, building a bridge between public and private realms.
"Toronto is an expansive amalgam of cultures, languages, history, and future-forward ideas, and we couldn't be more excited to call it home," comments Kelly Sawdon, Partner and Chief Brand Officer at Atelier Ace. "Working with the deftly accomplished and visionary team at Shim-Sutcliffe to build a central gathering place for the city is an honour. We can't wait to throw open our doors in one of the most multicultural cities in the world."
"We share core elemental values with Atelier Ace and have worked together to build a civic space that feels warm and welcoming," adds Shim-Sutcliffe Architects. "A local place to gather, Ace Hotel Toronto will be a contribution to the neighbourhood and city itself, elevating Toronto's rich history through form and materials, energised by its inhabitants and visitors."