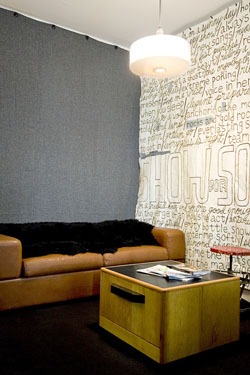 As with the existing hotels in Seattle and Portland (Sleeper Magazine March / April 2008), the formula involves taking an old building in an emerging location, a small budget requiring lateral thinking and some industrial salvage, and a design aesthetic that mixes uncluttered comfort with a bohemian vibe.
For the interiors of Ace Hotel Palm Springs, LA-based visual design team Commune builds on the Ace penchant for pure design and honest materials. Commune's collaboration with Atelier Ace transports the guest to an indulgent camping experience.
Guestrooms are designed to embrace indoor-outdoor living with cloaked, tent-like walls and a concrete floor opening onto patios with outdoor fireplaces. Each room comes equipped with slatted walls where guests can hang pictures or artwork, promoting personalisation. The colour palette is natural and the furniture is vintage. Materials used include bleached canvas, wormy butternut wood, denim, and hemp in line with Ace's hybrid goal of comfort and sustainability.
Ace Hotel New York is designed by Roman & Williams. Rooms feature a mix of vintage and custom furniture with a mélange of furnishings, objects, lighting and finishes to reflect a sense of unconventionality. Custom artworks hang on the walls as pictured.
Treats are provided in the well-stocked Smeg refrigerator or in vintage wooden crates making the rooms feel more a friend's cool apartment than a typical hotel room.
Ace Hotel Palm Springs and Ace Hotel Portland are due to open at the end of March 2009.
LINKS:
www.acehotel.com
www.romanandwilliams.com
www.communedesign.com