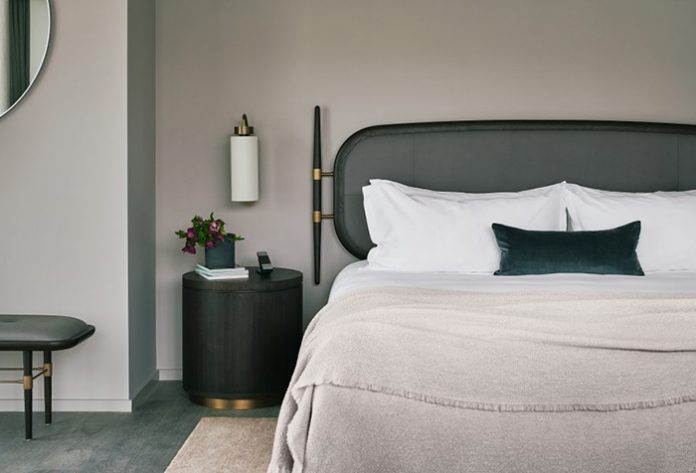 AHEAD Europe, the awards programme celebrating the best in hospitality experience and design, has announced its shortlist for 2019. Featuring independent boutiques alongside landmark properties from leading hospitality brands, the awards will recognise the achievements of designer, architect and operator alike, across categories including Guestrooms, Hotel Renovation & Restoration and Event Spaces, amongst others.
Tickets for the ceremony, taking place on 18 November at Battersea Evolution, London are available here. Winners will go on to join previous international AHEAD winners to compete in a Global Biennale in 2021.
You can find a rundown of the 2018 winners here.
BAR, CLUB or LOUNGE
Fritz & Felix at Brenners Park Hotel, Baden Baden, Germany
Oetker Collection / Brenners Park Hotel / Kruse Architecten / Robert Angell Design International
Juliet Rose at Hilton Munich City, Germany
Hilton Worldwide / Goddard Littlefair
Rockwell at The Trafalgar St. James Hotel, London, England
London & Regional Hotels / Hilton Worldwide / BradyWilliams
Salon Sacher at Hotel Sacher Wien, Vienna, Austria
Hotel Sacher Wien / BWM Architekten & Partners / Megumi Ito
Soho House Amsterdam, The Netherlands
Aedes / Soho House & Co. / Kentie & Partners / Soho House Design 
EVENTS SPACES
Andermatt Concert Hall at Radisson Blu Hotel Reussen, Andermatt, Switzerland
Andermatt Swiss Alps & Besix / Radisson Hotel Group / Studio Seilern Architects / Germann & Achermann
Aquam Bibe at Avon Gorge by Hotel du Vin, Bristol, England
Hotel du Vin / Dexter Moren Associates
Cinema Paradiso at PURO Łódź, Poland
Genfer Group / PURO Hotels / ASW Architekci / Superfutures
Scandic Kødbyen, Copenhagen, Denmark
Scandic Hotels / Danielsen Architecture / Koncept
Vintry & Mercer, London, England
FR Holdings / Dexter Moren Associates
GUESTROOMS
1477 Reichhalter Eat & Sleep, Lana, Italy
Klaus & Moritz Dissertori / Schwarzschmied/ Zeno Bampi / Studio Biquadra
Little Beach House Barcelona, Spain
Orca Holdings / Soho House & Co. / Heres Arquitectura / Soho House Design
Palazzo Daniele, Gagliano del Capo, Italy
Petrucci / Gabriele Salini / GS Collection / Palomba & Serafini Associati
PURO  Warsaw Centrum, Poland
Genfer Group / PURO Hotels / JEMS Architekci / DeSallesFlint
The Stratford Hotel, London, England
Manhattan Loft Corporation / SOM / Space Copenhagen
HOTEL CONVERSION
Amerikalinjen, Oslo, Norway
Sparebank 1 Forsikring / Nordic Choice Hotels / Kritt Arkitekter / Puroplan
Can Bordoy Grand House & Garden, Palma, Mallorca
Mikael Hall / OHLAB
Dexamenes Seaside Hotel, Kourouta, Greece
Karaflos D&SIA / k-studio
Hotel Herman K, Copenhagen, Denmark
Brøchner Hotels / Mette Fredskild Design
The Langley, Iver, England
City & Country Hotels / Marriott International / Fredrick Gibberd Partnership / Veretec / Dennis Irvine Studio
HOTEL NEWBUILD
Gloriette Guesthouse,Oberbozen/Soprabolzano, Italy
Family Alber / Gloriette Guesthouse / noa* network of architecture
Mollie's Motel & Diner, Buckland, England
Mollie's Motel / Soho House Design
PURO Kraków Kazimierz, Poland
Genfer Group / ASW Architekci / Conran+Partners
PURO Łódź, Poland
Genfer Group / PURO Hotels / ASW Architekci / Superfutures
The Hide Hotel, Flims, Switzerland
Credit Suisse / MGM Hospitality Group / Gross Rüegg Architeken / Stylt Trampoli
HOTEL RENOVATION & RESTORATION
25hours Hotel Terminus Nord, Paris, France
Invesco Real Estate / Hua Kee / 25hours Hotel Company / Axel Schoenert Architects / Dreimeta
Heckfield Place, Hampshire, England
Morningside Group / Heckfield Place / Spratley & Partners / BWT London
Hotel Norge, Bergen, Norway
Realforum / Glastad / Scandic Hotels / Grieg Arkitekter / concrete
Palazzo Daniele, Gagliano del Capo, Italy
Petrucci / Gabriele Salini / GS Collection / Palomba & Serafini Associati
Whitworth Locke, Manchester, England
SACO Property Group / Locke Hotels / Grzywinski + Pons
LANDSCAPING & OUTDOOR SPACES
Brenners Park Hotel,Germany, Baden Baden
Oetker Collection / Brenners Park Hotel / Kruse Architecten / Robert Angell Design International
Can Bordoy Grand House & Garden, Palma, Mallorca
Mikael Hall / OHLAB
Radisson Collection Hotel, Tsinandali Estate, Georgia
SilkRoad Group / Partnership Fund / Radisson Hotel Group / Septiembre Arquitectura / Xavier Fabre, Damian Figueras, Christina Gabas, John Fotiadis
Sir Victor Hotel, Barcelona, Spain
Europe Hotel Private Collection / Sir Hotels
The Magnolia Hotel, Quinta do Lago, Portugal
Quinta Do Lago / Bryan O'Sullivan Studio
LOBBY & PUBLIC SPACES
Belmond Cadogan Hotel, London, England
Cadogan Estates / Belmond / Blair Associates Architecture / G.A Design
Can Bordoy Grand House & Garden, Palma, Mallorca
Mikael Hall / OHLAB
Grand Park Hotel Rovinj, Croatia
Maistra DD / 3LHD / Lissoni Architettura
PURO Warsaw Centrum, Poland
Genfer Group / PURO Hotels / JEMS Architekci / DeSallesFlint
Sir Victor Hotel, Barcelona, Spain
Europe Hotel Private Collection / Sir Hotels / Baranowitz + Kronenberg Architecture
LODGES, CABINS & TENTED CAMPS
Hop Pickers' Huts, Canterbury, England
Home Grown Hotels / Judy Hutson
LumiPod, Lyon, France
LUMICENE
Manshausen 2.0, Mannshausen, Norway
Børge Ousland / Stinessen Arkitektur
Nolla Cabins, Vallisaari Island, Helsinki, Finland
Neste / Robin Falck Design
Piglet's Cabins at Soho Farmhouse, Chipping Norton, England
Soho House & Co. / Soho House Design
RESORT HOTEL
Caravia Beach Hotel, Kos, Greece
Medi Tours / MASTROMINAS Architecture
Olea All Suite Hotel, Tsilivi, Greece
Xenos Group Hotels / Block722 Architects
The Retreat at Blue Lagoon Iceland, Grindavik
Blue Lagoon Iceland / Basalt Architects / Design Group Italia
Radisson Collection Hotel, Tsinandali Estate, Georgia
SilkRoad Group / Partnership Fund / Radisson Hotel Group / Septiembre Arquitectura / Xavier Fabre, Damian Figueras, Christina Gabas, John Fotiadis / Ingo Maurer / Tamara Kvesitadze
The Arula Chalets, Lech am Arlberg, Austria
Masseto Immobilien / Pepper / TB Schaschl / 2am Design
RESTAURANT
Cecconi's at Soho House Amsterdam, The Netherlands
Aedes / Soho House & Co. / Kentie & Partners / Soho House Design
Magari at PURO Warsaw Centrum, Poland
Genfer Group / PURO Hotels / JEMS Architekci / DeSallesFlint
NENI at 25hours Hotel Terminus Nord, Paris, France
Invesco Real Estate / Hua Kee / 25hours Hotel Company / Axel Schoenert Architectes / Dreimeta
Provisioners at The Dixon Hotel, London, England
Dominvs Group / Consarc Design Group / twenty2degrees
ZELA at ME London Hotel, England
ME Hotels / Foster & Partners / Studio Gronda
SPA & WELLNESS
Euphoria Retreat, Mystras, Greece
Evoikos / Euphoria Retreat / decaARCHITECTURE / Natalia Efremoglou & Partners / Ethnokat
Gloriette at Gloriette Guesthouse, Oberbozen/Soprabolzano, Italy
Family Alber / Gloriette Guesthouse / noa* network of architecture
Mohr Life Resort, Lermoos, Tirol, Austria
Family Künstner-Mantl / noa* network of architecture
Pure Seven Spa at 7Pines Resort Ibiza, Spain
12.18. Investment Management / 7Pines Resort Ibiza / Arditecnica / Kitzig Interior Design
The Retreat at Blue Lagoon Iceland, Grindavik
Blue Lagoon Iceland / Basalt Architects / Design Group Italia
SUITE
Arctic Scene Executive Suite at ArcticTree House Hotel, Rovaniemi, Finland
Santapark / Studio Puisto Architects
Belmond La Residencia, Deia, Mallorca
Belmond / Discreet Architecture / Matthew Williamson
Dexamenes Seaside Hotel, Kourouta, Greece
Karaflos D&SIA / k-studio
Gatehouses at Das Kranzbach, Krün, Germany
Hotel Kranzbach / Dreimeta
Suites at The Mandarin Oriental Hyde Park, London, England
Mandarin Oriental Hotel Group / Purcell Architects / Joyce Wang Studio
TRANSPORT
AmaMagna
Kamphuisen Group / AmaWaterways / VAHALI Shipyards / Marco van Veldhuizen
Fingal
Royal Yacht Enterprises / The Royal Yacht Britannia / The Pedley Group
Le Champlain
Groupe Artemis / Compagnie du Ponant / VARD Shipyards / Jean-Philippe Nuel
SAGA Spirit of Discovery
Meyer Werft Shipyard / SAGA Cruises / SMC Design / Foreships
Viking Orion
Viking Cruises / Rottet Studio / Fincantieri / SMC Design
VISUAL IDENTITY
Amerikalinjen, Oslo, Norway
Sparebank 1 Forsikring / Nordic Choice Hotels / Kritt Arkitekter / Puroplan
HUP, Mierlo, The Netherlands
Carlton / Creneau International
NinetyNine Hotel Heidelberg, Germany
Centro Hotel Group / SSV Architekten / Going Places
The Dixon Hotel, London, England
Dominvs Group / Evolve Agency / twenty2degrees
The Magnolia Hotel, Quinta do Lago, Portugal
Quinta Do Lago / Bryan O'Sullivan Studio