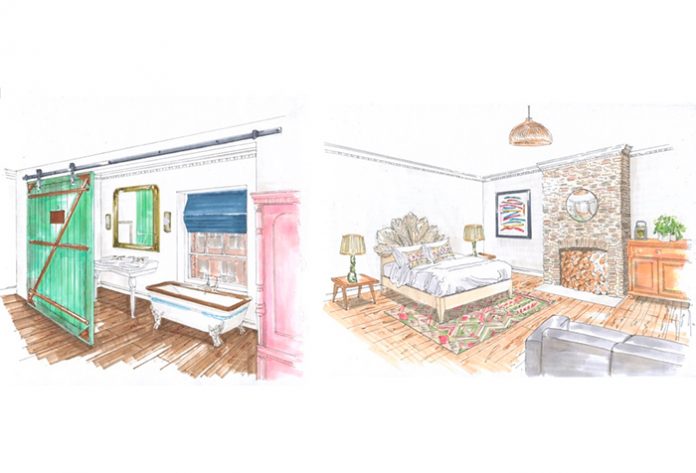 Charlie and Justin Salisbury, founders of boutique hotel group Artist Residence, have announced that their fifth and largest project to date will open in Bristol in October 2019.
Occupying part Georgian townhouse, part former boot factory – the Grade-I listed building was on the 'At Risk' register in 2015 – in the heart of the St Pauls district, the hotel is set to comprise 23 guestrooms above a bar, cafe, garden, restaurant and events space.
Just minutes from the city centre and Stokes Croft, Artist Residence Bristol will revive the building's history through quirks, faded grandeur and original features, including the restoration of beams, industrial sliding doors and Georgian cornicing, and the exposing of brick walls.
"For us, the real appeal of this dilapidated building is the opportunity to bring a corner of this historic square back to life for the community to enjoy," says Salisbury.
As with every Artist Residence, guests can expect eclectic, thoughtful design alongside vintage  elements and an enviable art collection. Artwork donning the walls comes from familiar Artist Residence faces like Maria Rivans, Bonnie & Clyde, The Connor Brothers, David Spiller and Pure Evil, alongside local creatives such as Annie Clay, Rose Vickers and Kedals.
Speaking on the art collection, Charlotte Salisbury notes: "We pick art for our places that make you feel good, have a little chuckle or stop for a double take, whether that's with a bright colour palette, a hint of nostalgia or with witty typography."
The restaurant and bar, to be named The Boot Factory, will be a hub for hotel guests and the local community alike. General Manager Nick Ledgard (previously Granger & Co) and his team are working closely with local suppliers to create an all-day menu connecting customers to the heart, soul and passion of Bristol's products and ingredients.