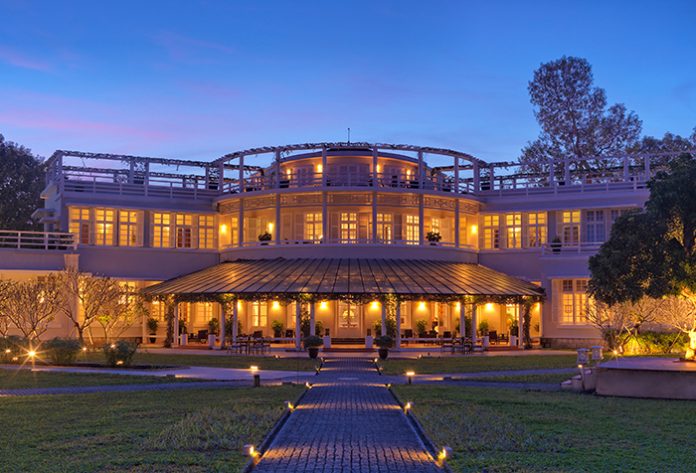 Azerai Hotels & Resorts – the new group by hotelier Adrian Zecha – has announced its second property with the rebranding of an historic 122-key boutique on the banks of Vietnam's Perfume River as Azerai La Residence Hue.
Marking the conclusion of the hotel's most extensive renovation during its 14-year history, all 73 superior and deluxe rooms in the hotel's west wing have been stripped back and redesigned with an aesthetic in line with Azeria's dedication to simplicity and elegance.
An expanded spa now features six treatment rooms, whilst the hotel's gym has relocated frokm the upper floor of the same wing to the ground floor. Elsewhere, the hotel's bar, Le Gouverneur moves from the rotunda of the historic mansion to one of the same building's wells, whilst Le Parfum restaurant has been refurbished with Azerai visuals and accents. Come spring, 39 more guestrooms in the hotel's east wing will emerge from a renovation that will both brighten and update the spaces.
After opening the 60-room Azerai Can Tho on the Mekong last spring, Azerai has embarked on a plan to announce a debut every year.
"In Hue, we wanted a hotel that would emerge as the quintessential hospitality experience in the city," says Zecha.
The original hotel, La Residence, opened its doors in 2005 after a French entrepreneur partnered with the local tourist authorities and renovated a 1930s-built mansion that was once part of the colonial governor's residence. With the departure of the colonial French in 1954, the mansion at 5 Le Loi Street served as a guest house for provincial authorities from the 1950s all the way through the turn of the century.
In 2013, Hue native Phan Trong Minh joined a run of foreign general managers to usher the hotel over the threshold of its 10th anniversary and into its second decade.
"In Hue, where the Nguyen kings believed fervently in the power of phong thuy, or feng shui, to create powerfully attractive experiences of place, La Residence is a beneficiary of some of that old imperial magic," Minh says. "The place just feels right. With Adrian Zecha now stirring in a bit of his own magic, we expect to create one of the most compelling hospitality experiences in Southeast Asia."