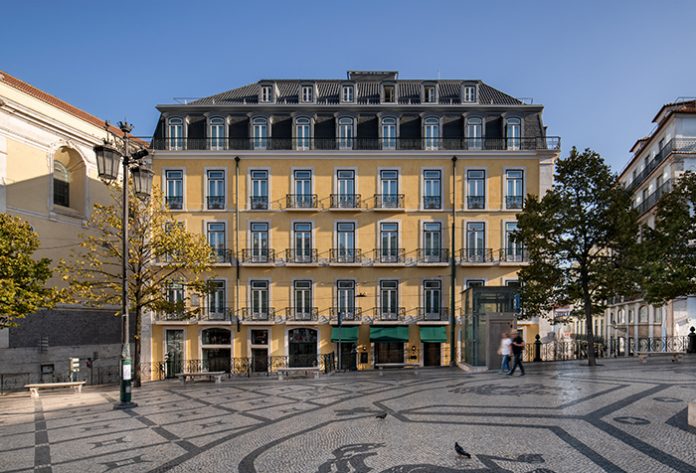 Lisbon's Bairro Alto Hotel has reopened following an expansion and remodelling process. Closing for its final stage of construction in late 2017, the new interior scheme has been overseen by Atelier Bastir whilst architectural renovations were carried out by Pritzker Prize-winning Souto de Moura. The expansion sees the property nearly double in size whilst retaining its signature boutique style, as well as the addition of a reimagined F&B offer.
Housed within four structures and forming part of a block of 18th century buildings on the border between the Chiado and Bairro Alto neighbourhoods, the hotel's architectural overhaul involved the addition of a floor to three of the buildings and the preservation of original elements including masonry, vaults and tiles. The exterior palette of yellow ochre, light blue, light green and greyish green has also been maintained. The property's total area has doubled in size t0 9,000m², with additional new features including a terrace, bar, cocktail bar with street access, patisserie, four meeting rooms and a gym. Key-count has risen from 55 to 87, bringing the total amount of fixed beds to 170.
Interiors, meanwhile, have been modernised without sacrificing classical references. A mix of antique pieces, wood and wicker, tiles and marble, classical paintings and contemporary lighting, Atelier Bastir's scheme incorporates vibrant tones and patterns throughout. A programme of Portuguese art – featuring sculptures by Rui Chafes and photographs by Rui Calçada Bastos – references the original hotel's form, whilst an expansive tapestry with macramé base by Oficina 166 adorns a three-storey wall.
Located on the newly instated 6th floor, 5 F&B outlets overseen by Creative Director and chef Nuno Mendes include the aforementioned BAHR – a bohemian tribute to the surrounding neighbourhood designed by thestudio and serving up local fare with fine dining sensibilities – alongside the BAHR Terrace overlooking the Lisbon skyline; the Mezzanine bar – featuring a scheme characterised by luxury yacht-inspired curved wood; in-house patisserie Pastelaria; and cocktail bar 18.68.
"The main aim was not to lose Bairro Alto Hotel's identity and to present the same, slightly more contemporary, hotel 14 years later," explains CEO Marta Tavares da Silva. "Our main concern was to ensure that anyone who enters the hotel after its reopening would feel the Bairro Alto Hotel spirit, to keep the DNA intact."