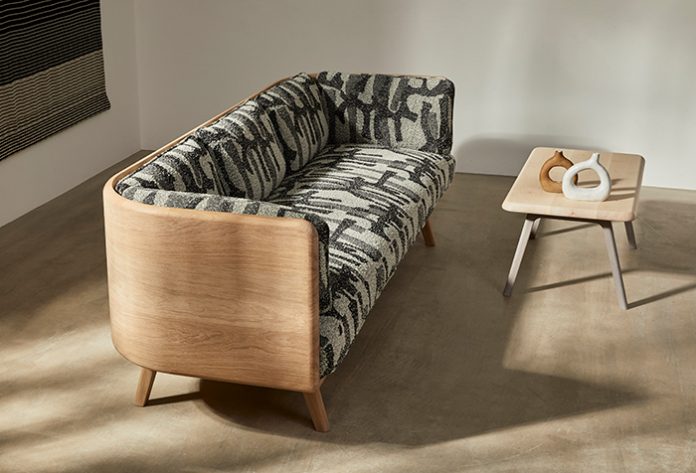 British furniture maker Benchmark will present a new collection of furniture by American architect David Rockwell at 100% Design from 18-21 September, during this year's London Design Festival. 
The Sage Collection, designed for office and commercial environments, has a specific focus on human health and wellbeing within the built environment and meets the standards required for Well-certified buildings. The tenets of biophilic design inspired the series, with its natural materials, colours and textures, rounded profiles and ergonomic shapes.
Launching with sit-stand desks, meeting tables, sofas, chair, occasional tables and storage, Sage is made with natural, sustainable non-toxic materials and finishes in combinations of ash, sycamore and oak with patinated copper accents and textured wool upholstery. 
Highlights include the Sage Sofa, which expresses Benchmark's skilled woodworking and value of craftsmanship. Generous cushions are filled with natural materials and supported by a curved wooden frame that showcases the grain of the timber. Alongside the sofa, the Sit-Stand Desk and Workbench is inspired by the classic drafting desk and offers a contemporary solution for flexible work surfaces. The workbench features rounded corners and soft edges together with the ability to transform from seating to standing at the touch of a button, while an intersecting illuminated arch and pin-board privacy panels add the finishing touches.
In an effort to challenge the way that upholstery is commonly made, Benchmark has chosen not to use plastic foam and to develop the collection with entirely natural materials – including coir, latex, sheep's wool and recycled cotton. The strategy overcomes the significant environmental concerns surrounding the disposal of plastic foam in landfill, as well as eliminating the need for toxic, fire-retardant chemicals. 
With material transparency and low chemical emissions, the collection will be launched with certification to provide international recognition of its wellness and sustainability credentials, enabling specifiers source products that consider both the environment and human health. 
"We were inspired by the simplicity of Benchmark's approach and their passion for finely wrought craft and honest materials to create a collection that is visually calming and intuitive," says David Rockwell, founder of Rockwell Group. "With productivity, healthfulness, and comfort in mind, we wanted to create a vibrant collection for what people want today."
Sean Sutcliffe, founder of Benchmark, adds: "Working together with David and his team, we have created a collection that we can all feel very good about. In a world that is full of plastic solutions, we think that the Sage range brings a very fresh look using the most modern of materials – solid wood. We hope that its users will benefit not only from its aesthetics but also the inherent wellness it will bring."