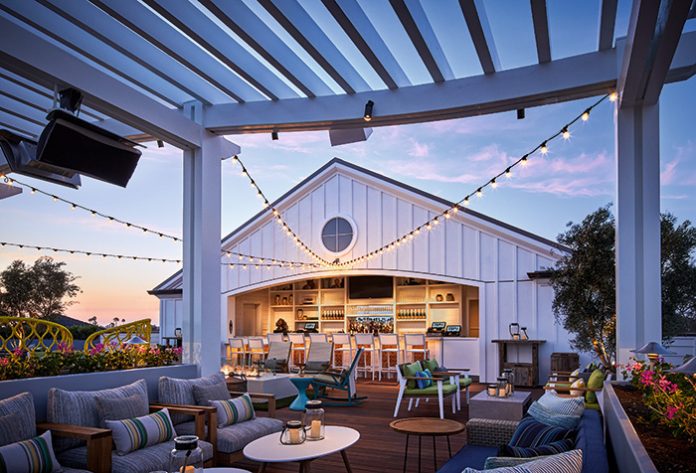 Since its launch in 2010, Autograph Collection has celebrated individuality, bringing one-of-a-kind hotels to guests seeking a stay with a story. With a tagline of 'Exactly Like Nothing Else', properties in the portfolio are selected for their rich character, stand-out design and experiential offer. There's no cookie-cutter approach or rigid set of brand standards to adhere to, rather hotels are independent, maintaining their own name, logo and identity while benefitting from the booking engine of the world's largest hotel group.
RISE OF THE SOFT BRAND
Autograph Collection is one of three soft brands from Marriott International, the others being Design Hotels and Tribute Portfolio, both inherited as part of the merger with Starwood Hotels & Resorts. Soft brands in general are growing at an alarming rate, with all the major players now offering independently-minded hotels in a bid to cater to an increasing desire for experiential hospitality. Hilton Worldwide has Tapestry Collection and Curio, Hyatt has The Unbound Collection, and in 2017 Wyndham Hotel Group launched The Trademark Hotel Collection. Marriott is arguably one of the trailblazers however, having recognised early on that guest preferences were evolving. Speaking to Fox News shortly after the launch of Autograph Collection, Arne Sorenson, President and CEO, Marriott International, said: "We think there's a group of traveller that we don't have today and they're probably attracted more towards independent hotels than to branded hotels. People travel for different reasons and stay at different places at different times, but we think we can capture a customer that we don't get much of today."
This belief has served Marriott well over the past eight years, with key performance indicators for year-end 2017 showing average occupancy of 75.4% and RevPAR of US$159.27. The group has also announced plans to grow its three collection brands by nearly 50% by 2019. "Marriott is now able to offer more choices than ever, especially for owners and guests who prefer an independent hotel experience," Sorenson said at the time. "We doubled our portfolio of independent hotels with the acquisition of Starwood and significantly increased our global footprint. The growth projected for the next few years underscores the demand Marriott is seeing for more customised, local experiences."
Despite it's inability to roll-out in the typical way, Autograph is one of Marriott's fastest growing full-service brands, expanding from a base of five hotels in 2010, to – at the last count – a portfolio of 153 properties open with a further 77 in the pipeline. The reach is global, with members including The Stones Hotel in Legian Bali, Pier One at Sydney Harbour and Habtoor Grand Resort in Dubai along with European properties such as The University Arms in Cambridge, Cotton House Hotel in Barcelona and Domes of Elounda in Crete. The bulk of the portfolio is in North America however, where the likes of Hotel EMC2 in Chicago, The Cosmopolitan of Las Vegas and The Lexington Hotel in New York contribute to a 20,000-strong key count across the continent.
The state of Florida has the highest concentration of Autograph Collection hotels, while California has been something of a breeding ground for the brand of late, seeing the addition of three new properties this year alone. The new supply – Lido House in Newport Beach, Westdrift in Manhattan Beach and Hotel Republic in San Diego – isn't so much of a deliberate push in the state, but more opportunistic, and coincidental that all three should debut within months of one another. Dotted along California's Golden Coast, the new additions are a great showcase for Autograph Collection, and earlier this year, Sleeper joined Marriott on a road trip to experience the brand first-hand.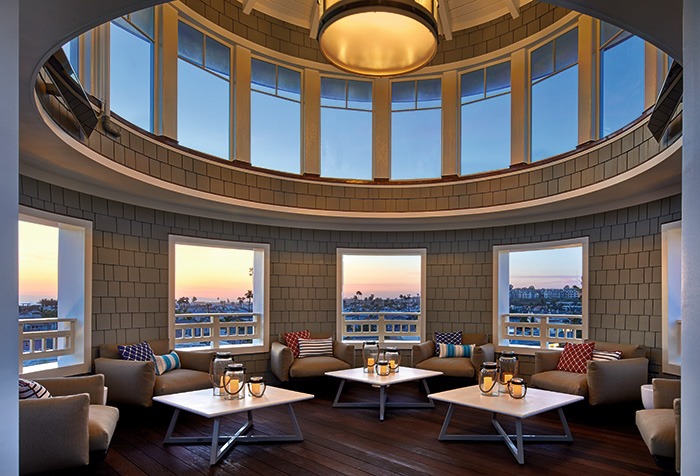 THE HUMAN TOUCH
Autograph Collection has had strong interest from the franchise community since its launch, and the passion of the owner is at the heart of each individual property. This is particularly true at Lido House, where Robert Olson, founder of R.D. Olson Development, was personally involved in every aspect of bringing to hotel to life. The self-made entrepreneur has worked with Marriott for decades, having developed a number of properties for the Courtyard and Residence Inn brands across California and beyond. But Lido House is different.
Located in Newport Beach, a seaside city in Orange County, the newbuild hotel is set on the site of the former city hall, close to retail and dining hub Lido Marina Village. It's also a short boat ride away from Olson's house. For Olson, affectionately known as Bob, the new venture is the most rewarding hotel he's ever developed, its look and feel very much a personal reflection of the man himself. "Lido House is a place that has been fully inspired by its surroundings, reminiscent of my own home on Balboa Island," he says. "This is a passion project in every sense of the word; Lido House is a place where the very best of Newport Beach comes together in one sophisticated celebration."
Living so close, Olson felt he had a responsibility to make the hotel a place for the community as much as for visitors. As such, the grand opening party was a local affair, with Newport Beach residents top of the guest list, and musical entertainment provided by Aloe Blacc, an internationally-known singer who grew up in Orange County. The celebration was clearly a proud moment for Olson, one that saw him personally seeing to the needs of hotel guests as well as rubbing shoulders with locals.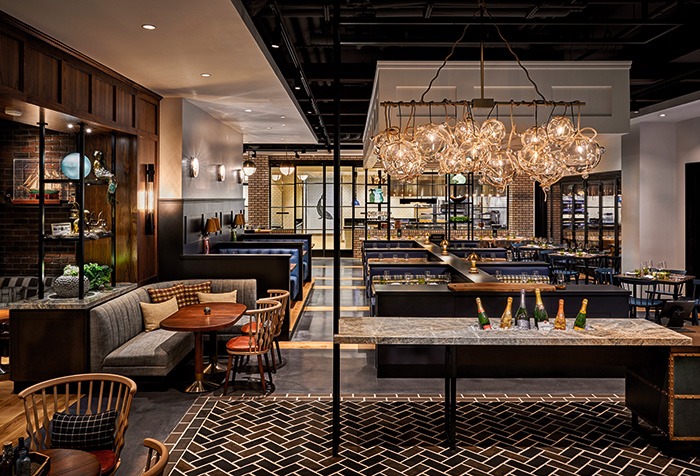 THE LOCAL CONNECTION
A connection with the surrounding community is also at the heart of Westdrift, a little further up the coast in Manhattan Beach. Named after the westerly winds that famously swept sand across the Manhattan Beach boardwalk, Westdrift features 393 coastal-infused guestrooms as well as leisure facilities such as a gym, outdoor swimming pool and 9-hole golf course. It also has an entire floor – spanning 35,000ft2 – dedicated to events spaces, with 18 meeting rooms, a ballroom, garden terrace and three industrial-style venues suitable for product launches or trade shows. It's not typically what you would expect to find in a Marriott property, but such facilities were an important addition to meet the needs of the surrounding community – home to creative commerce companies such as Skechers, as well as MBS Media Campus, the studio where James Cameron's Avatar sequels are being filmed. "With the opening of Westdrift, Manhattan Beach finally earns a new hotel worthy of its sophisticated surroundings," says General Manager Stephanie Bauer. "The spirit of the Autograph Collection brand reflects a true sense of place, and the mashup of Manhattan Beach between business and beach proves an exciting, enviable muse."
At Hotel Republic in San Diego, the local connection comes in the form of the F&B programme. Located in the heart of downtown's civic district, the 258-key property has partnered with San Diego-based hospitality firm The Patio Group to create three distinct dining venues: Topside Terrace Kitchen & Bar, a rooftop bar and lounge; Trade, a chic cocktail bar and restaurant; and Patio Marketplace, a quick-service casual, streetside café. The Patio Group operates a number of restaurants and private dining events spaces across the city, each with its own identity yet guided by the same culinary values of sourcing sustainable, seasonal, quality ingredients and cooking them with care. It is this philosophy that the group brings to Hotel Republic. The three venues are overseen by Executive Chef JC Colón, who has worked with several of San Diego's top hospitality groups. When he's not in the kitchen dreaming up new flavour combinations, Colón can be found out front, picking produce from the farmers' market truck that stops by daily. The nearby farms that supply the hotel are listed on the menu, further enhancing the local connection and helping to create a hotel with a sense of place.
STORIES THROUGH DESIGN
Reflection of place and mark of craft – signature moments and experiences unique to each property – are core pillars of the Autograph Collection, coming together to create hotels with personality. The third, and arguably most important, is design.
While Lido House, Westdrift and Hotel Republic share the same coastline, the design of each is markedly different. Lido House has been designed by WATG; its scheme inspired by the quaint cottages of Cape Cod. The architectural character is defined as 'Newport Beach nautical' – a West Coast interpretation of the East Coast Cape Cod style – with brick, shingle siding and shuttered windows accompanying a rooftop turret, the silhouette of which forms the hotel's brand identity.
The look continues through to the interiors, designed by California-based studio EDG. Joining Sleeper for a tour of the property, the firm's President and CEO Jennifer Johanson revealed that the design was based on the fictitious tale of a fisherman who brought the heritage of the East Coast to Newport. It is a refined celebration of Southern California's coastal lifestyle, with public spaces extending outside for an indoor-outdoor feel.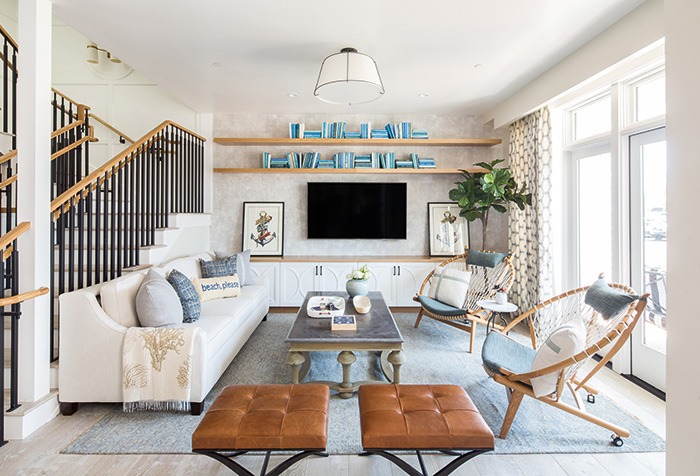 Johanson worked closely with Olsen, who had a clear vision of how the hotel should look and feel. "It was very much his dream that the hotel reflect his personal home," she explains, adding that the team took countless trips to Olsen's house for inspiration. "There are a lot of similarities between the two. The wainscot is exactly the same height, the paint colours are from his house, the vaulted ceiling of the private dining room is of the same proportions, and there's a rug that is literally from his house, he had someone bring it over," she continues. "It's an extension of Bob's living room; it's very personal."
Lido House has three distinct F&B venues, its signature restaurant being The Mayor's Table. Honouring the site's city hall roots, the scheme takes on a more masculine style with the use of dark woods, steel and glass along with industrial light fittings. There are plenty of nautical touches however, with trinkets such as model boats and mermaids dressing the shelves. The hotel's crowning glory is Topside, a rooftop bar that overlooks the hotel's lawn and pool, and out to the harbour beyond. It's the ultimate spot for a post-beach soirée, with open fire pits, festoon lighting and a cosy VIP snug within the turret.
Guestrooms are designed to represent a ship's cabin – albeit more spacious – with millwork framing the bed and TV, and a palette of navy and brass. For longer-stay guests, Lido House has five residential-style cottages, each the creation of a different local designer and boasting it's own private entrance, rooftop patio and 1,300ft2 of living space.
EDG was also responsible for the interior design scheme at Westdrift, a former Marriott hotel that was in desperate need of a refurb. The scheme here takes on elements of the east coast too – Manhattan Beach was founded by a New Yorker – but has a very different vibe to Lido House. "It was a great opportunity to be able to design two Autograph Collection hotels at the same time," says Johanson. "Both are considered coastal themes, but Newport has a very different feel to Manhattan Beach, so we wanted the hotels to have a totally different feel."
The lobby design is based on Manhattan Beach Pier, with a custom-made driftwood check-in desk framed by towering columns that reference the time-worn supports beneath the local landmark. The columns feature leather and metal accents to represent water staining while wood and mesh screens reference the nets of local fishermen. The restaurant, Jute Coastal Bar + Kitchen is named after the raw fibre often used to make rope, with its design scheme featuring woven chairs and string flags. Large-scale water paintings by Sausalito photorealist Eric Zener line the walls of the lobby, a smaller version of which can be seen in the guestrooms alongside a sun-washed palette, natural textures and splashes of blue.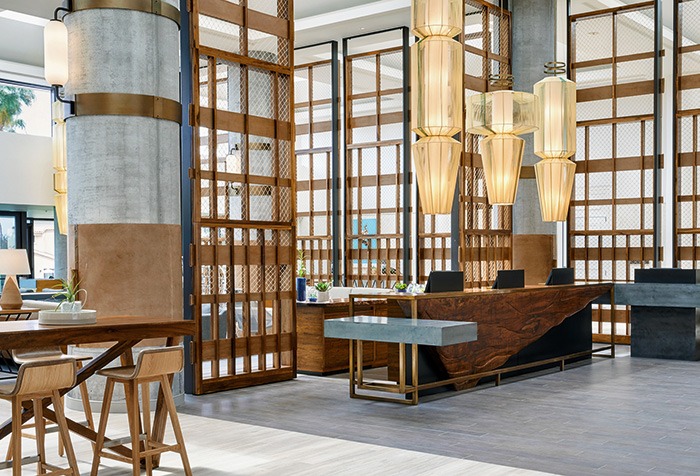 At San Diego's Hotel Republic, converted from a W Hotel by ownership group RP SCS WSD Hotel, the design story is more energetic, in line with the district's new lease of life as a social and business hub. San Diego-based Bluemotif Architecture and Los Angeles interior design studio Forchielli Glynn took cues from downtown's urban coastal palette to furnish the property, employing neutral tones, natural leathers and coffee tables fabricated from reclaimed solid elm beneath driftwood chandeliers hanging over the lobby.
The openings of Lido House, Westdrift and Hotel Republic mark a significant milestone in the expansion of Autograph Collection in California. That three hotels along the same stretch of coast have such different stories to tell is a credit to the design teams involved. And there's more to come from the brand, as it's revealed the state will welcome six more Autograph Collection members in the coming years. While the locations and design concepts are yet to be announced, one thing's for certain; each will remain true to the brand promise of delivering an experience exactly like nothing else.
---
Words: Catherine Martin
Images: Courtesy of Marriott International
This piece originally ran in Sleeper 80