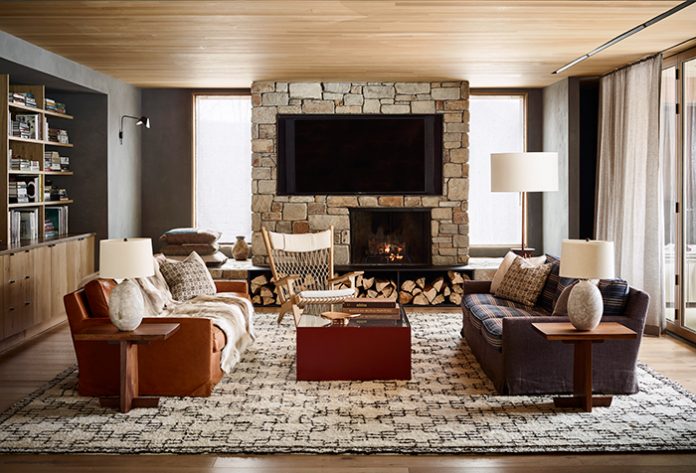 Caldera House, an eight-suite luxury hotel and members-only alpine club, has opened at the base of Jackson Hole Mountain Resort in Wyoming.
Imagined by owner Wesley Edens – who enlisted the help of co-owners Michael Novogratz, David Barry and Randal Nardone – the retreat draws inspiration from the rugged spirit of the American West, and features four 5,000-ft² four-bedroom suites and four 1,500ft² two-bedroom suites. A distinct restaurant and café, private bar, lounge, locker room, ski valet and ski shop are also located on-site.
"We deliberately tried to provide not just a great place to stay but a world-class restaurant, lounge, bar and retail experience, all available without stepping foot outside of the building," says Edens.
The hotel's interiors have been designed by Los Angeles-based Commune, tasked with the public spaces and a selection of suites, while local studio Carney Logan Burke lent their vision to the remaining suites. Together, the two firms cultivated a warm aesthetic that blends European style with American craftsmanship.
Caldera House's larger suites are contemporary in design, and are complemented by a collection of custom-built furniture and carefully chosen accent pieces. The suites offer spacious living rooms with wood-burning fireplaces, chef's kitchen, floor-to-ceiling windows, mudroom, laundry room and private outdoor balconies outfitted with Solus fire pits, gas grills and snowmelt patios for year-round use. The master bedrooms feature custom-built furniture and exterior patios with private hot tubs that afford scenic mountain views. Elsewhere, master bathrooms are equipped with heated floors, steam showers and large soaking tubs.
Each of Caldera House's two-bedroom suites, meanwhile, offer an airy, updated take on the classic cabin. A collection of American artworks add nostalgic flair to guestrooms, which are kitted with European furnishings and custom oak millwork. The generously-sized suites also feature a chef's kitchen, gas fireplaces and private balconies with snowmelt exterior patios.
The hotel also offers two dining venues, Old Yellowstone Garage and Southcable Café. At the former, chef Paulie O'Connor delivers gourmet Italian fare, while the latter is a casual slope-facing spot serving quick bites. Completing the F&B offer, a private lounge and bar is located on the third floor and features a wood-burning fireplace, heated patio and full-service menu from Old Yellowstone Garage.
Elsewhere, Caldera House spa features an infinity hot plunge, dry sauna and fitness studio, as well as a range of personalised treatments that can be provided in-suite or in a treatment room.
Located within walking distance from the tram and a few minute's drive to Grand Teton National Park, Caldera House offers both ski-in, ski-out convenience and access to Jackson Hole's scenery. It is also home to The Mudroom, an on-site ski shop operated by local Gov Carrington. The outlet offers hand-tuning, boot fitting, year-round rentals and a selection of equipment available for purchase.
"Jackson Hole is entirely about the experiences that happen outside the four walls where you stay," Edens adds.
Beyond the hotel, Caldera House serves as an exclusive alpine club. Memberships include ski tuning and demos at The Mudroom, coveted ski valet, parking, lockers for seasonal convenience and year-round storage. Members have access to Caldera House member's lounge, spa facilities, a fitness studio and kid's room.