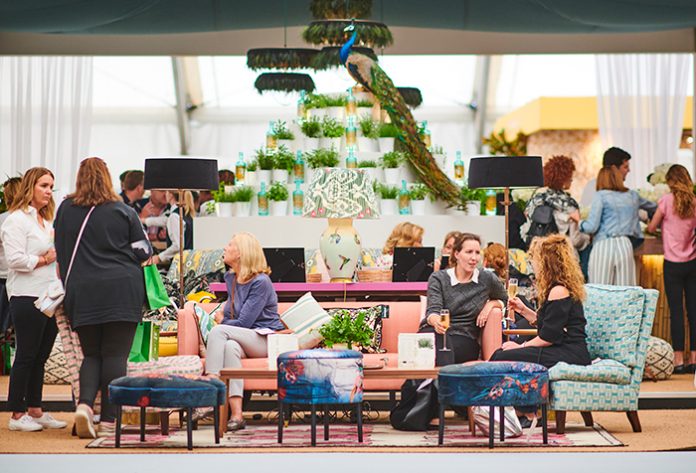 Decorex International celebrated another successful year as it returned to the grounds of Syon Park for its 41st edition. The four-day showcase drew 14,903 interior designers and trade visitors from a whole range of sectors, including furniture, lighting and textiles.
With a central theme of 'Blank Canvas' – Decorex invited four British designers to explore how an empty space can be the ideal starting point for a new beginning. Upon arrival, visitors were presented with four installations by Henry Prideaux, Simone Suss, Scott Maddux and Jo leGleud of Maddux Creative and Brian Woulfe; each creating a space that told the story behind their development as designers. The first vignette drew upon Prideaux's senior year at Harrow School, using the colours, uniform and architecture of the school. Next, Studio Suss captured Simone Suss' passion for music, art and fashion and Maddux Collective, who met on the dance floor of a nightclub, used this first encounter as inspiration for their installation. Finally, Brian Woulfe curated a scene that provided a snapshot of his early years navigating the jungle of interior design.
Inside, The Botanical Bar by Lambart & Browne used the expression 'bon viveur' as a starting point for the concept, which featured an elegant, refined, colonial style with luxurious lighting, lavish furniture and striking decorative screens. Similarly, House & Garden's VIP Lounge encompassed an Egyptian-inspired scheme by designer Beata Heuman.
The Future Heritage exhibition, curated by design critic Corrine Julius, also returned this year. The showcase included new work from James Shaw, an experimental product and furniture designer, who created new plastic pieces made by a hand-operated gun extruding recycled plastic. Both Tord Boontje and Marcin Rusak displayed works that further explored the use of materials. The former created a series of object that blend glass and metal welding, while the latter used solid metal to continue exploring the permanence of materials. Francesco Feltrin, meanwhile, exhibited works that used 'Dip Casting' – a new method of casting ceramics, and textile artist Domenica Landin took inspiration from the invisible patterns of the wind.
Also on display was the work of glassblower Jochen Holz, who created a series of organic, free-flowing neon glass pieces, and multi-disciplinary studio, Glithero, which presented a series of botanical tiles inspired by hand-drawn images of weeds and hand-turned vases using foraged seaweed. Elsewhere, Kaori Tatebayashi crafted ceramic works referencing the flowers growing around Syon Park, and Rebecca De Quin exhibited patinated wall panels with detachable vessels. Completing the line-up were Studio Ayaskan, who showed a UV-activated liquid clock, Katrin Spranger, who evolved her Aquatopia collection, Karlyn Sutherland, who created a series of fused, wall-mounted glass installations and Niela Kalra who produced textiles in response to Sutherland's work.
Continuing the exploration of craftsmanship, Lincrusta, Pigmentti, Artisan Collective and Shalini Misra in partnership with Asprey, hosted this year's In the Making feature areas. In these spaces, the companies revealed how their designs are made, finished and decorated, using artisans to showcase materials and design processes.
New to the agenda for 2018 was CraftWork, a series of eight stands showcasing craft design businesses that are still in their infancy. Featuring makers from varying disciplines, companies present included, David Pringle Studio, RHMB, Zuzana Lalikova, Iluka London, Kevin Stamper Furniture, Anna Glover, Louis Jobst and Novocastrian.
The show's 400 exhibitors included well-known names such as Brand Van Egmond, Beaumont & Fletcher, Innermost, Nicholas Haslam, Heathfield & Co and Phillip Jeffries. Decorex also welcomed around 50 first-time exhibitors, including Officine Gullo, Sahrai, Blackbird London, Fisk, Ori Bespoke and Memoir Essence Interiors.
Decorex International will move to Olympia London in 2019, returning to the heart of West Kensington on 6th-9th October.