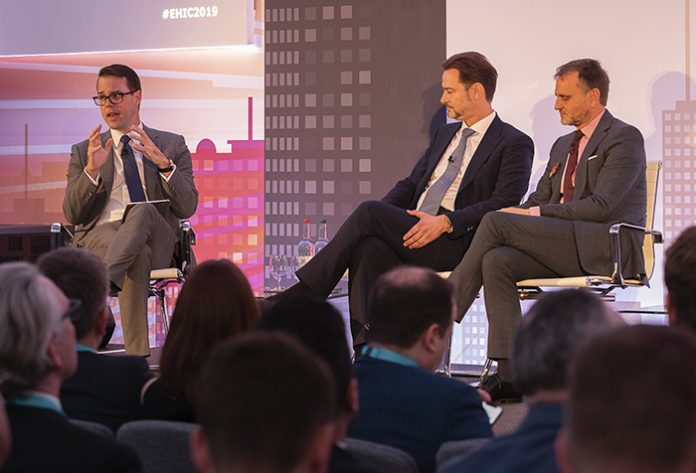 Returning to London for its 31st edition in November, Deloitte's annual hotel industry conference looked ahead to what might be in store for hospitality in the years to come.
Ahead of what could be another challenging year for the UK, hospitality leaders descended on Mayfair for the annual Deloitte European Hotel Industry Conference to discuss the major risks and opportunities facing the European hotel industry. Despite the UK's impending withdrawal from the EU, the conference challenged delegates to look beyond the coming months and consider what might be in store for hospitality in the years to follow.
"2019 was expected to be another volatile year from both an economic and political perspective," began Andreas Scriven, Lead Partner, Hospitality & Leisure, Deloitte. "That undoubtedly posed some challenges for the hospitality sector and therefore the conference will look to discuss how the sector can make the impossible possible in 2020 and beyond."
In the run-up to the conference, over 110 senior industry figures, including owners, lenders, developers and investors, were asked to identify major trends and explore how these will shape the industry in 2020 and beyond, providing valuable feedback for Deloitte to take on board for this year's programme. "We've tweaked our format and more importantly our content," Scriven continued. "We now have more spotlight sessions than in previous years, allowing us to go into more detail on a specific topic or introduce you to a subject you might not have been exposed to at other hospitality conferences."
Having introduced the new-look agenda, Scriven went on to present the results of the pre-conference survey, revealing that Amsterdam continues to be the most attractive city for hotel investment in 2020 for the fourth year in a row; Paris takes second place as London falls to third position; while Lisbon climbs up to fourth spot, with a quarter of respondents ranking it amongst the list's top three. The survey also found that traditional bank debt is expected to be the most common source of financing, with European (54%) and North American (38%) investors set to drive investment next year, although funding from the Middle East and Northern Africa (27%) was also predicted to increase.
In answer to the all-important question of where we are on the investment cycle, it was revealed that 50% believe the UK and Ireland have hit the peak, while Greece, Portugal and Spain were perceived to be markets on the upturn. And when asked about the risks to the European hotel industry over the next five years, delegates flagged a lack of economic growth (66%) and political tension (22%) as their biggest concerns, followed by the break-up of the EU (21%), local resentment towards tourists (19%) and competition from new entrants (17%).
With the spotlight on the UK, Scriven confirmed that Edinburgh tops the list of cities for investment for the sixth year in a row, with Cambridge remaining in second place. He also revealed that Oxford has overtaken Manchester as the third most attractive regional UK city to invest in, following a saturation of the market in the Northern powerhouse.
Overall, there was growth expected for London, with 53% of respondents anticipating RevPAR gains of 1-3% in 2020. And though 42% stated that Brexit will have no impact on the capital's attractiveness for hotel investment, 68% felt that regional UK would be less appealing as a result, with the 65% foreseeing flat or negative RevPAR.
Similarly, the UK investment horizon results saw 34% of delegates predict the UK hotel market will hit a downturn in the next 6-12 months, with a further 14% deeming it already in decline. In terms of capital, funds from Asia Pacific and domestic sources are expected to dominate in 2020, with institutional investors (28%) and private equity (28%) forecast to be the largest source of financing into the UK hotel sector.
Concerns for the UK market centred around Brexit and the break-up of the EU (41%), a shortage of skilled labour (39%) and the weakening of the currency (26%), while almost half of respondents were apprehensive over a lack of economic growth. Political tension was also seen as one of the biggest risks for the UK hospitality sector, with results up by nearly 15% on 2018, likely due to the survey being held in run-up to the UK's 2019 general election.
Scriven also looked at trends for the year ahead, revealing that 31% of delegates believed hotels to be the most attractive asset class for investment in 2020 due to positive demand fundamentals and yield profile. Also at the forefront of attendees minds were a focus on improving cyber security and sustainability, with discussions on the environment centred around the number (33%) who viewed eliminating single‐use plastic as the top sustainability priority for the next five years, despite the fact that only 18% saw reducing the carbon footprint as the main area to focus on. And driving engagement proved a hot topic too, with 66% viewing Instagram as the most effective social media platform to promote business and increase interaction (followed by Facebook and YouTube), indicating where the hospitality industry could be headed as we enter a new decade of digitalisation.
In closing, Scriven looked to transaction volumes as a measure of the industry's health, commenting: "For Europe as a whole the picture is still positive, with an increase of around 16% on a 12-month rolling average for the first half of 2019. However, the big concern is in the UK, where we've seen a 26% decrease. There's a number of reasons for that; a lack of quality supply, trading and cost pressures, and, of course, the backdrop of Brexit."
Following on from Scriven's scene-setting, Dr. Alexander Boersch, Chief Economist & Head of Research, Deloitte Germany, took to the stage for an examination of the European economic outlook, taking in industry headwinds such as geopolitical risks, a slowdown of world trade and corporate investment, and the ongoing impact of Brexit. "There are several key headwinds for the European economy and they are not of a theoretical nature – we are already seeing their effects," he began, pointing out that world trade is not the growth engine that it used to be. "However, I want to take these forecasts with a grain of salt as the assumptions are that we'll see an easing of trade tensions, a rebound of demand in the emerging markets, and an orderly Brexit next year."
Boersch also looked at the European GDP rankings, stating that consumption is the key driver of growth in Europe while political uncertainties hurt trade and investment, as well as analysing the recovery of labour markets and the forthcoming acceleration of demographic shifts.
Switching the focus to the hospitality industry, STR's Managing Director Robin Rossmann presented a performance review for the previous year, as well as a look at the trends set to impact the future. First addressing the hotel performance for the year-to-September 2019, Rossmann reported that supply is now outpacing demand growth and driving RevPAR declines in regions around the world, although Europe has had a good year overall with an average +2.3% RevPAR growth. Performance varied across the UK, with RevPAR up in London (5%), Leeds (5%) and Manchester (3%), while Glasgow and Oxford showed negative results, a trend that could continue due to the amount of new supply coming to the market.
STR's data also confirmed that the big global hotel groups are no longer just US chains, with Indian group Oyo becoming the latest disruptor to enter the fray with more than 35,000 hotels worldwide. Addressing the ongoing debate as to whether there are too many brands, Rossmann revealed that over the past 10 years, the proportion of branded to independent hotels has changed fundamentally, with brands making significant gains in every region, particularly Asia Pacific, where there has been an 11% growth in chains as of September 2018. Concluding the topic on increased competition, Rossmann touched on the challenges posed by OTAs and Airbnb, as well as how major hotel groups are only dipping their toes in the water with concepts such as Homes & Villas by Marriott International, Motto by Hilton and Accor's Jo&Joe.
Elsewhere, Rossmann predicted that sustainability and climate change will be a hot topic in 2020 and beyond, with Google Trends on sustainable travel and carbon footprint both growing by 60% worldwide over the past year. "There's no doubt that there has been a shift change with consumers around climate change," he observed. "As operators and investors, it's important to start thinking proactively around how changing consumer behaviour might impact the performance of hotels and the investments we make."
The following View from the Top session provided the opportunity to hear first-hand from three hospitality leaders on the issues facing the industry today. Martin Brühl, Chief Investment Officer, Union Investment Real Estate; Ian Carter, President, Global Development, Architecture, Design & Construction, Hilton; and Roeland Vos, President & Chief Executive Officer, Belmond spoke on issues such as macro-economic issues, deal dynamics and growth, as well as disruptors set to challenge the industry in the coming year.
"The flow of international travel and how to predict where that is going to be is what's keeping us awake," began Carter. "We've typically focused on the big trends within upscale travel, but it's rapidly become much more about the mid-market and we're focusing on that right now."
While social and economic issues were high on the agenda, it was the all-important guest experience that dominated much of the conversation: "Our focus is not so much on growth for growth's sake, but rather finding the experiences that will be relevant for our brand and customer base," explained Vos. "There is a number of areas where we are unique, such as the train business and river cruises, and these are where we see potential growth going forward."
Keeping with the theme of 'navigating the impossible', the second spotlight session of the day addressed social media, including the interactions and insights that drivel travel. Jeremy Jauncey, founder & Chief Executive Officer, Beautiful Destinations, spoke on developing the marketing strategy of destinations to increase tourist arrivals, economic output and ultimately the value of investor assets. "No other industry has the power to connect people across age, gender, religion and cultural backgrounds like hospitality," he noted, before underlining that "only a very small percentage of people in the industry that have understood the fundamental shift in the way that people consume travel content".
Jauncey went on to reveal how his brand uses its 22 million social media followers to understand current perceptions of a destination, generating proprietary insights and strategy by blending real-time social media data and research with traditional methods. "The opportunity that sits in front of us today is to shift the way we work and the way we market," he concluded. "You do have the ability to drive people to destinations and develop your brand if you use digital and social media, and we as a business are now partnering with hoteliers to grow the presence of these destinations."
This was a perspective shared by Guy Langford, Vice Chairman, US Transportation, Hospitality & Services Leader, Deloitte, in his panel on capturing the consumer, in which he explored how hoteliers are responding to changes in behaviour alongside senior executives from Wyndham, IHG and Radisson Hotel Group. "A brand is not about a sign on a door, it's about having a DNA and how people associate with it," commented Dimitris Manikis, President & Managing Director, Wyndham. "Listening to what our consumers say, converting that message to our owners and educating our people in the marketplace to reflect that experience is essential for us."
The session's other panellists, Elie Younes, Executive Vice President & Chief Development Officer, Radisson Hotel Group, and Karin Sheppard, Managing Director, IHG, went on to reinforce the notion of understanding the consumer, with Sheppard explaining how "the importance of digital throughout the entire guest journey is changing at a rapid pace, not just in terms of how guests can access beautiful images of destinations, but also how they follow that through the booking journey and into the hotel services".
In the third panel of the day meanwhile, Nikola Reid, Director & Head of Hospitality Advisory, Deloitte, spoke to Hubert Viriot Chief Executive Officer, Yotel; Steffen Doyle Managing Director, Credit Suisse; and Abhishek Agarwal, Managing Director, Blackstone on the current risks and rewards of investment into the hotel market. Reid set the scene by highlighting ongoing risks such as disruptors and geo-political issues, before pointing out the big question surrounding the likelihood of a recession or a downturn in global markets.
On the all-important question of where we are in the current investment cycle, Doyle provided a positive outlook: "I'm going to make a potentially contentious prediction, but I think that we're at a false peak and will see a very strong recovery for the next 18-24 months. It's not too late to invest and we'll be surprised at the deal activity over the next two years."
"From our perspective, we're looking at understanding what the owners want first," Viriot added on Yotel's global development strategy. "After that we apply our core USPs: to develop smarter buildings, create more rooms per square metre and lower our costs. If you do all that, you can generate a better yield and grow a business with more keys around the world."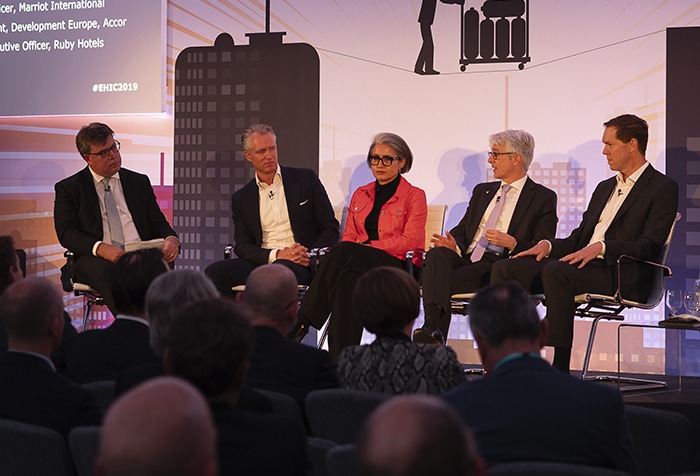 Turning attention to experience analytics, Andy Gauld, Global Insight Driven Organisation Proposition Lead, Deloitte was quick to point out the growing power of digital technology, revealing that 90% of the world's data has been created in the last two years alone, and that we are currently adding to that with 2.5 quintillion bytes of data every day. "We are now in a world of disruption, at a tipping point where we are either going to be a disruptor or be disrupted," he opened. "The organisations that do not disrupt in a positive way will tend to disappear quite quickly. As part of that challenge, we need to think about the use of data, turning data into insight and using that insight to change the way we operate businesses."
Gauld also challenged the audience to think about how much data, technology and AI is already integrated into their lives, and whether they are asking the right questions around digital strategies and analytics: "The fundamental change we all need to make is a cultural shift. We're living in an age of with; human with the machine, insight with actionable intelligence. How are we going to change?"
Delving into the subject of cyber security – one of the biggest risks to the hotel industry over the next five years according to the pre-conference survey – Russell Morgan, Director, Cyber Security Advisory, Deloitte, along with Rob McElvanney, Associate Director, Cyber Attack, Deloitte, discussed how cyber security must be seen as an integral part of digital development and the transformation of hotels. "The adoption of new smart technologies increases the potential attack surface based on the increased number of connected devices," said Morgan. "This brings a wide range of security challenges for businesses and a wide range of opportunities for the attacker. However, security is an enabler of digital transformation and needs to be embedded from the start."
Morgan and McElvanney went on to discuss how hotels can strengthen the safety net to become more secure, vigilant and resilient in addressing cyber risk. From getting the basics right to deploying services for detection and incident response, the duo stressed that while no organisation is going to be 100 per cent secure, hotels must respect the security teams on how well they respond and recover from attacks: "There are various points throughout an attack where the door can be locked, and that's where the detection and incident response comes in," McElvanney added. "If the company detects that there's a lot of suspicious acitivity, then it should be flagged and there should be some level of investigation carried out."
As the conference drew to a close, the fourth and final panel of the day – Future Opportunities: Unlocking the Impossible – looked ahead to what might be in store for hospitality in the years to come. Simon Oaten, Partner, Travel, Hospitality & Leisure, Deloitte, along with panellists Amal Del Monaco Head of Sector Specialists, AXA IM-Real Assets; Carlton Ervin, Chief Development Officer, Marriott International; Christian Giraud, Senior Vice President, Development Europe, Accor; and Michael Struck, founder & Chief Executive Officer, Ruby Hotels, reflected on the topics discussed by the day's previous speakers, from the changes in the consumer landscape to the impact of social media and the Japanisation of Europe. Conversations throughout the conference may well have presented more questions than they answered, but the message was clear, the industry must prepare for the future.
Deloitte's next European Hotel Industry Conference will take place in November 2020.
Words: Ben Thomas
Photography: © Martin Higgs