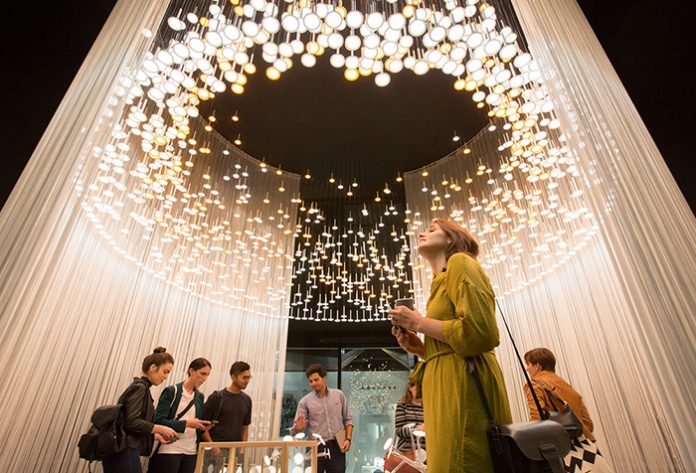 Designjunction has revealed details for this year's talks programme, taking place from 19-20 September at the Everyman Cinema in King's Cross. Curated by design and architecture writer and commentator Grant Gibson in association with Clippings, the UK's online destination for sourcing furniture and lighting, the two-day platform is set to challenge, provoke and engage with a range of topical issues including sustainability and the circular economy; the relationship between dyslexia and design; the need for increased diversity in design; and the importance of wellbeing at work.
Responding to this year's theme Re(act), the programme will also feature lively debates and book clubs with the industry's leading thinkers and expert voices like architect Nigel Coates; designer Sevil Peach; Sam Hecht and Kim Colin of London-based studio Industrial Facility; founder of 1882 Emily Johnson; product designer Matthew Hilton; and University of Cambridge researcher, Helen Taylor.
Kicking off proceedings, Wellness in the Workplace – Is It Anything More Than A Passing Fad? will see a panel of designers, journalists and workplace scientists unpick the current obsession with wellbeing and ask if it's simply feng-shui for the new Millennium. Speakers will include Rosamund Pomeroy, co-founder of brainybirdz; Fabienne O'Neil, co-founder and Director of Cuckooz; and Mark Eltringham, founder of Workplace Insight.
Meanwhile, designer Ella Doran will discuss her latest project with the Yorkshire Sculpture Park – Sheep to Seat, Fleece to Floor, where she took fleeces from the sheep grazing in the park's grounds and turned them into a variety of products. Touching on sustainability and the importance of the circular economy, Doran will explain how she involved manufacturing companies such as Camira, Coakley & Cox and Alternative Flooring in the project.
Our very own Catherine Martin will also be talking to some of the people behind The Standard London, described as the capital's hottest hotel opening in 2019. Housed in the former Camden Town Hall Annex a mere stone's throw from the Everyman Cinema, the 266-room property is The Standard's first hotel outside of the US.
Elsewhere, the Britain Can (Still) Make It panel will discuss the future of British manufacturing, seeking to unpick the problems and benefits of making things in the UK and asking what role design can play, as well as pondering how technology is likely to disrupt the traditional model. Speakers will include Joni Steiner, founder of hi-tech furniture firm Open Desk; furniture and product designer, Matthew Hilton; and Richard Blackwell, Executive Director at Bisley. Expect Brexit to be mentioned on at least one occasion.
Looking ahead to what the future of design will look like, graduates from Central Saint Martins  including Mael Henaff, Elissa Brunato, Benjamin Benmoyal and Graysha Audren are set to host a series of rapid fire presentations that tie in with its show at the nearby Lethaby Gallery. Delving into what materials we may be using, as well as how design can help society become more sustainable and equitable, the talk will be introduced by Carole Collet, Director at CSM LVMH Sustainable Innovation, and hosted by William Knight, former Deputy Director of the London Design Festival.
To view the full talks programme and to book tickets click here.