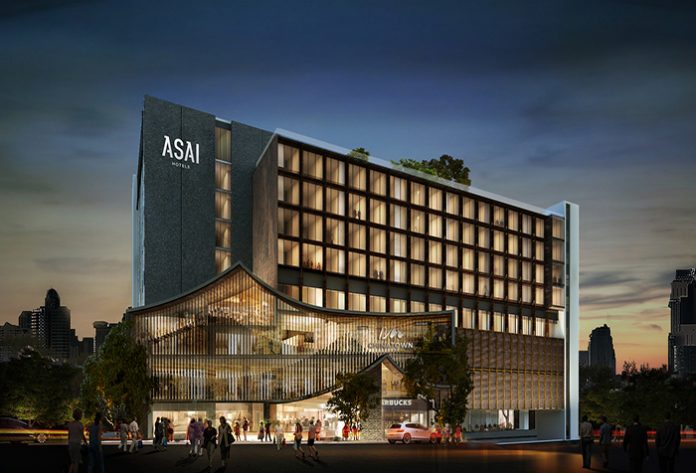 Dusit International has announced a Q1 2020 opening for Asai Bangkok Chinatown – the first property under its new Asai Hotels brand.
Conveniently located adjacent to street food destination Yaowarat Road, and in close proximity to many temples, shrines, art galleries, museums, bars, coffee shops and markets, the project features 224 guestrooms with a contemporary, Thai-Chinese-inspired design, emphasising essentials such as high-quality beds and high-pressure rain showers.
In keeping with Asai's four key principles – thoughtful essentials, common ground, authentic connections and a sustainable ecosystem – a large communal space will incorporate a workspace, fitness centre, bar and pop-up restaurant concept headed by Paolo Vitaletti and Jarrett Wrisley using  produce from the on-site organic garden to create a seasonal, farm-driven menu. The hotel will also source 100% arabica beans from Akha Ama, a socially empowered enterprise growing coffee in northern Thailand.
"Each hotel is being carefully designed to reflect the fabric of its neighbourhoods and appeal to the needs and expectations of today's generation of travellers and consumers who want both authentic local experiences and brands with value-driven credentials," comments Siradej Donavanik, Managing Director of Asai Hotels. "Asai Bangkok Chinatown's distinctive offerings, fascinating surroundings and excellent location near the new underground station make it a strong debut for our brand."
In addition to Bangkok Chinatown, Asai has confirmed five more properties in its pipeline including three in the Philippines, one in Myanmar and another in Bangkok.