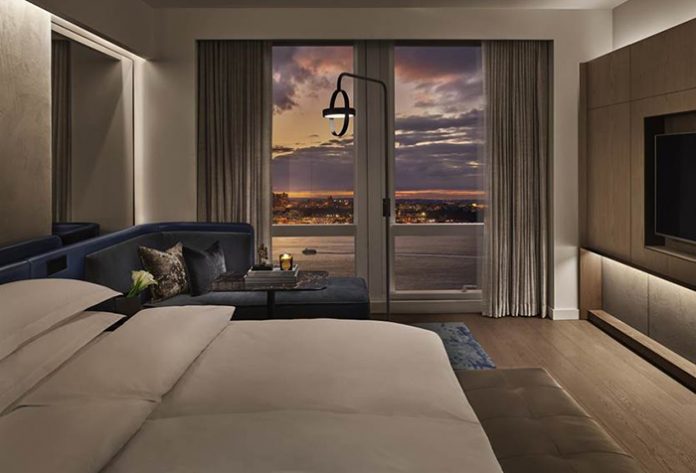 Equinox Hotels has released the first wave of details for its debut opening in Hudson Yards, New York. In line with a global vision for the brand, future Equinox Hotels have also been confirmed for gateway cities including Los Angeles, Santa Clara, Seattle, Chicago and Houston with several other sites under development.
Anchoring the Hudson Yards neighbourhood, the new 212-key hotel will feature interior spaces by David Rockwell, exterior spaces by Ken Smith Workshop and Rockwell Group, and building design by David Childs, as well as a Joyce Wang-designed Equinox Fitness Club and Spa.
"The philosophy, 'It's not fitness, it's life' has grounded Equinox and fuelled a cultural movement for more than 25 years, and now we're introducing Equinox Hotels as a true culmination of our brand promise," says Harvey Spevak, Executive Chairman, Managing Partner, Equinox. "Steeped with deep knowledge of how to cater 24/7 to the high performance needs of the most discerning community, we are a company that has always seen the world differently and defined trends rather than following them. Everything we've done to this point has given us true license to enter hospitality and chart its future with a completely fresh, uniquely Equinox experience and point of view."
Upon arrival, intuitive controls will speed up and streamline services from check-in to in-room dining, while the Equinox Fitness Clubs app ensures guests can book group fitness, personal training and other club amenities on-demand. Continuing the wellness theme, guestrooms will feature soundproofing and a total-blackout window system, while beds use Coco-Mat all natural fibre mattresses that adapt to any shape and form.
The 60,000ft² Equinox Fitness Club, as well as E by Equinox, will feature an elevated approach to holistic health with emphasis on a bespoke hospitality experience for each member. Hotel guests, who become Equinox Fitness Clubs members for the duration of their stay, have access to signature group fitness classes, private Pilates, personal training services, a performance-driven spa, 25-yard indoor salt water pool, hot and cold plunge pools, an outdoor leisure pool and terrace, as well as a SoulCycle on the ground floor.
The hotel will also feature Electric Lemon, a restaurant and bar by Restaurateur Stephen Starr and Starr Group, featuring an 8,000ft2² outdoor terrace with views over Manhattan and the Hudson River. Helmed by Executive Chef Kyle Knall, the restaurant, designed by David Rockwell, will be located on the 24th floor of the property. The menu will feature light, balanced and bright mid-Atlantic cuisine. Dishes will be ingredient-driven and designed to balance flavour and fuel with equal measure, and will be available to guests in-room, in social spaces and in the restaurant itself.
Meanwhile, the in-room dining programme features a lifestyle-focused menu designed around high performance that targets various factors such as time of day and function, from a robust breakfast menu to all-day dining options and a sleep well offering.
Completing the offer, the spa has been crafted collaboratively by movement performance, body, and skincare experts and backed by Equinox's proprietary Health Advisory Board. The space emphasises recovery-based treatments that feature the latest in science-grounded technology, as well as timeless regeneration and relaxation techniques.
Chris Norton, CEO, Equinox Hotels, adds: "In hospitality, lifestyle hotels have grown up and luxury hotels have gotten younger in their outlook and experience. Now, as health becomes the new wealth, Equinox is uniquely positioned to define an emerging category that is disrupting the entire industry. Equinox is the market leader and authority on fitness as lifestyle, and we are bringing our decades of experience to create the ultimate high performance luxury lifestyle hotels. Redefining the concept of luxury as the ultimate in experience, we are uniquely qualified to deliver what this new consumer wants, encompassing world-class service and design with unparalleled fitness offerings."