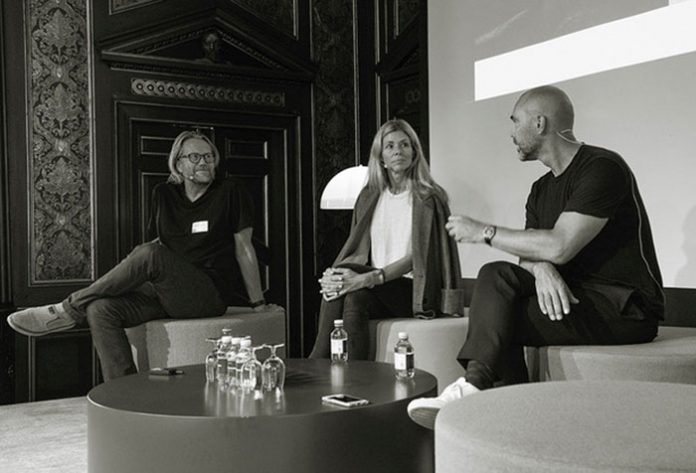 An overwhelming feeling of collaboration, exchange and community pervaded a day of hospitality dialogue at the second edition of The Lobby – an annual hotel design-focused talks programme within the Nordic Hospitality Conference.
Taking place in Central Copenhagen's former Stock Exchange – and current Chamber of Danish Commerce – on June 29th, the event attracted some 250 delegates including hotel investors, owners, interior designers and operators, attending mainly from the Nordic region, but with representation from across Europe and as far as Asia present too.
"Our intention for The Lobby is to create an informal learning environment where our delegates can ask questions, take part in the conversation and discuss the challenges we all face," explained Dorte Bagge, Head of Hospitality at Danish textile giant Kvadrat, who founded the event along with Mads Arlien-Søborg, a partner at Copenhagen-based design and trend agency We Made It.
And Copenhagen is an apt locale to discuss hospitality given its popularity; by 2030 the city expects visitor numbers to double, and upwards of 7,000 new rooms to reach the market in the next few years, not least the 300-key Villa Copenhagen opening in 2020. The designers involved – the UK-based Universal Design Studio (UDS) and Goddard Littlefair – were both in attendance.
The discussion was kickstarted by Holly Friend, Travel Editor of LS:N Global / The Future Laboratory, who touched on themes that were explored throughout the day including sustainability, guest experience and serendipity. Friend also looked at ideas of conscientious travel, a movement with the intention of generating a ripple effect that empowers local communities, as well as a more stripped-back form of tourism; think the less-but-better ideals seen in Muji Hotel and Ace Hotels' Sister City.
Sustainability proved a popular subject, with an online poll of the audience seeing 96% say they believe in global warming. The theme was taken up by Xander Bueno de Mesquita – founder of Treating Life Well and creator of Amsterdam's QO Hotel, which took home the award for Hotel Newbuild at the AHEAD Awards Europe 2018 – who explored the idea of circular resource use, a waste reducing concept realised as part of QO's rooftop garden and flexible façade treatment, the latter likened to a chameleon's skin.
Few understand the importance of the guest experience better than Hans Meyer, Managing Director, Zoku, who explained that the home/office hybrid living space the brand specialises in "is not about heads in beds but about connecting people". This idea was expanded on by Henning Weiß and Michael End, Chief Product Officer and Managing Director of 25Hours Hotels respectively, who explained that the group's raison d'être is to "create soulful spaces and memories." End further recognised that "we are half about the physical (environment) but 51% about the (collaboration with) people".
Surprisingly, 25hours do not rely on guest surveys or similar to develop their hotels. Rather they find the right building to provide the "red thread" for the narrative. This will be the case for their newest project in the historic Købmagergade area of Copenhagen, which will be interpreted by another UK team in Martin Brudnizki Design Studio. The hotel is part of the significant expansion of the brand following investment by Accor; expect 243-rooms in an ultra-rich, ultra-colourful scheme like no other in the city.
Weiß, who is charged with maintaining the "you know one, you know none" ethos of 25hours Hotels, admits this will be a challenge for both his own group and much larger brands.
And you don't get much larger than Marriott International (MI) with 30 subsidiaries and labels, some the largest in their class. Lionel Sussman, VP Global Design Strategies explained that "the design experience is all about the end consumer" before giving the audience a rundown of the differing ethos for several of MI's brands, and how they are brought to life by way of emotional design.
The subject of developing uniqueness popped up in discussions with designers including Richard McConkey, Associate Director at UDS, who described the studio's methodology for each project: "We avoid a top down approach, rather allowing the culture and context to bubble up to develop the particular concept – we like to leave gaps to allow for special moments that are not planned to appear." Mette Faarup Jørgensen, founder of AM/PM, also explained her approach, noting: "We always add three new values for each project, and it is these that make the property different rather than the look."
Further design strategies were discussed by Erik Nissen Johansen of Stylt Trampoli and Signe Bindslev Henriksen and Peter Bungaard Rützou of Space Copenhagen (main picture), with both exploring the subject of hotels and their power to drive destinations. Nissen Johansen talked of needing to "find the reason why peoples' hearts beat faster" in order to deliver a narrative-based design that allows people to connect, whilst Bindslev Henriksen asked "can the hotel leave you space to be who you are?" and Bungaard Rützou mused on balance: "We create a feeling of safety at an entry point before introducing a focus point of distortion or disruption."
Reaction to the event has been overwhelmingly positive. Thomas Fridman, International Contract Sales for Danish furniture manufacturer, Gubi, appreciated "the open, informal setting, the mix of people and the willingness to share cross-knowledge within the hospitality business," whilst Quentin Dante of Bangkok-based Studio Q commented: "What I found productive was the diverse mix of speakers, who were really dialled into what's coming in the industry instead of rehashing the same old-same old." And, with an eye to the future, Jo Littlefair of Goddard Littlefair, noted that "we were able to obtain an insight into the undercurrents motivating society and the impacts their desires have on us as designers for hotels of the future".
Closing the day's proceedings, Bagge concluded that "we intend to create some kind of think tank for the industry," with a promise to return next year in a different format but with the same aim: "To join forces with, and give learning, knowledge and inspiration to the hospitality world".
Sleeper, this year's media partner, will be back too.
---
Words: Guy Dittrich
Photography: © Thomas Andersen
www.nordichospitalityconference.com
www.heywemadeit.dk
www.kvadrat.dk
www.danskerhverv.dk