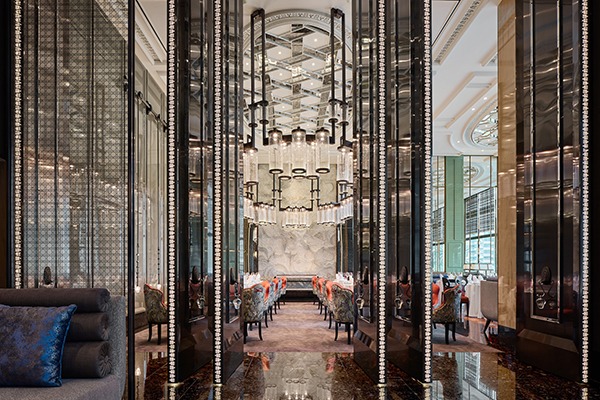 Four Seasons Hotel Kuala Lumpur has opened its doors in the city's Golden Triangle district, unveiling three unique spaces by Hong Kong-based studio AB Concept. Curated by co-founders Ed Ng and Terence Ngan – Yun House, The Lounge at Four Seasons and Bar Trigona merge colonial and Asian influences, paying homage to Chinese and Malaysian heritage.
Yun House, the main dining area at the 209-key property, was inspired by past Canton voyagers and is fronted by a decadent courtyard-style reception, complete with an onyx table and pewter back panel. In a nod to its native country – the world's largest pewter producer – the bespoke panel features patterns of plum blossoms, orchids, bamboo and chrysanthemum flowers, which together represent the four seasons known as the 'Four Gentlemen' in Chinese artistry.
Complete with a tea vestibule, Yun House remains true to its Chinese heritage with the use of decorative pewter tea canisters residing along the corridor. The use of high ceilings and natural light further channel Malaysia's longstanding tradition of socialising in gardens, and serve to invite the vibrancy of the outdoors into the common areas. Together with the use of Western shutters and balusters, the dining area also represents colonial influences and acts as a space where the infusion of East and West is prominent.
"It was important that our designs paid true homage to the young man's Chinese and Malaysian heritage; through the use of pewter, rattan and bright colours we created a warm familiar feeling of family, openness and opulence for guests to enjoy," comments Ed Ng.
The Lounge at Four Seasons, meanwhile, is a veranda-style venue that overlooks Kuala Lumpur's Central Park from the sixth floor. Featuring pale wooden accents, Malay- architecture communal booths and marble details, as well as floor-to-ceiling windows that afford an abundance of light, the space has been designed to provide a symbolic adaptation of traditional colonial arrangements, thoughtfully combining Western elements with customary Malaysian structures to create a holistic illustration of the blending of cultures.
Accessed through a discrete entryway within The Lounge at Four Seasons, Bar Trigona is disguised by panelled doors and encompasses shades of imperial blue and teal, which are complemented by pendant lamps that grace the ceiling. Posing as a reserved escape from the surrounding restaurant, the venue incorporates leather, glass and bronze – materials traditionally used in Malaysian crafts – embracing a connection with the cityscape backdrop, whilst the use of shutters again draw on the infusion between Eastern culture and Western influences.
Tom Roelens, General Manager at Four Seasons Hotel Kuala Lumpur, adds: "AB Concept has brought our contemporary vision to life with their exquisite and thoughtful design concepts inspired by the dynamic mix of culture and cosmopolitan energy found throughout modern-day Kuala Lumpur. Capturing a sense of place and wonder, each outlet has its own unique personality and identity, such as the floral and leaf pattern motifs in Yun House that celebrate Cantonese culture, or the symbolic rattan elements in Bar Trigona, ultimately elevating the guest experience with visual storytelling through the design elements."