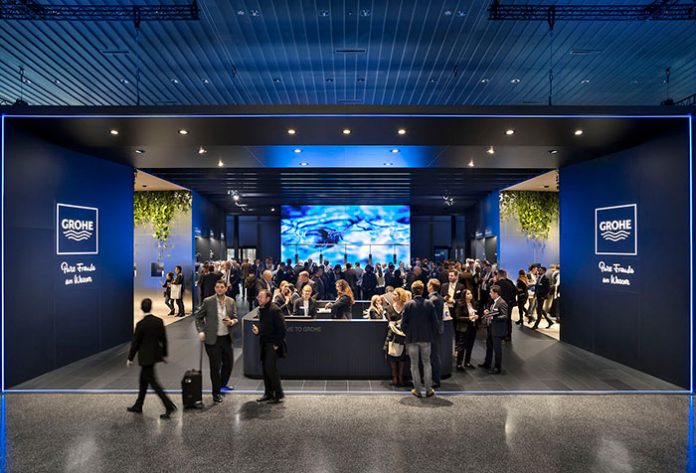 Grohe used its annual ISH keynote to announce a series of innovative products and initiatives including new additions to its Sense and Sense Guard ranges as well as a pair of boundary pushing 3D-printed faucets.
Taking to the stage in the brand's dedicated hall, CEO Michael Rauterkus commented: "As Grohe stands for water, intelligence, and enjoyment, we are creating intelligent water solutions that transform lives for the better. Most importantly, we are transforming the experience of water itself."
Identifying 5 key trends driving the industry, as well as the use of water at large, Grohe's 2019 keynote addressed the passive consumer's shift to a more active role, with formerly dormant users taking control of the bathroom space; the search for simplicity in terms of intuitive solutions; the connected eco-system of water technology, security and management; and the capabilities of 3D printing in revolutionising the water experience.
In tune with the last trend, the brand launched Atrio Icon 3D, and Allure Brilliant Icon 3D, a pair of faucets 3D printed with Grohe's own metal printing material.
"The design of our new faucets are beyond belief," Rauterkus added. "They make the unthinkable possible. What you see is the future of design. For consumers, it's the future of their own creativity and ultimate personalisation. We believe that 3D metal printing will revolutionise the water experience in the home. It's the ultimate blend of customisation and industrial production."
Meanwhile, the launch of Sense Guard Pro ­­– an extension to the security and management system designed for multi-family homes and high-rise residential buildings – marked the brand's latest milestone within the water technology sector.
"We are creating an intelligent platform, the biggest ecosystem for water security and water management, which will allow our industry partners worldwide, such as insurance companies, to implement new business models," Rauterkus added.
Overall Grohe introduced a record number of innovations and more than 500 single new products at ISH 2019, including installation pieces such as the Rapido Smartbox – providing architects and planners with a concealed solution ­– as well as Essence, its first ceramic line comprising bathtubs with organic forms with durable construction.
"Grohe is shaping the future of water, in terms of design and innovation, both analogue and digital, giving our customers and our consumers the building blocks they need to harness the power and the beauty of water as a tailored experience," Rauterkus concluded.