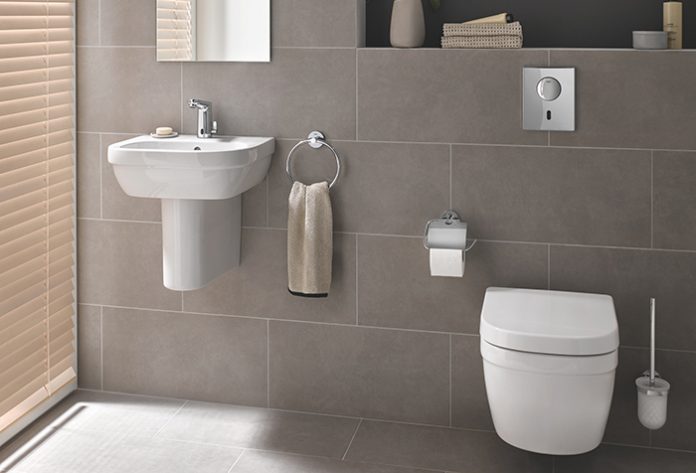 Grohe has expanded its infra-red offering with the launch of the new Bau Cosmo E range, a basin mixer providing the latest in sensor-activated technology. The water saving credentials of the collection are furthered by specialist EcoJoy technology. When the tap is in operation, a water and energy saving aerator contained within the mechanics of the tap ensures water flow is limited to 5.7 litres per minute, helping to conserve resource without the user experience being compromised. Meanwhile, a discreet control on the side of the tap allows the user to adjust the temperature as desired, while a temperature limiter fitted within the mechanics of the tap ensures that the water stays within safe parameters to protect against scalding.
Infra-red tap operation is not only designed to deliver reduced water consumption but also help to improve overall hygiene standards in the bathroom. As the need to manually touch the handles of the tap is eliminated, the spread of bacteria and germs is greatly reduced.
"This latest launch marks a key turning point for the infra-red tap market. It is exciting to now be able to offer such advanced technology at a more accessible price point, making the Bau Cosmo an affordable specification for all projects, both in commercial buildings and residential properties," says Sanjeev Delipkumar, Junior Category Manager at Grohe UK. "Grohe's in-house design team have worked exceptionally hard to explore design and manufacturing techniques that can be applied to offer the same quality in our products whilst reducing price point so that we can work with a greater number of specifiers on a variety of projects across the spectrum."
The recent accreditation of the Bau Cosmo E awarded by the Water Regulations Advisory Service (WRAS), pays testament to its quality, which thoroughly tests the mechanical and water quality of any product put through its approval scheme. The WRAS accreditation is highly regarded in the contract sector and is a prerequisite for newbuild constructions, making Bau Cosmo an ideal solution for commercial projects.