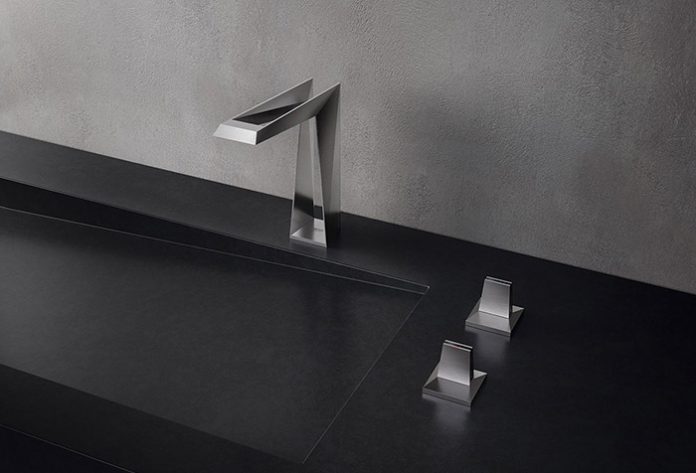 Grohe has revealed two 3D taps with the release of Grohe Atrio Icon 3D and Grohe Allure Brilliant Icon 3D, a pair of products created utilising metal-printing technology the bathroom and water specialist believes will set new standards for manufacturers.
Landing as extensions to the existing Allure Brilliant and Atrio ranges, the statement pieces combine the emergent technology and printing process with traditional craftsmanship to create what Grohe bills as "water as a visual experience."
Thomas Fuhr, Executive Director Operations Grohe, comments: "In order to be a pioneer in the industry and to further expand our technology leadership, we invest heavily not only in research and development, but also in innovative manufacturing processes in our plants. With 3D metal-printing, we are ringing in a new era in production which is made in Germany. We focus on our core business and use our taps to cover the entire value chain, clearly distinguishing us from our competitors. Essential to us is that we retain our proven Grohe quality and translate it into a 3D-metal-printed product. For this, we have developed our own process, whose magic lies in the powder, a unique formula for the granules that we make."
Revealed at ISH 2019, Icon 3D and Allure Brilliant 3D were produced by printing metal and using a powder bed laser melting process. Each component for the tap consists of approximately 4,700 layers that are each 0.06mm thick, providing it with forging strength. After printing, the component is mechanically treated on a CNC milling machine, followed by a manual grinding and fine brushing procedure as the last step of the finish. Starting in April 2019, Grohe Icon 3D will be available on request as an exclusive piece for the bathroom.
Michael Seum, Vice President Design, Grohe, explains: "At Grohe, we believe that something completely new needs a bold vision. What is possible or not possible becomes a question of perspective. With Icon 3D we are opening up a completely new way of thinking about product design in the future. We overcome boundaries by using 3D metal-printing to create products that at first appear impossible. This production method offers the option to design taps in small quantities according to the wishes of our customers. There are no limits set for individual personalisation."