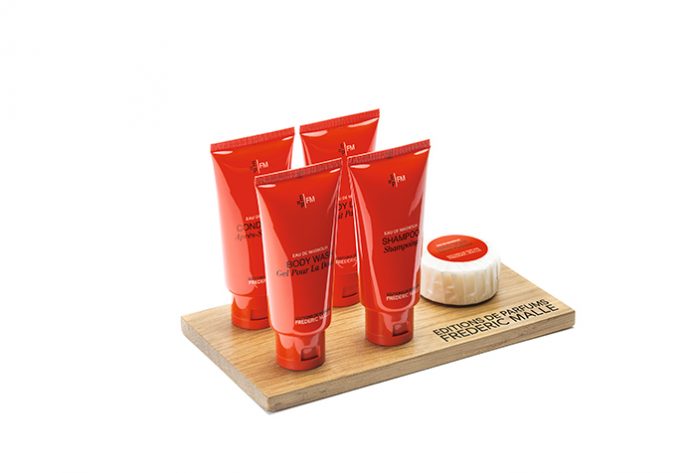 Guest amenities provider Groupe GM has launched a fragranced amenity line in partnership with Editions de Parfums Frédéric Malle. Born into a family of industrialists, artists and perfumers, Frédéric Malle is a French perfume expert whose grandfather, Serge Heftler-Louiche, founded Parfums Christian Dior before passing on its art direction to Frédéric's mother.
Malle himself now represents the third generation of perfume specialists in his family, collaborating the acclaimed perfume designers to guides them through the creative process. Such is the case with Eau de Magnolia, created by American perfumer Carlos Benaïm and leveraged for Groupe GM's hotel line, which will debut at the Four Seasons Hotel in Hong Kong.
Unlike other white flowers that exude carnal opulence, magnolia's scent is citrus-fresh; its magnified citric balance of bergamot, lemon and grapefruit is carried by a woody undercurrent that tunnels towards darker notes of oak moss and patchouli.
The range features four 40ml products including shampoo, conditioner, body wash and body lotion, as well as perfumed soaps in pleat wrap – available in 30g and 50g.  The collection features the brand's signature red and is presented on a modern signed wooden tray. Other products include the Eau de Magnolia Eau de Toilette in 3.5ml or 7ml, and a rubber incense medallion.
"We are delighted to add Editions de Parfums Frédéric Malle to our ever-expanding luxurious amenities portfolio," says Laurent Marchand, President of Groupe GM. "Similar to the Frédéric Malle vision, we at Groupe GM are constantly striving for creativity, quality and innovation. This line deeply reflects our core values and will enable hotels worldwide to pamper their guests with expertly fragranced amenities."