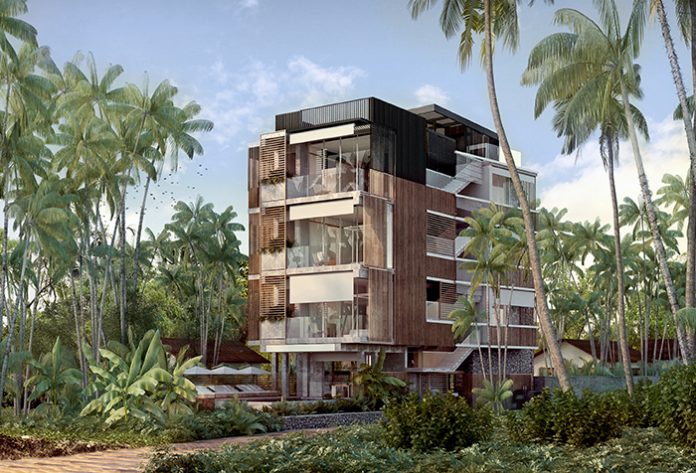 The first Harding Boutique Hotel – a new hospitality venture by Sri Lankan-Australian entrepreneur Paul Harding – has broken ground in Ahangama, Sri Lanka. Designed by British architect Jonathan Ashmore, founder of design and architecture practice Anarchitect, the project seeks to channel the vernacular aesthetics of the country's modernist movement, and is set to open in Q3 2019.
Comprising an intimate six suites, the hotel features well-ventilated open spaces, private balconies and views over the Indian Ocean, as well as sea-facing private baths and king beds wrapped in Egyptian cotton linens. Suites are elevated amongst natural palm groves to connect the property to its tropical surroundings, and the property is in close proximity to several renowned surf breaks and a half hour from the UNESCO World Heritage Site Galle Fort.
"My great uncle was one of the first hoteliers and great pioneers in the country, opening The Blue Lagoon, the country's first hotel designed by Geoffrey Bawa – the father of Sri-Lankan modernism," Harding explains. "There must have been something in the family as my love for boutique hotels and hospitality has been with me from a very young age."
With architectural features including hidden seating nooks and mid-landings as well as a roof terrace and staircase wrapped in foliage leading up, the hotel offers a combination of contemporary design and contextualism, with the project responding to both local traditional and modern hospitality trends. With its palette of ribbed local hardwood, polished concrete and granite stone with local detailing, Harding Boutique Hotels Ahangama seeks to bring a new level of luxury to the region.
"The new property lies amongst dense coconut groves to the East and West, ocean and beach frontage to the South and a dynamic local community to the North," Ashmore adds. "It was important for us that the boutique hotel's design responded on all four elevations in equal measure through a clean, contemporary and modern aesthetic. It is visually calm amongst the organic and wild nature that surrounds it and contextual and environmentally responsive through its materiality and natural openness and permeability."