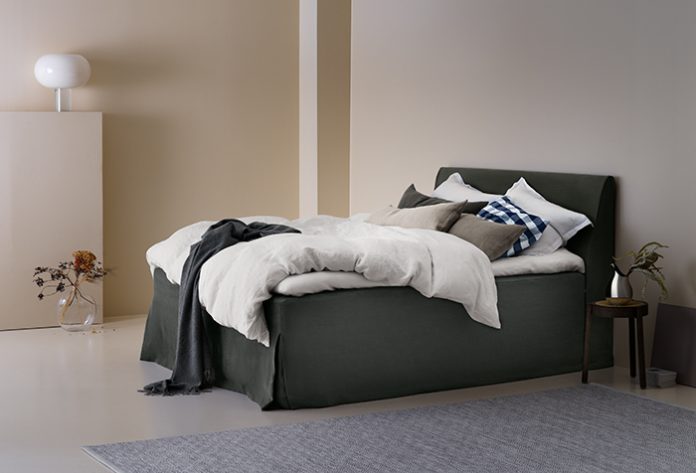 Swedish bed manufacturer Hästens has launched the Being collection, its latest collaboration with British designer Ilse Crawford. Set to be unveiled at Salone del Mobile in Milan, the series is designed to complement the brand's luxury handcrafted mattresses and enhance the guest experience.
The highlight of the collection is a headboard upholstered in natural hemp fabric, which features a tactile feel and gentle slope. Joining the headboard is a hemp bedskirt with kick pleat corners and piped seams; its natural yet clean aesthetic is the ideal partner to Hästens' handmade beds. Being is completed with a down-filled lumbar cushion and white bed linen that is soft and weightless against the skin. The headboard, bedskirt and lumbar pillow can be used separately or together as a complete collection, and are available in three subtle shades.
Championing natural fabrics such as hemp and linen means the collection is not only more sustainable but also more comfortable, with naturally hypoallergenic and breathable qualities that ensure guests stay warm in winter and cool in summer.
"As we are discovering more and more, quality of sleep is an integral factor in our overall wellbeing," says Crawford. "We saw the collaboration as an opportunity to bring together Hästens craftsmanship and scientific knowledge of sleep and mattresses with our experience of interior design and human behaviour. Our designs will improve the whole experience of being in bed – not just when we are asleep – from a wellbeing, functional and sustainable perspective."
Jan Ryde, fifth generation owner and CEO of Hästens, adds: "Ilse has a unique feeling, understanding and appreciation for our craft traditions, which are the heart of Hästens. With Being collection, she has created a beautiful series, where quality and experience have been the focus, while Ilse's unique and characteristic design language can take a prominent place."