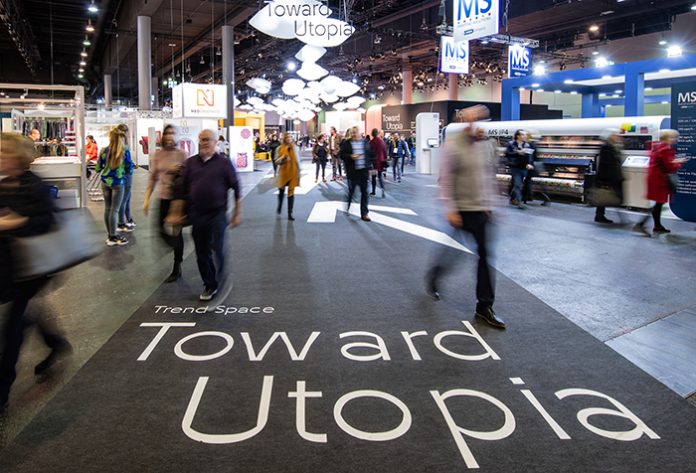 Heimtextil returned to Messe Frankfurt for its 49th edition in January with key themes of architecture, hotels, sustainability and sleep. At the heart of the four-day exhibition was Toward Utopia, a new trend space conceived by London's FranklinTill Studio and staged by Frankfurt-based firm Markgraph ahead of the 2019/2020 season. As part of the show's new concept, the space was located within close proximity to international textile designers, CAD/CAM suppliers and digital printer manufacturers, bringing the progressive themes of trends and future technologies together on one level.
As part of the Interior.Architecture.Hospitality Expo, Heimtextil also presented the latest solutions for contract furnishings,from textiles with acoustic function or special abrasion properties to modular carpets, sun protection and innovative wallcoverings. With product presentations, lectures and guided tours from a total of around 500 exhibitors, the hall was the first point of contact for interior designers and hospitality experts.
Elsewhere, the lifestyle theme of sleep was integrated through a curated programme with industry experts. Sleep! The Future Forum, a new information area in the foyer of hall 11.0, highlighted the themes of science and digital, sport, the hotel industry and sustainability during the four days of the fair. A showcase of products under the new spotlight further highlighted smart bedding, sleeping systems, mattresses and bedding from 134 suppliers.
The topic of water consumption in the textile industry, in particular the problems of micro and ocean plastics increasingly coming to the fore, was also highlighted following the first-time agreement reached 40 leading fashion companies, associations and organisations at the World Climate Conference in Katowice. A number of Heimtextil exhibitors presented progressive solutions to the problem: Christian Fischbacher showcased a series of decorative and upholstery fabrics made from used PET bottles, while Erfal demonstrated how it uses similarly recycled PET bottles to produce sun protection systems, and MHZ provided its take on tackling the issue of ocean plastic by turning it into an innovative Greenscreen Sea Tex fabric.
"With 3,025 exhibitors from 65 countries, this year's show had a stronger and more international slant than it has had for 15 years," says Detlef Braun, Member of the Executive Board for Messe Frankfurt. "As part of the fundamentally revised concept, we combined themes and product segments in an even better way for specific target groups. Visitors benefitted from these new synergies, shorter distances and lots of furnishing inspiration."