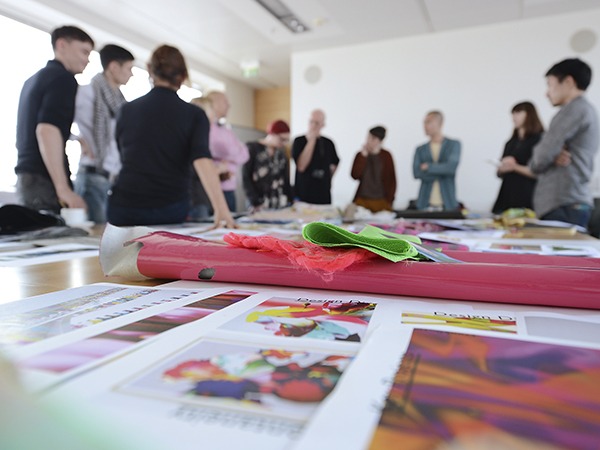 Six international design studios met in Frankfurt in March to exchange ideas and opinions about future design developments, laying the foundations for the presentation of future-oriented design trends at the next Heimtextil in January 2014.
During the two-day workshop, design experts from Brazil, France, Great Britain, Japan, The Netherlands and the USA deliberated on the latest trends from the fields of interior design, architecture, fashion, design and art. "Thanks to its supra-continental composition, the Heimtextil Trends Team is in the privileged position of being able to draw on an extremely wide pool of inspiration and to gain exciting perspectives on tomorrow's interior design," explains Olaf Schmidt, Vice-President Textiles & Textile Technologies of Messe Frankfurt.
With six months to go before the next Heimtextil opens its doors, the international designers analysed a wide variety of new materials, textures, colours and patterns from all over the world. At the end of the process, they produced a trend prognosis for the coming 18 months, which is valid for the whole world and forms the basis for the Heimtextil Trend Book and the Trend Show during the fair.
Each year, a different member of the Trendtable assumes responsibility for preparing the Trend Book and the design concept of the Trend Show. For Heimtextil 2014, British design studio FranklinTill has agreed to play the leading role. With FranklinTill at the helm, the Heimtextil Trends will benefit from influences from the British Isles and their London-based studio comprising of trend researchers, designers and stylists, together with their worldwide network of creatives and visionaries who work with trend experts and founders of FranklinTill, Kate Franklin and Caroline Till.
The other design studios involved in the preparation of the Heimtextil Trends 2014/15 are 2G2L Fashion Design and Consulting (France), Dan Project (Japan), Global Color Research (USA), Orbitato (Brazil) and Stijlinstituut Amsterdam (The Netherlands)