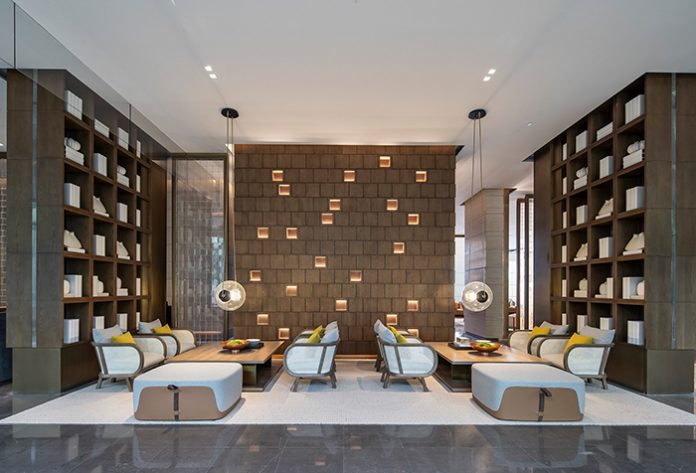 Joyze Hotel Xiamen Curio Collection, Hilton's second Curio property in China, has opened its doors in Zengcuoan. The hotel is surrounded by mountains and seas, with Dongping Mountain in the north and the coastline of Huandao Road in the south, while the well-known Zengcuoan fishing village is also just steps away.
Tasked with the architectural design, interiors and landscaping were Cheng Chung Design, who created the design concept of a 'floating city on the sea', combining local cultural elements of Minnan with urban design techniques to narrate the historical changes of the fishing village.
Following the arrangement of the villages in Zengcuoan, which are divided by walls with houses scattered throughout, the hotel's floor plan is split into various zones intersected by landscapes between different areas. Looking down from above, each area is like a box, representing a household with unique personalities and designs. The façade is constructed with boxes too, and under each is a light to create a sense of levitation.
Guests arrive through a mansion-style door as if having a village tour, and are greeted with alleys, walls and varying landscapes. The entrance further incorporates the local culture of 'brick wall', a unique way of building in Minnan architecture that uses stones and bricks of different shapes to overlay and construct simple walls. Past the wall is a cultural exhibition area, followed by the lobby bar and reception. Aside from vintage chandeliers, metal-trimmed glass doors, wooden tables and chairs, the reception features a buoyant-like desk that creates the look of a warm chandelier floating on the sea.
Upstairs, guestrooms are natural, warm and cozy, creating a homely feel. After the entrance is a cloakroom and luggage rack, both designed to make the walkway more functional and maximise the space. In detail, guestrooms also closely follow the concept of a floating city, with a washtable and bed suspended from the ground.
The washtable, mini bar and operating desk form a small living room, enabling guests to enjoy the scenery with tea, just like the local residents. The texture of the old buildings in the city is also projected onto the walls, while the patterns of Gulangyu's historic structures are carved into ceramic tiles, which become time fragments to record the traces of the years.