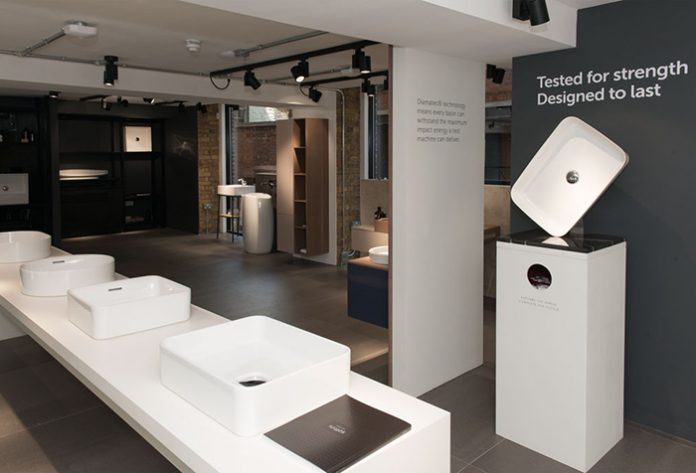 Global bathroom manufacturer Ideal Standard International has launched new £1 million Clerkenwell showroom. The four-storey design and specification hub was officially opened by Ideal Standard Group's CEO Torsten Türling and UK Managing Director Stephen Ewer, marking a new milestone in the company's quest to regain design leadership in the industry.
The manufacturer's London Design & Specification Centre was created to bring together a variety of industry professionals, from architects and designers to project developers and specifiers. The Italian-inspired launch event reflected this through discussions between Ideal Standard's Chief Design Officer Roberto Palomba and long-standing design partner Robin Levien on developing attitudes, trends and influences around bathroom design, as well as a broader industry outlook.
Ideal Standard recently announced its partnership with design studio Palomba Serafini Associati and the appointment of Roberto Palomba as the company's Chief Design Officer.  The new showroom houses a number of collections born out of this collaboration, including a new palette for the Ipalyss basins, which take inspiration from previous colours.
The new flagship space also showcases the new Conca basin collection by Studio Palomba Serafini Associati. The series takes cues from the original, designed in 1972 by Paolo Tilche – a range that signalled a shift from pure practicality to a combination of form and function in the bathroom. In their contemporary design interpretation, Palomba Serafini Associati kept the geometries and sensual details of the original design, but introduced Ideal Standard's advanced manufacturing technologies to enable a new level of purity in the design.
Other brands in the Ideal Standard family are also featured, with innovative healthcare and commercial washroom solutions from Armitage Shanks and residential products from Sottini.
"As a family made up of the most well-known bathroom brands in the UK, Ideal Standard has made its mark across the entire bathroom industry," says Torsten Türling, Ideal Standard Group CEO. "For over two centuries, we've been focused on innovation and design to make life better for our customers. Working closely with architects, designers, urban planners and construction companies, we want to positively shape the future of modern living. This latest flagship Design and Specification Center in the heart of London's creative hub was created with exactly this philosophy in mind and we look forward to welcoming all of our customers and partners."
Stephen Ewer, UK Managing Director, Ideal Standard, adds: "Whether it's supporting our NHS in reducing the spread of infection in hospitals or helping luxury hotels and developers become more aspirational with beautiful basins, better and considered design is the key that has always allowed us to keep moving forward as a business.
"The discussions which took place today showed us how important this is. We can't stand still in a world which is constantly changing. This showroom, which allows specifiers, designers and architects to share ideas and develop together, is an important step towards better understanding the needs of today and the demands of tomorrow."
Following the talk, Roberto Palomba, noted: "Over the past decades, bathrooms and washrooms have become increasingly important spaces in the overall design and architecture of buildings. Working with Master designers like Gio Ponti in the 50s and Paolo Tilche and the 70s and 80s, Ideal Standard played an important part in this evolution, not only introducing design in the world of bathrooms but also influencing society as a whole and redefining the role of the bathroom within it. Our goal is to build on this strong heritage and translate it into the 21st century – like we did with the creation of the new Conca series or the introduction of the unique colour palette to Ideal Standard's ceramics and faucets portfolio. Going forward, we will continue to design collections that reflect the company's history while offering customers something they've never seen before."
Robin Levien, owner, Studio Levien, concluded: "Having worked with Ideal Standard for several decades, I know that innovation-led products can have a significant positive impact on people's lives. A lot of the time true innovation comes from looking at and learning from the past. This is an ethos built into Ideal Standard's business, with many of its products building on the most outstanding elements of previous successful collections, and reimagining them for today's world. The solutions you'll find in this showroom have been created to answer the needs of modern customers, helping architects, designers, developers and specification professionals alike."