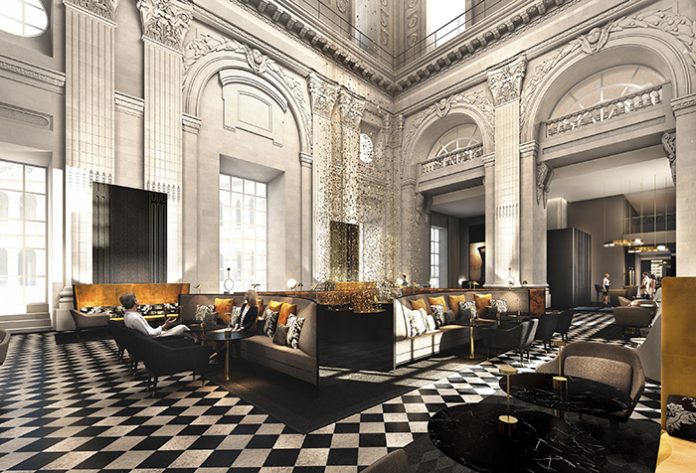 InterContinental Hotels & Resorts has announced that the restored InterContinental Lyon – Hotel Dieu will open in June 2019. Located in a UNESCO World Heritage Site, the historic property occupies a former hospital that operated for more than eight centuries until 2010.
The hotel's 360-metre long facade overlooks the Rhône River, while its Soufflot Dome, towering 72 metres high, has been renovated with the help of more than 800 craftsmen. The Dome will be at the heart of the new development, housing a bar, Le Dôme, which will act as a meeting place for hotel guests and locals alike.
Upstairs, InterContinental Lyon – Hotel Dieu will offer 104 guestrooms and 35 suites, half of which have views of the Rhône River, while others will overlook the Fourvière or the Grand Hôtel-Dieu with its tree-lined inner courtyards. The Duplex Suites, accessed from the upper level, will feature floor-to-ceiling windows, honouring the original architecture of the building. The Presidential Suite meanwhile, with its powder pink tones and floral motifs, will be the largest of its kind in the city.
Interior designer Jean-Philippe Nuel has drawn on the history and background of the site, creating a decorative concept that is both monastic and sophisticated – highlighting the building's original contrast between the former hospital and the richness of its exterior architecture. This contrast is most notable in the decor of the Grand Dome; where Lyon silks from the Maison Verel de Belval contrast with more pared-back fabrics. The same juxtaposition can be found in other public areas and in the guestrooms.
Situated on the ground floor, the hotel's restaurant, Épona, is named after a goddess of Gaulish Celtic mythology – patron saint of horse riding and travel. Here, Chef Mathieu Charrois serves dishes closely linked to Lyon's gastronomic culture; his signature will revisit the legendary quenelle (a type of local dumpling) along with other plates typical of the area.
Elsewhere, L'Académie is a 1,325m2 conference centre comprising 12 meeting rooms including a 433m2 plenary conference room, while the hotel's spa and fitness facilities will include a Hamman, 24-hour gym, sauna and steam room as well as pilates and yoga classes.
The opening marks the 6th InterContinental Hotel in France, joining the family of InterContinental Paris – Le Grand, InterContinental Paris – Avenue Marceau, InterContinental Carlton Cannes, InterContinental Marseille – Hotel Dieu and InterContinental Bordeaux Le Grand Hotel. The InterContinental Lyon – Hotel Dieu will be managed by Madelijn Vervoord, former General Manager of the InterContinental Marseille – Hotel Dieu.