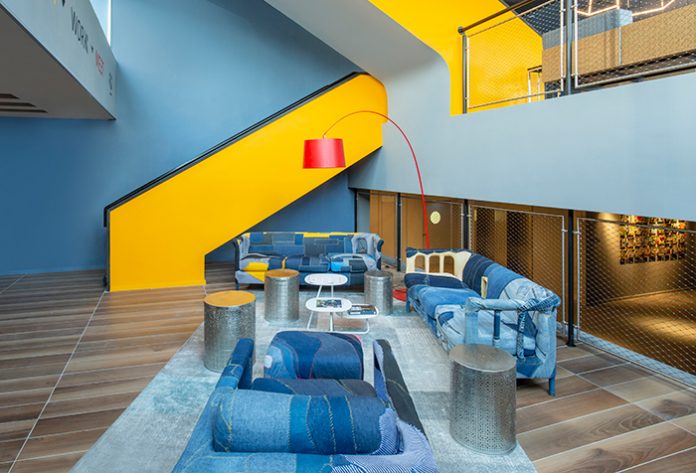 With Dan Hotels' presence in Israel dating back to its founding in the 1940s, the luxury brand will be well known to natives and travellers to the state alike. With 14 properties including projects in Tel Aviv, Herzliya, Haifa and Eilat – as well as one beyond the country's borders in Bangalore, India opened in 2017 – the chain has established itself as a staple of Israeli hospitality, channelling a tried and tested combination of contemporary design and the country's distinctly warm and welcoming approach to hospitality to great effect.
However, as a new generation of guest takes the reigns of the hotel industry, the company has sought to ride the waves of change with a new concept in Link Hotel & Hub, a decidedly millennial offer bringing together traditional hotel elements with notes of the technology, fluidity and connectivity its creators believe will come to drive the industry in coming years.
Launching its debut hotel on Tel Aviv's King Saul Avenue in October 2018, Link Hotel & Hub Tel Aviv incorporates everything today's incoming guest needs to keep up with modern life.
Sleeper sat down with Ami Federmann, Vice Chairman of Dan Hotels to discuss the concept, changing guest desires and preparing for the future.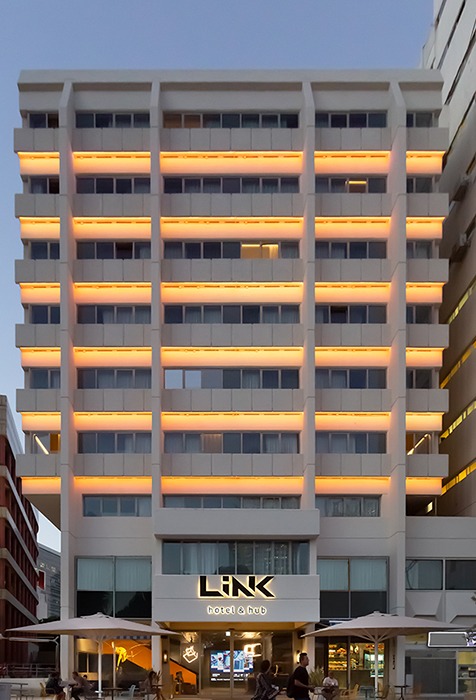 Why did Dan Hotels develop the Link Hotel & Hub brand?
For a while now, we have been exploring hotel concepts that are more attuned to the younger generation. 20 years ago, my daughter suggested a hostel type model, but at the time I didn't think that Israel was ready yet. Now that this model is gaining more traction and becoming more mainstream, we decided that the time was right to adapt certain aspects of hostel life to the needs of younger guests. My son and daughter visited Amsterdam, London and other cities to study the latest trends. They came back with a proposal, and the three of us sat down to develop the Link Hotel & Hub concept. We worked well together, merging the ideas of the younger generation with my own long experience in this field. We built a sample guestroom, and started defining very clearly what we wanted.
And what did you want?
Our basic design assumption was that the needs of younger generation travellers are very different from the needs of previous generations. Let me give you the analogy of city dwellers. Young people today are increasingly willing to live in much smaller apartments close to the social, cultural and entertainment spots of the city centre, rather than living in bigger apartments that are out in the suburbs. We believe that when it comes to hotel accommodation, younger guests today are willing to make a similar trade-off: smaller guestrooms and bigger common spaces.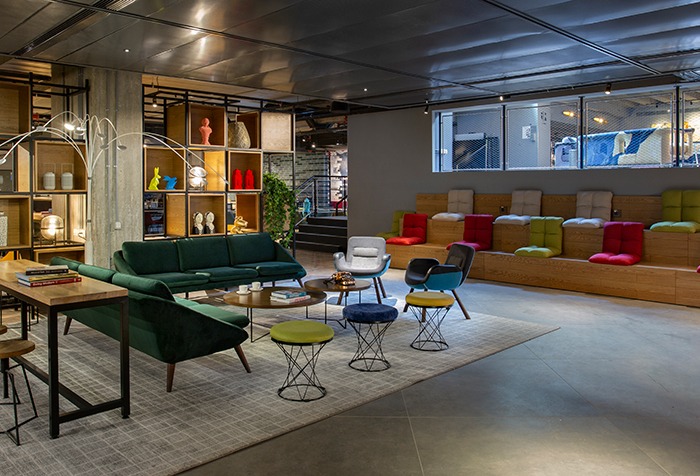 How would you describe your approach to the design?
We made an executive decision not to choose brand-name furniture that could easily slip out of fashion. Too often, you see new hotels trying to be ultra-chic, but all too quickly their design looks dated. So we focused on clean lines and achieving attractive harmony between colours and light. Urban hotels can often be quite dark. We wanted unimposing natural light with the look and feel of home. In the interests of comfort and convenience, we designed our public spaces to serve multiple functions with multiple seating configurations. Our Hub common area is the beating heart of the hotel. It's where guests can relax, work, meet, play and grab a bite. It is an ideal space for co-working. And there are meeting rooms capable of holding 4-40.
What else does the Link Hotel & Hub concept stand for?
The decision to have smaller guestrooms gave us the flexibility to fit our rooms into the dimensions of the repurposed existing building. All our guestrooms share core design elements: the art, a shelving and desk unit, a reclining armchair that doubles as a seat for the desk, high-quality mattress and linen, shower in a glass cubicle, and lighting that can be colour-adapted according to mood. Guests will control everything – check-in, check-out, access to the room, the lights, the large-screen TV, and other functions – from their cellphones using the LINKApp that we developed.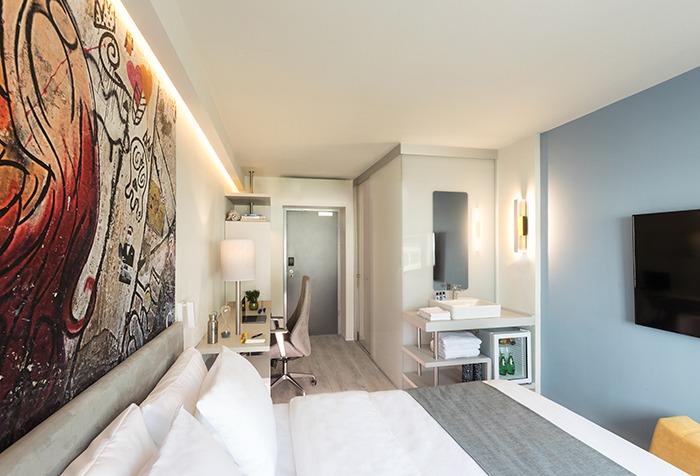 You mentioned the art. What design principles guide the art?
We chose Street Art as our theme, primarily because it so convincingly conveys the spirit of the city. The not-too-serious nature of Street Art suits the unstuffy mood of a younger generation that does not take itself too seriously. We picked a group of prominent Tel Aviv street artists and commissioned each of them to create art for their own floor. Because the building was originally designed for offices, there are no long corridors. Instead, the square space in front of the elevators resembles an art gallery. Street Art figures prominently on the three walls facing the elevators, and there is a large piece of Street Art over the bed in each room. We call our Street Art "Off the walls of Tel Aviv," and we have branded it as Link Street. Replicas of the Link Street art throughout the hotel can be purchased in different sizes on aluminium or wood, and many guests have already bought art pieces for their own homes. Link Street will soon be available for sale via the LINKApp and via the website.
Is there a danger Street Art could limit the brand's appeal?
There is a difference between a fun approach and a forced attempt at humour. I have never been a fan of properties where the humour is in your face: on the towels, on the pillows, on the walls, on the toilet paper, or on the soap. Humour can be very subjective, and I think it's risky to use gimmicks that not everyone finds funny. While Street Art is certainly on the less serious side of the spectrum, it is not designed to achieve cheap laughs. Street Art is anything but frivolous, and judging from the guest feedback, it is playing a significant role in the hotel's excellent reviews.
Does Link Hotel & Hub have a restaurant?
We have adopted the same logic to dining as we used to the layout. Rather than offering full restaurant facilities, we chose a scaled-down operation offering meatless light meals, salads and snacks throughout the day. Because we know that younger guests are more adventurous with their dining choices, we help them by advising them of our recommended favourite restaurants within a 20 minute walk.
How has your design approach impacted on staffing?
We have adopted a professional multi-tasking philosophy to staffing whereby everyone does everything. Every crew member can help guests check in, prepare all the food, create signature cocktails, act as a knowledgeable concierge, and help guests with any issues. We believe that this approach leads to greater job enrichment, and allows the crew members to have a broader and more fulfilling experience. We encourage our guests to be autonomous. By using the LINKapp, they can check in, order food, make payments, and leave messages. We brief the crew about what's hot, what's on, and where the action is in Tel Aviv. The same no-fuss design concept that guides the physical spaces also guides the operational aspects of the hotel. Link Hotel & Hub is cashless, which means that we save the hassle of staff having to handle cash.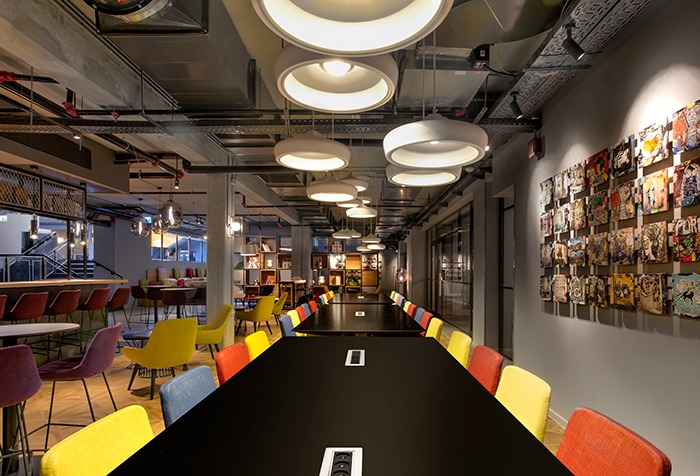 How have guests responded to the concept?
The response so far has been amazing. I've been in the hotel business all my life, and I can honestly say that I have not seen guests give such an enthusiastic welcome to a new concept since we introduced radical new design in the Dan Eilat 30 years ago. As the co-author of the design ethos of LINK hotel&hub, I find it very gratifying that people are really appreciating our new offering.
Do you have any plans to expand the concept outside Israel?
As a matter of fact, we do – and Berlin is the first city we are exploring. We see certain similarities shared by Tel Aviv, Berlin and other key European cities. The most important factor is that a target city must be highly receptive to innovative ideas. We believe that Berlin is open to the Link Hotel & Hub concept.