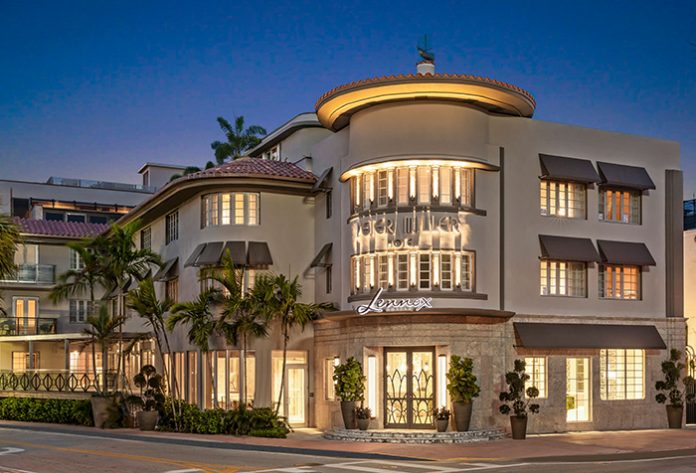 Lennox Hotel Miami Beach, a restored original 1930s Art Deco and Mediterranean Revival property, has announced a July opening date. Featuring 119 keys, a restaurant, private beach area and continental-style courtyard with swimming pool and poolside bar, interiors have been overseen by Argentinian designer Juan Ciavarella, and created to channel an authentic Miami experience within a stylish, contemporary environment.
Located in what was once the Peter Miller Hotel, the four interconnected protected buildings are at the heart of the area's Historic District. Having purchased the building for US$14.7 million in 2010, Lennox Hotels has invested more than US$100 million on an extensive transformation. The renovation has focused on maintaining the property's legacy by retaining its original architectural exterior and transforming it into a living landmark.
13 guestrooms will be enhanced with a balcony offering views of Miami Beach, with all guestroom unique in their layout and size. Furnished with handcrafted pieces from Patagonia, natural elements and eco-friendly and upcycled materials, the scheme is tied together with a combination of soft neutral tones and textiles. Guestrooms range in categories from Terrace Poolside with direct pool access to Balcony King with a private balcony.
Diego Agnelli, CEO of Lennox Hotels, comments: "We are thrilled to be expanding the Lennox Hotel brand to the U.S. with the opening of Lennox Hotel Miami Beach.  Our reasons for choosing this area were as much because of the area's vibrancy and liveliness as it was because of the welcoming spirit of its people and the friendliness they express toward travellers. Our vision for Lennox Hotel Miami Beach is to provide a sophisticated and inviting setting for travellers to live an authentic Miami experience, one that not only provides a place to mingle with the locals, but also allows them to feel like locals and enjoy the area, its culture and vivacity through the lens of a local."
The historic structure was designed by architect Russell Pancoast in 1934. Pancoast is known for some of Miami Beach's most celebrated buildings, including the Surf Club, the Church by the Sea and the Miami Beach Auditorium. The property has the notable distinction of being among the 300 Miami Beach buildings that were leased by the U.S. Army for the Air Forces Technical Training Command during World War II. The buildings returned to civilian use in 1943 and remained a military property until 1944.
The transformation of the hotel's original structure into Lennox Hotel Miami Beach is the work of veteran Miami architect Beilison Gomez.