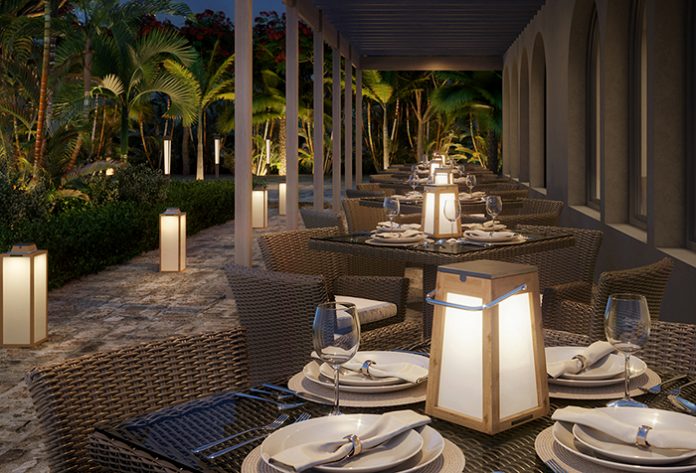 Les Jardins Solar Lighting, a series of portable solar-powered lighting products from outdoor furniture maker Les Jardins, has announced the launch of a new contract division for restaurants, resorts, spas and other hospitality projects. The new support team invites designers, architects, landscapers and facility managers to work directly with Les Jardins Solar Lighting to specify and source outdoor LED lighting requirements.
The durable, commercial-grade products from Les Jardins Solar Lighting require no in-ground installation, nor do they need wires or a power supply – meaning they can be placed and moved at any time. The collections range from outdoor lounge and deck lanterns incorporating stainless steel and solid teak, to functional art pieces. In addition, its portable lanterns are designed to go from tabletop to poolside with an integrated handle; frame finishes include powder-coated aluminium in several colours, teak wood and Duratek, while styles include lanterns, chair side table-lamp fixtures, garden lights, planters, torches and lamp posts.
Each self-charging piece features an autonomous solar bulb that moves between all of the brand's lanterns and lamps, producing 500 lumens of LED light and up to 200 hours per charge. The solar lights never lose power and feature adaptive technology, motion sensors and dimming capabilities to tailor usage. To further lower potential impact on the environment and optimise solar efficiency and functionality, the integrated autonomous solar bulbs are replaced easily as renewable lighting technology evolves.
"The benefits of well-designed LED outdoor lighting powered by solar energy with unlimited installation applications are countless," says Les Jardins' USA President Frederic Raffenne. "Our new contract division makes the process easy and practical – it's also a valuable resource for designers, specifiers, and interior architects working on commercial, hotel and resort projects looking for clever and cost-effective outdoor lighting."