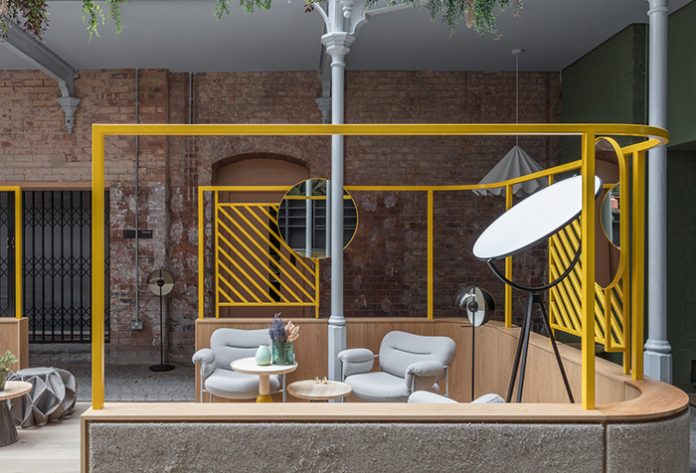 Locke Hotels has unveiled its latest UK property, Whitworth Locke, in the heart of Manchester. The 160-studio aparthotel, designed around a central glass atrium, includes a crossfit gym, third wave coffee house, an exclusive pop-up cocktail bar and co-working spaces.
Formally consisting of three former export mills, one Grade II listed in the Scottish Baronial Style, the property, the venue has been transformed by New York architects and designers Grzywinski+Pons. The team has combined elements of lux in interiors, textiles and colourways with the use of sage, taupe, apricots and terracotta, which are complimented by dark tones to create a noir look and feel.
Each studio and suite is designed to revolve around Locke's living spaces, allowing guests to surround themselves in space and comfort. The result is a modern take on the aspirational second home with bespoke bathrooms and fully-fitted kitchens to cater for short and longer stays.
"Whitworth Locke encompasses our ambitions and is demonstrative of the brand's future. This is a very special project for u," says Eric Jafari, Locke's Co-Founder and Creative Director. "We know modern travellers increasingly value their social experiences and personal connections. We've created a space where people can truly feel at home. From our perspective, a second home is more than the four walls, it's defined by a combination of your community and ability to maintain your daily habits."
Along with its striking glass atrium featuring pop-up cocktail bar The Conservatory, the new lifestyle destination is home to Manchester's renowned Foundation Coffee, who have created FDN Whitworth, a backdrop where people can socialise, showcase art, enjoy weekly cinema nights and sip third wave coffee.
Locke Hotels has also launched its own crossfit gym, The Locker Room. The fitness space includes equipment focused on bodyweight exercise, and features a hydration and cool down area as well as regular complimentary classes including yoga and guided meditation.
Whitworth Locke follows the opening of Eden Locke in Edinburgh 2017 and East London's Leman Locke which opened in October 2016.