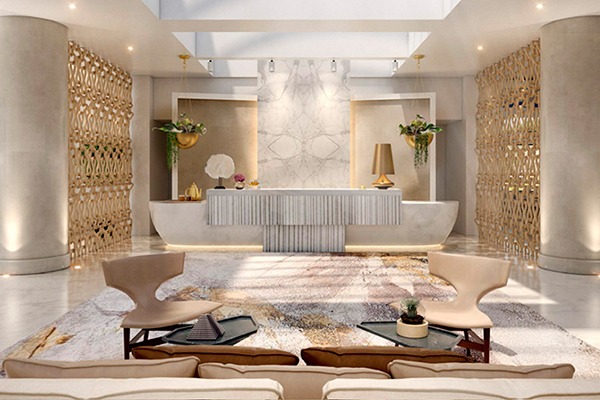 The Luxury Collection, part of Marriott International, has announced its first hotel on Corfu with the signing of Domes Miramare, a Luxury Collection Resort. Set in shore-hugging grounds and surrounded by olive groves, the hotel comprises 113 guestrooms, suites and villas, as well as a series of Pavillion suites. The adults-only resort further features several dining venues, beachfront positioning and common and private pools.
Opening following a renovation to restore the property – originally designed by architect Charalambos Sfaellos and built for the Onassis family in the late 1960s – the new look remains faithful to Sfaellos' modernist style. Reimagined by Kristina Zanic Design Consultants, guestrooms reflect the rich colours of the surrounding landscape. Shades of cream and taupe are blended with accents of soft blue and green alongside contemporary furnishings and natural materials, whilst spacious marble bathrooms with bespoke pastel-tiled washbasins offer a nod to ancient Greek mosaics.
"The Miramare Hotel has a long history of welcoming the glitterati, and it's heartening to see this icon reclaiming its rightful place as one of the Mediterranean's newest and most luxurious resorts," explains Anthony Ingham, Global Brand Leader, The Luxury Collection. "The stunning, multi-million Euro transformation will ensure that this very special resort remains the definitive luxury destination for decades to come."
Domes Miramare's dining options include spaces both indoors and out, custom-designed to encourage a 360° approach to F&B and socialising. Headed up by Michelin-starred chef Tassos Mantis, the menu highlights Greek flavours with a contemporary twist, whilst a team of mixologists will curate a complementary bar.
"It is all about Legacy! Legacy is the force that inspires and drives us," notes George P. Spanos, Vice President and CEO, Domes Resorts. "First, the Miramare legacy, which we wish to continue from when the Onassis family first developed the resort; Second, the legacy of Domes Resorts, to continue to open hotels in the most iconic destinations throughout Greece, which combine history and beauty; and finally, the legacy of Corfu being the most aristocratic destination in Greece. Our co-operation with The Luxury Collection brand supports and enhances our vision of developing a resort that will redefine the destination."
The hotel will operate under the Domes Resorts brand from 14 July 2018, and will be converted to operate under The Luxury Collection brand from 1 August 2018. Domes Miramare marks the first Luxury Collection property on the Greek island, but joins sister hotels Domus Noruz and Domes Elounda under Corfu's Domes Resorts umbrella.