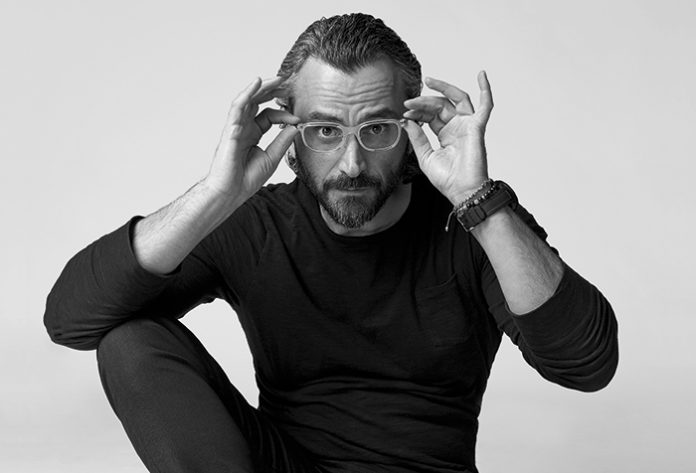 With his detail oriented, narrative-driven style in demand, Alessandro Munge talks designing with spirit and finding the why.
Walking from Manhattan's Lower East Side to the Williamsburg Bridge, I catch sight of Brooklyn's first notes while crossing. The journey takes less than an hour, but the division in style is rapidly clear: Nolita's sculpted window surrounds and lattice fire escapes giving way to the more colonial tones and painted row houses that characterise regenerated Williamsburg.
From here it's a parade of vibrant graffiti, boutique shops and café windows lined with laptops – all the hallmarks of gentrification – though above is a resolute link to the past: the series of water towers that have long featured as part of the borough's skyline.
These distinctive profiles – cylindrical containers atop steel-legged supports – partially inform the architecture of what is now one of the most prominent structures in the area. Rising from a block of repurposed factories and redbrick breweries stands The William Vale, where Alessandro Munge – the Italian-Canadian founder and director of Studio Munge – has created a hotel indebted to the borough's diverse communal past as much as its creative-hotspot present.
We meet in the lobby by a wall-length mural by artist Marela Zacarias that tells the Brooklyn story through analogous colour, pattern and shape. Minimal furnishings unfold across a marble floor, and as we sit down to speak, a queue begins to form by the elevator to the hotel's wildly popular rooftop bar.
"I want people come to The William Vale and find something that thinks outside of the box in terms of what Williamsburg is," Munge explains. "There's a respect for what was here before as well as what's here now. I want guests to come in and know that whatever they see and touch is part of the city. There's an authentic locality to it all."
Authenticity is important to Munge, especially in the context of hotels, the design of which he sees as a more personal and emotional undertaking than anything else. His insistence on a palette of locally-sourced materials and art within The William Vale generates the faithful aesthetic, whilst his close consulting of Brooklyn natives both young and old ensures an equally relevant narrative. "We start all of our projects with a narrative and a discussion. We find the why, and only then do we begin to design," he adds.
A graduate of Toronto's Ryerson University – though immersed in the world of design long before enrolment – Munge initially cut his teeth selling and delivering fabric for his mother's drapery business. Promoted to the table, he soon began cutting, stitching and flexing his creative muscles, exploring design solutions whilst seeking out new clients and oppurtunities. "This is where I discovered a passion for infusing business into art, and art into design," he notes. "I tend to approach things with a business mindset but a high creative energy, in the hopes I'll create work that isn't necessarily what you'd find in a magazine but still works commercially."
Whilst formal education provided a wealth of connections and valuable industry training, Munge was ambitious, and eager to forge his own path, one that ultimately led to the opening of his own studio. And so, after five years of training and working at Yabu Pushelberg following a teacher's recommendation, he ventured out with colleague Sia Leung to form Munge Leung in 1997.
Twenty years on, Munge finds himself walking Robert de Niro and Nobuyuki Matsuhisa through the mock-up rooms of Nobu Toronto; being named Contract Magazine's Designer of the Year; and, having parted ways with Leung in 2015, truly independent, overseeing his 60-strong studio. "I like sixty, it feels good because I never want to let go of a design," he says of his tight-knit team. "I learnt very quickly that large scale offices, unless they are incredibly well organised and work around a very specific philosophy, run the risk of losing the spirit of where it all started."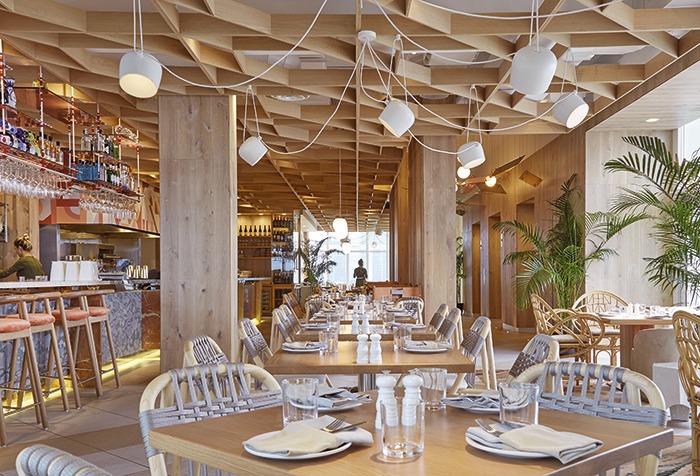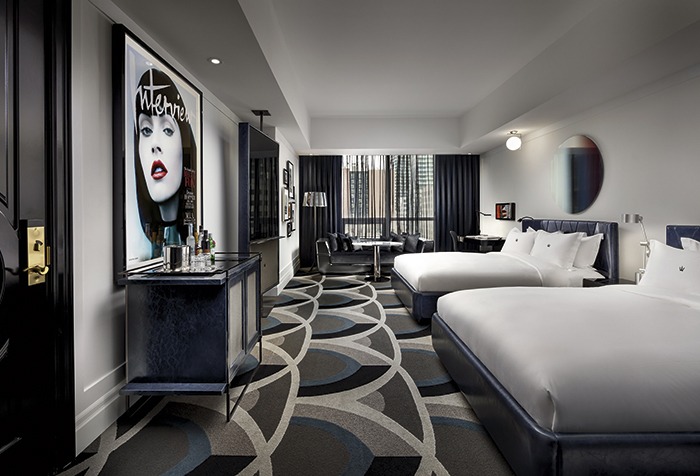 Working with Rosewood, Hilton, Park Hyatt, The Ritz-Carlton and Shangri-La, whilst forging close relationships with influential hoteliers and hospitality figures such as Toronto's King of Clubs Charles Khabouth, Munge has instilled hotels worldwide with his narrative-driven, conceptually intriguing and detail-oriented style.
A rejuvenation of Vancouver's Rosewood Hotel Georgia in 2013 saw him emphasise the presence of original terrazzo flooring and elevator cab minutiae, whilst a close reading of the property's heritage resulted in considered, respectful interactions between historical surroundings and his own bespoke furniture and lighting creations.
Inspired by the Algonquin School of Canadian landscape painters, Munge's vision at Park Hyatt Toronto – set for a 2019 reopening – breaks the concept of design down into its working parts of texture, colour and shape before reassembling them as landscape-influenced interiors. Farther afield, his scheme at Shangri-La Nanning draws visual inspiration from the building's angular form and progressive architecture, as well as the curving profiles of rice fields and rivers, bridging the Guangxi province's treasured cultural past with wider China's burgeoning future. "We're malleable in that we're not thematic one hit wonders. I have no interest in repeating myself," he stresses. "I don't want to do my clients or myself an injustice."
It is the recently opened Bisha Hotel Toronto – Munge's project with Charles Khabouth – and the forthcoming Nobu Toronto that are of particular importance to him however, in both a personal and professional capacity. "These two are special," he says with a smile. "For me, it is an opportunity to bring everything I've learnt throughout my career back home to Toronto."
This homecoming marks the culmination of a decade's work. Both mixed-use properties, interiors at Nobu and Bisha will showcase Munge's skill for integration, blending residential and hospitality elements to create guestrooms that feel like homes, and homes that function as effectively as any of the bar, club, spa or hotels found in the studio's portfolio.
Describing the former as "Nobu with Canadian essence" and the latter as "something the city has never seen before," it becomes clear how much Munge – as both designer and individual – values a sense of place, and what lies beneath the surface of each project he undertakes.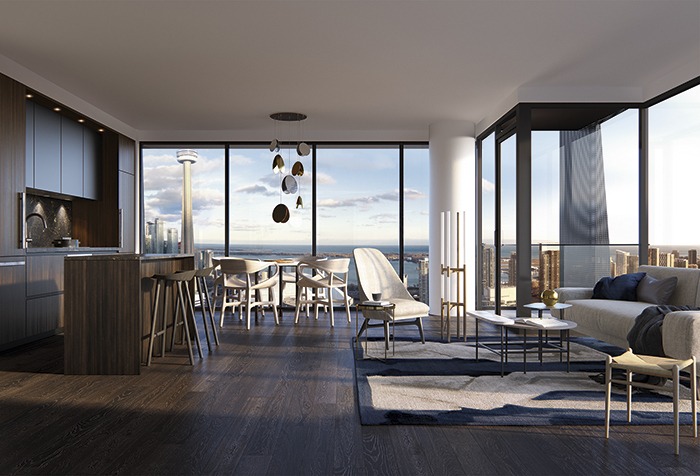 The spirit he wishes to preserve at his practice is exactly that, the spirit, finding and designing around the soul of a project's unique character to create something that stands the test of time whilst immediately appealing to guests and locals alike. Across the breadth of his work, cheap and easy snapshot moments are rejected in favour of meaningful, relevant details, whilst keen focus is placed on the presence of an emotional connection and the generation of lasting, significant memories.
"I'm interested in how entire buildings live and breathe, from the moment you walk through the door," Munge concludes. "I want everything I do to be everlasting, so that if you flip a chair upside down a century after I'm gone and it says 'Alessandro Munge', then there's a legacy. It would be a dream to have pieces and places that stand the test of time, and test those times."
As his ride to the airport arrives, Munge insists I see The William Vale's rooftop view before I leave. We part with a handshake, and I make my way to the elevator.
There are no installations, murals or loudly announced selfie opportunities up here. Westlight unfolds within glass walls to offer stunning views, guiding guests through a subtle change in mood, whilst black metal stairs lead up to an open-air terrace, where parties are held when the weather permits. Flanked by binocular stations and looking out to Manhattan, The Bronx, and Queens beyond, the restrained design marks a logical conclusion to the hotel's all balcony layout.
It strikes me here that, for all the intricacies of The William Vale's design, it is perhaps this simply presented space atop the hotel that best embodies its creator's approach. Munge does not design for the ubiquitous wow moment, nor to floor the guest with a singular wondrous surprise, rather he works as facilitator, infusing projects with elements that allow guests to distil their own interpretations and meanings, just as he did when conceiving the vision.
---
Words: Kristofer Thomas
Photos: © Maxime Bocken
This article originally ran in Sleeper 77 (March/April 2018)