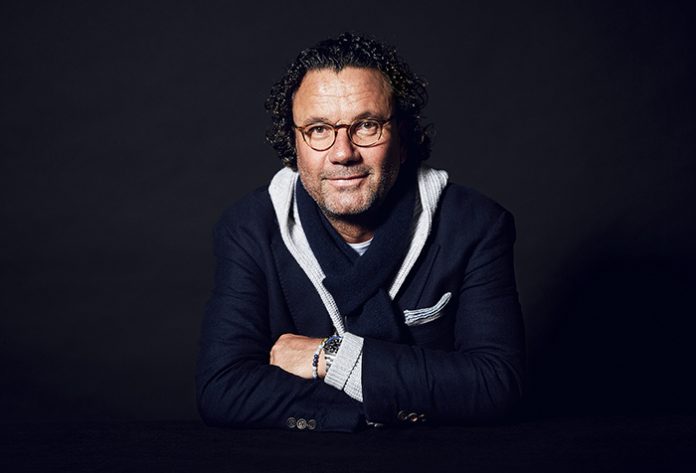 The 25hours boss and recipient of AHEAD Europe 2019's Outstanding Contribution award talks collaboration and creating uniqueness.
"I am not your normal CEO," explains Christoph Hoffmann, the boss of 25hours Hotels. Founded in 2005, 25hours Hotels are not your normal hotels either. We are chatting on a brightly upholstered banquette in the Sape bar of the latest 25hours Hotel Terminus Nord in Paris.
It's the morning after the hotel's official opening party and his boyish charm is undiminished, his eyes sparkling behind horn-rimmed glasses. Like the hotel, the party was a riot of colour, dance, music, food and ethnicity, reflecting the property's strong association with the eclectic neighbourhood of the Gare du Nord train terminus.
Each of the group's 13 hotels are unique and live under the banner of "you know one, you know none". Unconventional in realisation but a model that works financially. Revenues for 2018 came in around the €100 million mark for the 1,831 rooms in operation, with year-round occupancies at 80%. Not bad for this not-normal CEO.
Hoffman grew up in the south eastern corner of Germany, showing his entrepreneurial flair when managing an independent wine store whilst still at school. He then started his career in tourism with a homesick spell in Manhattan working for an incentive agency.
Studies at Glion and Cornell hotel schools were followed by on-property hotel experience in both Jerusalem and New York before managerial positions with Kempinski, Bürgenstock Hotels and Resorts and the glamourous Hamburg stalwart, Hotel Louis C. Jacob. He left the latter to open a property proposed by Frankfurt real estate developer Ardi Goldman, which failed to materialise. Subsequently, he became involved in the pop-up Fox Hotel in Copenhagen – a marketing ploy to promote a new VW car model.
The Fox project needed a jury to select student artists to decorate the guestrooms, so Hoffmann called on a few acquaintances including Goldman. Also invited were Stefan Gerhard, founder and partner of Treugast Solutions Group and Hamburg-based real estate developer Kai Hollman, who had opened the Asian-inspired Gastwerk Hotel. Soon followed the first 25hours Hotel. Together with red wine they began to formulate ideas of hospitality for a new generation that circled back to this hotel, now called the 25hours Number One.
Soon the group of four set up the business, each neatly having a 25% stake. "I was very lucky to find partners who have supported me from the beginning. That amount of freedom was just perfect," Hoffman reminisces, adding with his usual modesty, "and that is why the company became a success". Hoffmann represents a bit of each of his partners – Hollman the hotelier, Gerhard the numbers man and Goldman the maverick developer. Only he is 100% focussed on the brand.
"Christoph epitomises the brand," states Claus Sendlinger, founder of Design Hotels, with whom 25hours were long associated. "His eclectic view of the world, his constant travel. He pulls it along." Sendlinger references Hoffmann's dark, casually curly hair and his particular style – neckerchiefs, bracelets, tweed jackets and Redwing boots.
The company's first ventures together were in Frankfurt. In 2006, 25hours Hotel Frankfurt The Goldman celebrated the variety of the creative east of the city. The 25hours Levis followed in 2008; a bold denim-clad venture in collaboration with the clothing brand's European HQ. This hotel was refurbished and extended in 2018 and renamed The Trip.
Two further openings came in 2011. The fourth hotel in the Museum Quarter of Vienna with interiors inspired by the circus culture of The Wurstelprater, whilst the fifth in Hamburg's Hafencity leaned on the city's seafaring and maritime heritage with tales of romance, tattoos and cabin rooms.
Subsequent hotels also heeded their locale – Berlin is paired with the Tiergarten Zoo which it overlooks. In Munich, it is the fairy tale wonderland of 'mad' King Ludwig II of Schloss Neuschwanstein fame. Strong Germanic roots saw a third hotel for Hamburg joined by properties in Zurich (2), Cologne and Düsseldorf.
Each hotel has a different 'red thread' or leitmotif based on the character of the building and its contextual neighbourhood relationship. Visiting the first, in a desolate industrial lot in Bahrenfeld in 2003, I remember a sense of fun, where pops of colour mingled with raw concrete – unusual at the time, contrasting with cute retro CRT Brionvega televisions; a playful take on boutique hospitality.
Different experiences but with similarities of humour, visual identity and co-operations – those with BMW Mini cars and Schindelhauer bicycles are across all hotels. It is rumoured that Hoffmann has a bike in every city where they have a hotel; my first meeting with him included a cycle around Hamburg. "There are two levels of common denominator," he explains, "At the conceptual level we have many experiences that are only particular to a certain hotel, and at the design level we are not minimalists!"
Similarities come by way of collaborations with publishers – Taschen in Cologne, Mare in Hamburg, kein&aber in Zurich. And F&B concepts – the Austrian-Persian-Mediterranean based Neni restaurants are in six hotels. Boilerman Bars pop up in Hamburg and Munich, whilst guests will find a Monkey Bar in Berlin and Cologne. F&B is a key part of every hotel, accounting for 40% of total revenues in 2018.
The design experiences come thick and fast, all wrapped up in a saturated visual envelope. Lots of compelling artworks, graffiti, patterns and colours. Armin Fischer, founder of Dreimeta and designer of the very first 25hours as well as four subsequent hotels, knows this well: "Christoph hates walls where nothing is happening. A plain coloured wall is a lost wall – a no go for him. His all-time favourite claim is more is more."
Hoffmann is not a creative at the design level ("I am never heavily involved") likening his approach to that of playing design idea ping pong with his chosen collaborator, some of whom have seen multiple hotels cross their boards. However, it is Fischer that he has turned to most. "When Christoph sets something in his mind he goes the whole hog," Fischer explains, "Especially the instant decisions. He never forgot one, and no argument from us – especially for his really crazy ideas – could change his mind." That being said, Fischer has finally managed to convince Hoffmann that LED lighting is not "the enemy number one", noting too that Hoffman is a fan of neon signage.
The CEO is a breath of fresh ideas and energy wherever he turns up. This openness and friendliness make him the arch connector. "Christoph is interested in everyone, getting them together," explains Bruno Marti, Chief Brand Officer. "For our Florence project, he is always bringing new locals he has met to meetings. We never see 80% of them again but quite often we do end up collaborating with the other 20%."
Hoffmann's collaborative approach is based on trust. Amongst his first recruits to run the two Frankfurt properties were Henning Weiss and Michael End. "It was based on trust and a little anarchy," quips Hoffmann. Empowered, Wiess is now Chief Product Officer and End Managing Director.
On trust, the main collaborator for the back story for the design of the Parisian hotel, Alex Toledano, Co-founder and President of Visto Images, comments: "Christoph showed us total trust when he had no reason to do so. We could not have done a better job because of the trust he had in us."
Hoffman likes to be known for his generosity of time and thoughts, and holds an endearing chameleon-like charm. A theme referenced by Marti: "When Christoph is in Switzerland, he will say he feels more Swiss than German. In Vienna, he is more Austrian than German."
Making a short address at the previous night's opening, he refers to his love of Paris and how much he feels like a Parisian whenever he is visiting, much to the delight of the local crowd. It's as well he likes Paris, as he is there often following an investment by Accor that now stands at 50%. "Around 2015, I realised that we have all the destinations in German-speaking countries where we want to be.
From now on we have to go further away to foreign grounds," explains Hoffmann of the start of the search for a strategic partner. Initial thoughts were for link-ups with non-competing luxury hotel groups who were seen to have a closer fit to the lifestyle approach of 25hours. "And Accor agree. When it comes to development, we are hooked up with the Raffles and Fairmont guys who are also doing more individualised properties," he states, adding: "The link up with Accor is perfect because they appreciate what we do."
By now it is a week later and Hoffmann is in Tuscany sharing a Friday morning with his wife, Petra. He has just had a swim and we speak on the phone as he warms himself on the terrace of the Hotel Il Pellicano, chosen because he has some meetings in Florence the following week.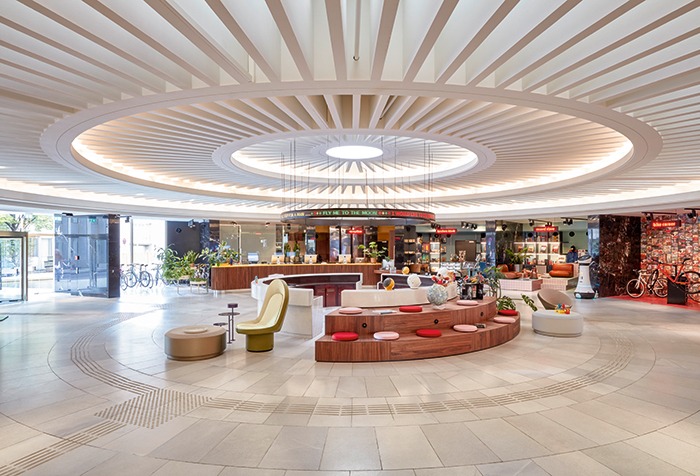 Picking up where we finished off, I ask of the Accor investment, "Didn't you sell out?" Hoffmann chuckles in a "I've-heard-it-all-before" sort of way before coming clean, "To be very frank I was also very happy I could cash out. I have the freedom of independence." He continues, "Yes we sold out but on the other hand is the chance and opportunity. Accor is not at all interested in 'swallowing' us. Accor wants to protect 25hours from themselves." Hoffman acknowledges that if it were not for Accor CEO Sébastien Bazin, 25hours would not be part of the French hospitality giant. "It was his idea, his motivation to change Accor and for him brands like 25hours were the right instrument. The right partnership."
"The task for the next couple of years is how can we keep the 25hours DNA intact within the Accor world?" continues Hoffmann. He sees the risk of expanding too fast whilst still maintaining the product's differentiators, but also the risk of potential changes in power over new contracts. "We need to have enough leverage to protect our brand," he states, noting that Accor can be very helpful here.
The opportunities are for growth. Agreed with Accor are a list of 60 so-called 'lift off' destinations that include the major cosmopolitan destinations plus cities such as Austin or Naples. The actual pipeline is for Dubai, Florence and Copenhagen (2). Lisbon and Venice are strong possibilities, plus more in Berlin and Munich. "Our main focus is on Europe where we (25hours) can contract directly, with shareholder approval," explains Hoffmann, "It is in the long-haul destinations where Accor can really help".
Take the brand's next opening for instance, its largest with 434-rooms in Dubai, a market where Hoffmann has no experience. The agreement is with one of Accor's existing owners and the hotel will be just one of several Accor-branded hotels in the One Central mixed-used development.
Following this, a 2020 debut in Italy beckons with 25hours Hotel Piazza San Paolino in Florence, wherein a vibrant Paola Navone interior scheme inspired by Dante Alighieri's Inferno and Divine Comedy tales will link three existing listed buildings for a 173-key project just steps from Piazza di Santa Maria Novella.
"The building itself has huge potential, and the spacious public spaces will certainly get our creative juices flowing," says Florian Kollenz, Chief Development Officer. "Italy has topped the list of preferred locations in our expansion strategy for some time now."
Of the future outside of 25hours, Hoffmann has a newly renovated house in the Swiss Alps and an owning interest in Bikini Hotels, the first on Mallorca with an Alpine resort under consideration. These are not part of the Accor deal. Hoffman sees Bikini as something nostalgic, of being a second home (with rooms for rent) for his original business partners with whom he has such a strong friendship.
Hoffman has a clear vision of the future, "We need to focus on concepts, on experience, on F&B and creating great things within the hotels." A vision that has seen the rise and rise of a hotel brand that took seed in Copenhagen, and will in 2021 come full circle with the opening of a Martin Brudnidzki designed hotel. But not before Dubai and Florence. The travels of a man for whom 24 hours is never enough seem far from over.
---
Words: Guy Dittrich
Portrait image: © Stephan Lemke
This article originally ran in Sleeper 88.