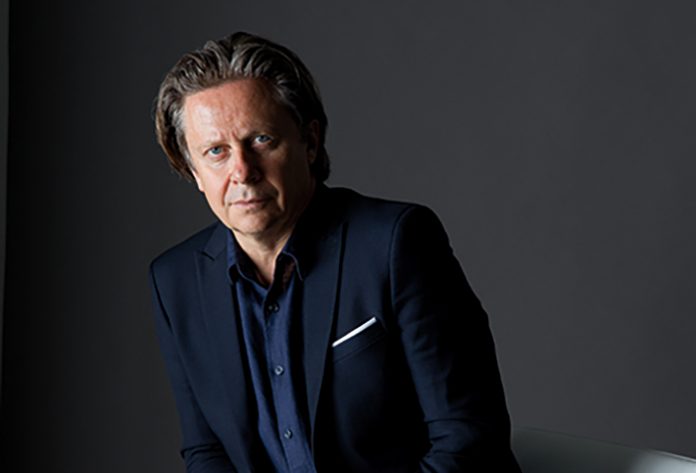 Having spent 20 years developing a style entirely his own, and a client list featuring the best in the business, Jean-Philippe Nuel talks inspiration and the importance of history.
The thing about trends is that they come and go. When it comes to hospitality design, in particular, it's all about longevity and finding that sweet spot between timelessness and modernity. A skill that Jean-Philippe Nuel has masterfully honed over his 20-year career. And while the French designer says he doesn't have a signature style, per se, he does have a distinct brand of classic elegance that has made him a firm favourite within the luxury hotel world.
"I don't want to be trendy," he says emphatically, gesturing at his surroundings. "For me, it's important to find a specific identity for each project and to find inspiration in the site."
Following in his family's footsteps, Nuel trained as an architect, graduating from Paris' École des Beaux-Arts, before an early commission prompted an unplanned dabble in interior design, consequently redirecting his career trajectory.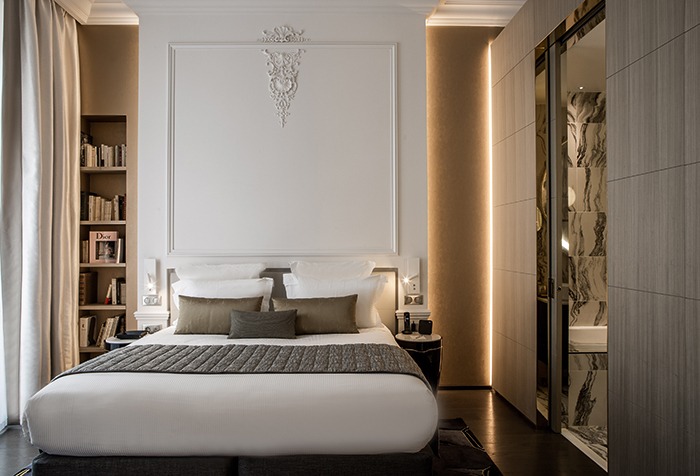 "I would love to be able to work on both the architecture and the interior design, as it's nice to have a vision not only of the decoration, but also of the space," explains Nuel of his decision. "But it's not easy to do both, so if I must choose one, then I prefer to work on the interior design." A savvy call for the designer who, over the years, has amassed a gold list of global clients that, along with some smaller boutique properties, includes all of the industry's big players from Accor to Hilton, Radisson, Marriott and Meliá.
We are installed in a suite at La Clef Champs-Élysées, one of Nuel's newest Paris-based projects and the latest opening from Singaporean luxury aparthotel company The Ascott. Nuel, like his 'signature' design aesthetic, is quietly discerning, his demeanour unexpectedly unassuming for someone who has been in the business for over two decades. The property itself occupies a classic Haussmannian-style pile from 1907, which Nuel has used to full effect, dressing the building's original details in a modern palette of marble, polished brass and furnishings like the Lunar Highback Chair by Stellar Works and pendant lights by Marzais Creations.
"The project takes inspiration from a rich architectural heritage and its exceptional location in the heart of Paris," explains Nuel earnestly, while gesturing towards the large window that frames a hodgepodge of rooftops. "It's not about decoration for the sake of it."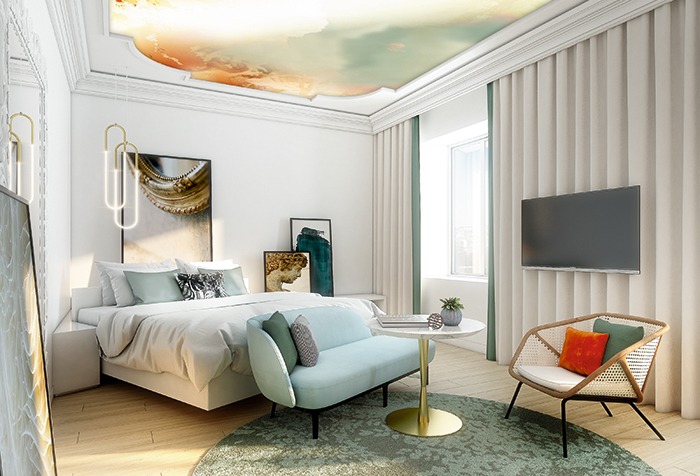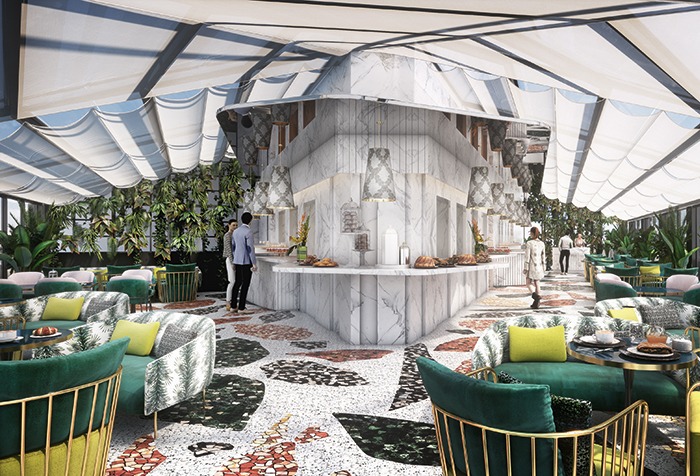 At the soon-to-open Sofitel Rome Villa Borghese, this meant taking inspiration from the adjacent sprawl of Villa Borghese's landscaped gardens, as well as from the building's 19th-century architecture and fusing, as Nuel says, "the Italian La Dolce Vita heritage with the modern French Art de Vivre."
The result is a classic Nuel intervention of carefully balanced elements that firmly thrusts the 78-key hotel – a former palazzo featured among the 190 historic buildings of Italy – into the 21st-century in a vibrant reawakening. "The idea was to create a dialogue between the elegance of French classicism and the opulence and generosity of Italian baroque," explains Nuel. "It is also a dialogue between the city and nature and heritage and modernity. I like to mix my personal approach with heritage elements."
In a way, when Sofitel decided to take the plunge and completely overhaul the faded hotel, it made perfect sense to tap Nuel, not just for their aligned approach, but because of his enthusiasm for the city. "I love Rome. When I was an architecture student I used to go there to draw; for me it really is one of the most beautiful cities," he says, almost nostalgically. "The hotel itself is a lovely building; you can see the whole city from the rooftop and really feel its spirit, which is very unique."
And so, with sleights of hand, the designer has kept the grandiosity of the spaces from being overwhelming by cocooning sprawling rooms into discrete spaces with modern furnishings, deploying a mixture of materials and textures, gently imposing a crisp neutral colour palette with nature-inspired tones, and incorporating the city and history of Rome as its finishing touches.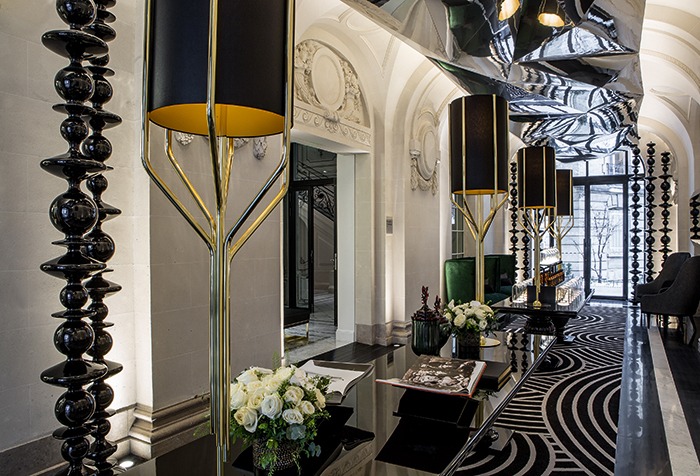 The guestrooms, in particular, feature subtly lit Baroque-inspired ceiling frescoes that create the illusion of an open sky, while watery-blue hues and brass details are revealed through thoroughly modern furnishings and textures, like the rattan Colony Armchair by Skrivo for Miniforms, the Ligne Roset curved sofa, or the simple, angular marble and brass floor lamps by Flos. Downstairs, the public spaces revolve around standout statement pieces, such as the bespoke white marble and mirror drinks cabinet in the bar, or the marble mosaic floor that contrasts with the building's original chequered tiles in the lobby.
The hotel's crowning glory though is, no doubt, Settimo, the new seventh-floor rooftop space, which Nuel says is his favourite, admittedly not for the design, but for the views. Indeed, with widespread city vistas overlooking both St. Peter's Basilica as well as the picturesque gardens, it's no surprise that the designer has incorporated subtle botanical touches like the abundance of decorative plants; sensual curved sofas – designed by Nuel himself – upholstered in bottle green hues and palm-printed fabrics by Christian Lacroix for Designers Guild; and the light grey terrazzo floor, with mosaiced marble inserts that resemble fallen leaves.
"I like a project with a story," says Nuel of Sofitel Rome Villa Borghese. "This project was unique for its position in the city, next to the gardens, but also it was a special building with a lot of character."
It's clear that, while Nuel has worked on a number of designs in new buildings, like the Innside by Meliá hotel within Charles de Gaulle Airport he just completed, it's the heritage projects – including the InterContinental Hotel Dieu in Marseille and Paris' iconic Art Deco Piscine Molitor, among others – that have his heart. "Projects in historical buildings can be difficult to work on," he admits openly. "But I like them because they offer the freedom and variety – huge volumes and different spaces – that you don't get with modern buildings."
On this point, Nuel adds that the project he is most proud of is the 67-key Le Cinq Codet, an independent hotel housed within the bones of the former France Telecom building from the 1930s in Paris' 7th arrondissement. In a refreshing departure from the complexity of corporate hospitality, Nuel says he was given free rein over the design and "treated the assignment like a personal project."
As a result, there is a tasteful understatement and a comfortable affluence about Le Cinq Codet. Every objet fits into a room, every detail quietly unobtrusive, with Nuel using the soft curves, double-height windows and soaring volumes of the building as a chance to create a home-away-from-home feel with bookshelves that run the length of the walls, bespoke furnishings by Tom Dixon and Patricia Urquiola, and over 400 pieces of art including monumental photographs by Jean-Pierre Porcher in the lobby and pieces by both established and young, up-and-coming artists, from Christian Bassot to Véronique Durruty.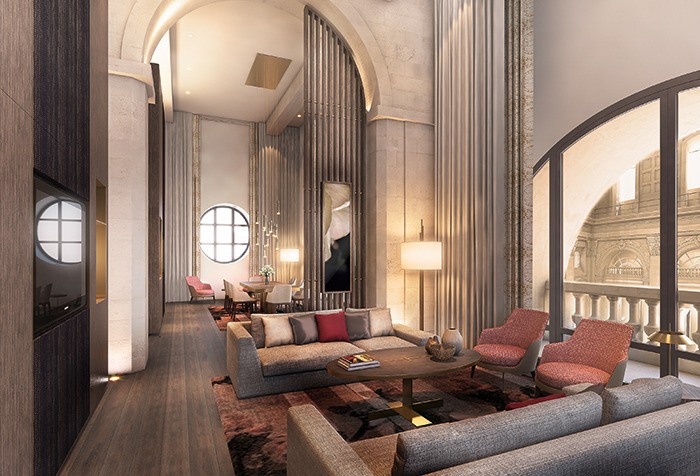 For some, Jean-Philippe Nuel's astonishingly fecund career could be considered to be at a point when one might invite wistful introspection. But there is the sense that Nuel has little time for introspection with the designer barely pausing to draw a breath, already hard at work criss-crossing the globe for Marriott in both Bahrain and Morocco, while setting up a brand new studio in New York, with the mission to expand his business stateside and jokingly, he says, to brush up on his English language skills.
Meanwhile, back in France, the designer has resumed his decade-long relationship with French cruise operator Ponant, having just completed designs for the brand's new collection of luxury expedition ships, which are refreshingly breezy with lots of natural materials, handcrafted elements and subtle ethnic touches – like the custom-designed Aztec-inspired rugs – in a palette of understated grey-blue tones. "As these vessels are smaller and are able to access exclusive destinations, I decided to imbue a less formal ethnic-inspired design that combines luxury and nature," explains Nuel.
Most notably though – and if all goes according to plan – after nearly eight years in the making, InterContinental Lyon Hôtel Dieu will finally swing open its doors this year. "This building was a former Hôtel-Dieu – hospitals that took in the needy – and is without a doubt, one of Lyon's most magnificent buildings," says Nuel passionately. "I am very excited to finally see this project realised after so many years."
Indeed, the grand pile's extravagantly ornamental architecture has proved the perfect canvas for Nuel's 'signature' aesthetic of understated elegance, with the man behind the scheme finding inspiration in the contrast between simplicity and embellishment. The fact that the design has not needed to be amended or revised in the eight years since his first sketches, is proof abundant of Nuel's carefully honed, timeless approach.
Words: Lauren Ho
Photography: © Jean-Francois Jaussaud
This article originally ran in Sleeper 84.