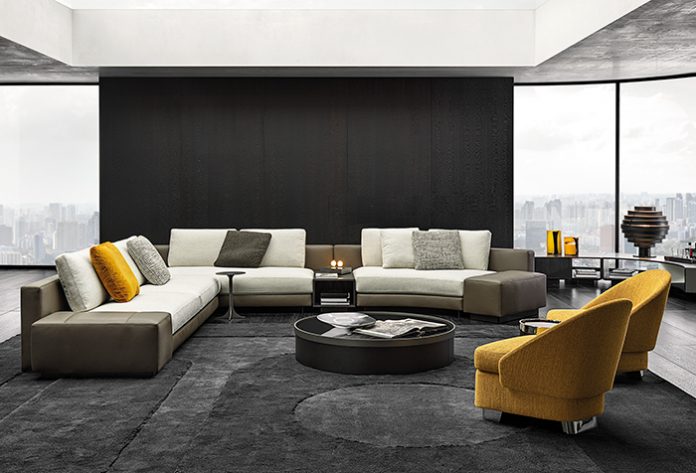 Minotti has launched Daniels, a new seating system based on the concepts of full modularity and maximum comfort. Designed by Christophe Delcourt, the sofa is defined by one large cushion, while a series of larger chaise lounge pieces are complete with curved seating areas.
The frame of the back and the combination of two different depths produces an effect in which the backrests appear to overlap, creating movement that dispels the perception of the sofa as a continuous screen when set in the centre of the room, as well as making it possible to add the Clive console table. The offset version of the sofa, where the backrest juts out from the side, also accommodates the brand's Amber low unit or an ottoman, creating a number of compositional solutions.
The system further offers an alternative to the fixed armrest, in the form of a removable ottoman on wheels in either leather or fabric. Its natural position is alongside the sofa, attached using magnets, but it can be moved and used as an additional seat or surface.
Daniels is available in two versions: all-fabric or all-leather, as well as in a third combined option with base and backrest in leather and cushion in fabric; a harmonious mix of the textures and colours from the exclusive Minotti textile collection.