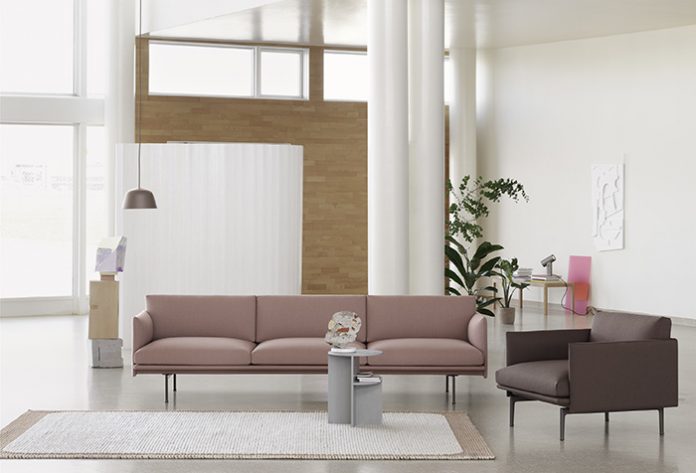 Muuto has collaborated with Norwegian design duo Anderssen & Voll, American designer Jonathan Olivares and Danish textile manufacturer Kvadrat to create the Outline series in an exclusive Twill Weave upholstery.
Comprising the Outline chair, as well as a two, three and three-and-a-half seater sofa, the range comes in four curated colours that share a warm and sophisticated expression, carefully matched with the taupe shade of its legs.
The series brings new perspectives to the classic mid-century Scandinavian design sofas, marrying the ideals of functionality and simplicity. The design takes its name from its strong outline of a sofa, which is clean and elegant on the outside yet with a deep seat and soft cushioning on the inside.
Having originally been tasked to create a daybed for late architect Philip Johnson's Thesis House in Cambridge, Massachusetts, Jonathan Olivares decided to explore the materials used for masts — a key material used in the Thesis House — and discovered that Twill Weave was essential. Olivares then decided to develop a textile range in Twill Weave with Kvadrat, creating a range with strong, visual character due to its diagonal structure and graphite colour.
"With the Outline Sofa Series, we wanted to create a visually light and elegant design with lots of comfort, translating aspects of modern architecture into the design through juxtaposing elements," say Anderssen & Voll. "Outline is created with slim proportions for a simple
and elegant look, complemented by its generous seat and slender legs. There's a calm serenity about the Outline Sofa Series, having a soft and deep seat with clean lines and a strong architectural presence, brought forth by its overlapping forms that bring a refined touch to the expression of the design."