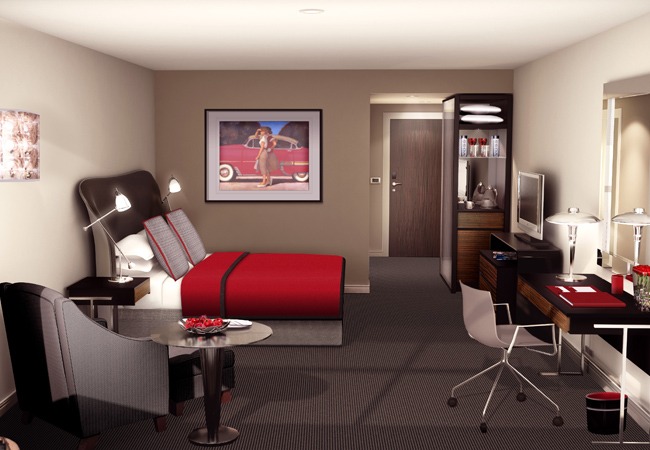 The Dakota Hotel at Sherwood Park Nottingham, originally created my Malmaison-founder Ken McCulloch as the launchpad for his new hotel brand, has been relaunched as 'mourHotel'.
Dakota was placed into administration in 2008 by Formula 1 racing driver David Coulthard – one of McCulloch's partners in the venture – following a shareholder dispute.
The relaunch is the first hotel in what mourHotels' Chairman Russell Allen promises will be a nationwide group. Allen said he hoped to take advantage of the current economic climate and "the woes of developers" to to sign up 12-15 hotel sites in the next six months as the first phase in his development plan.
Each hotel will have between 120-150 guestrooms. Future developments will be a mixture of newbuilds and conversions. The hotel's interiors, by McCulloch's wife Amanda Rosa, are to remain in place.
In a separate development, a site at Brooklands Surrey, originally earmarked as a Columbus hotel to be operated by Ken McCulloch, is now being launched by Hilwood Hotels & Resorts.
The newbuild hotel, spa and conference facility is currently under construction at the Brooklands site adjacent to Mercedes-Benz World in Weybridge, Surrey, UK.
The hotel will feature 120 guestrooms and suites individually designed by B.M Trevillion Interiors Ltd. Interiors are 1930s inspired with a nod to the race circuit that surrounds the hotel. Part of the original track runs through the reception.
The four-storey building will also include a brasserie and restaurant, as well as Hilwood's trademark champagne lounge.
The yet-to-be-named hotel is slated to open in early 2010.
LINKS:
www.mourhotel.com
www.hilwoodresorts.com
www.trevillion.co.uk