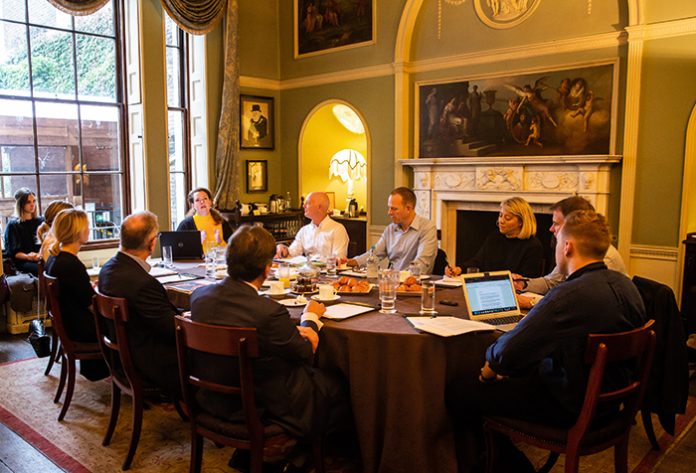 In 2013, health executive Nick Seddon – then Special Advisor to UK Prime Minister David Cameron – wrote in an article for The Guardian "not only have I seen the future; I have spent a few nights in it".
The future in question was the Norlandia Tampere Hotel, a so-called patient hotel on the grounds of Finland's Tampere University Hospital that provides accommodation to those who do not require urgent or intensive levels of care, but must nonetheless stay in close proximity to attend tests, or to simply comfort a loved one in their time of need.
Popular across Scandinavia, with the hotel's operator Norlandia Care running three additional facilities of this type – two in its native Sweden and another in Norway – the model has been said to have the potential to improve issues of efficiency, patient satisfaction and cost. "As well as offering a better experience for patients, these buildings represent value for money, since the hotel room is a third of the price of a hospital bed each night," Seddon noted.
However, nearly seven years later, the concept of patient hotels has yet to find a foothold beyond Scandinavia – so what happened? On 16 October, London-based architecture and design studio The Manser Practice, in collaboration with Sleeper, welcomed a group of healthcare and hotel professionals to Marylebone's Home House to discuss this question, as well as the ways in which the concept could be unlocked for the UK market; the cultural and economic obstacles it would face; and the challenges and opportunities that await patient, hotelier and architect alike.
Special guest speaker Nathalie Boulas Nilsson, CEO of Norlandia Care, flew in from Sweden to join the discussion and highlight the benefits the model has provided to the Scandinavian market, whilst representatives from preventative care hospitality group Lanserhof, the National Health Service's property services arm and healthcare infrastructure specialists Archus provided insight as to how and why the concept could be applied elsewhere.
---
HOST:

Jonathan Manser (JM)
CEO
The Manser Practice
Jonathan Manser is CEO of The Manser Practice, a London studio with experience in both healthcare and hotel sectors.
SPECIAL GUEST SPEAKER:

Nathalie Boulas Nilsson (NBN)
CEO
Norlandia Care
Nathalie Boulas Nilsson is CEO of Norlandia Care, a Swedish company with four existing patient hotels in operation.
SPEAKERS:
Guy Barlow (GB)
Joint Managing Director
The Manser Practice
Guy Barlow leads The Manser Practice's northern office and has delivered masterplans for hotels, hospitals and housing.
Richard Darch (RD)
CEO
Archus
Archus is an advisory, investment and development partner with a focus on health and social care infrastructure.
Guy Dittrich (GD)
Editor-at-Large
Sleeper
Guy Dittrich, Sleeper's Editor-at-Large is a commentator and writer covering hotels and hospitality design.
Eva-Maria Hasenauer (EMH)
COO
Lanserhof
Lanserhof is a leader in the field of combined preventative wellness care and hospitality, operating five hotels worldwide.
Tim Meggit (TM)
Director of Transaction
Affordable Housing & Healthcare
AHH works to create housing and healthcare infrastructure that delivers sustainable and responsible returns.
Victoria Shaw (VS)
Senior Property Development Manager
NHSPS
NHSPS oversees the NHS' property portfolio, shaping the system's estate and exploring new models of care.
---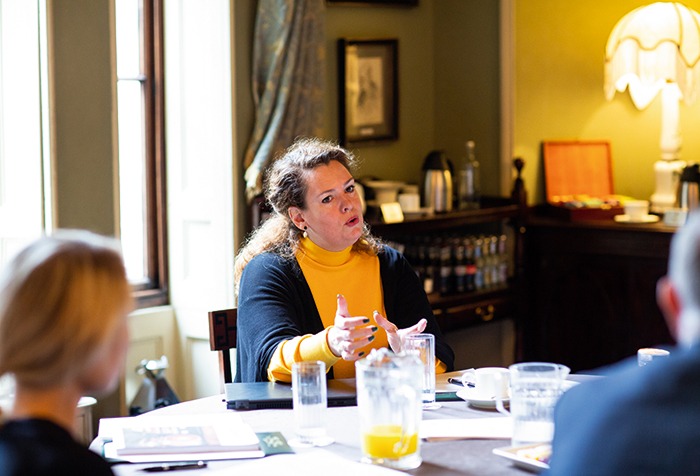 The roundtable discussion began with an introduction to existing patient hotels by Boulas Nilsson, outlining the function and form of the concept whilst touching on the systemic and cultural catalysts that have seen their popularity grow. Norlandia Care operates its own property development company and is a leader in the combined property and care development services. Jonathan Manser, CEO, The Manser Practice, then began the discussion with a question regarding what was stopping the UK adopting this model. The London-based studio has worked in both the hotel and healthcare sectors, with projects in the latter field including the NGS Macmillan Unit in Chesterfield and a 25-year phased masterplan for the redevelopment of Barnsley hospital.
JM: The lines between the two sectors are becoming less clear, and it seems like there is a place for the reorganisation of some hospitals in the UK – I think they should be able to combine their efforts and look after each other. The more we thought about the relationship between the two the more this made sense, so what's stopping it happening here? How do we unlock patient hotels for this country?
RD: I think these concepts run into trouble in terms of language and labels. There could be some confusion as to whether it's a step-down in care or a step-up. The other issue is the maths; it's often quoted as a third of the cost of acute beds, and that's true if you use average cost, but a hospital receives its income through a front-loaded tariff, and tries to make an investment stack up in terms of the building, land and recoupment costs. It requires a bit of bravery and confidence, but it is possible to balance once you have the scheme built and operational, at which point you can reduce beds in the acute setting.
NBN: From my experience it fails when hospital management are not involved from the very start. They need to feel that this is part of their operations and content – as a point on treatment chain. In Norway and Finland, the hospitals are fond of their patient hotels, and the management even brag about how well the patients respond, making them more competitive. This is something that will only increase with private backers coming in.
VS: There is synergy between the two health services, but I think these kinds of developments fall by the wayside because service providers are focused on patient care, balancing books and making sure the roof isn't leaking. They need the capital to kick-start any development on their estate, and it would be a huge business case to put together and understand what this will release in terms of beds, or how it would affect the infection rate.
NBN: Infection rate is one of the most widely discussed issues – there's a lot of illness you can attract at hospitals, especially if there is an immunosuppressed patient. You actually have less infections in patient hotels, and customer satisfaction is at around 95%.
TM: There are 200 acute trusts in the country, and 200 individual boards making their own decisions with no real central organisation trying to introduce any property strategy. Each is trying to do what they think best for their locality, but each is fundamentally different.
GD: I look at the hotel industry as a heavy ship that takes forever moving an inch, and where patient hotels have a 10-year profile these groups can have 100 years behind them, and can be terrified of making any changes. But of those 200 trusts, would there not be 5% willing to try?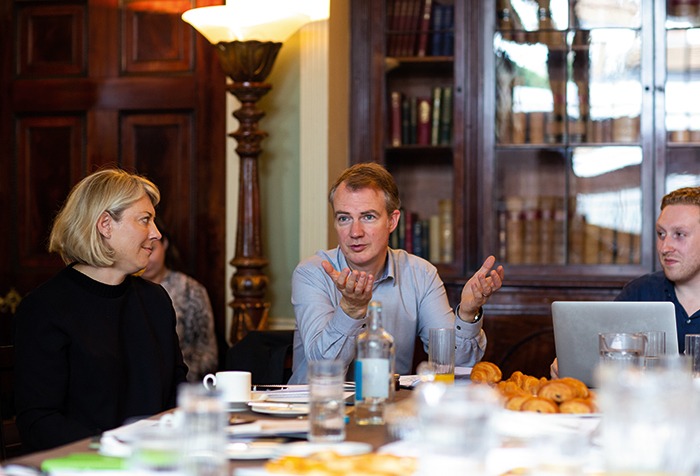 The conversation then shifted to the topic of operational models, and how creating a patient hotel in tandem with fostering connections with healthcare institutions could be achieved. Whilst it is possible for developers to approach the concept as an extension of an existing hospital, it was stressed that the parties involved must collaborate from an early stage, and that those who will be staffing both properties must be on board too if the combined project is to work as efficiently as claimed. So, what model would work best?
RD: A land sale, and then making it part of the care continuum. Hospitals need to realise the fact that someone is going to take the land to build and operate the facility, and that patients will take advantage of it. There is an opportunity now, following the announcement of the hospital investment programme. I've seen proposals for two new projects with hotels on site, so it is starting to get through to the public consciousness.
NBN: From a hotel management perspective beds are the value from which you calculate staffing and costs. I think the trick is building something new, so instead of 700 hospital beds you can build 600 and designate 100 to the patient hotel. The total will be the same, but you have a much cheaper, better and efficient service. To existing hospitals with enough beds already it's going to be a hard sell, but if they are thinking about an expansion then it could be as easy as saying we can reduce the costs by creating a patient hotel.
JM: If you look at it from a perspective of selling it off and doing something different with the land then you're sort of missing the point. If the patient hotel is operating properly then it becomes a vital part of the hospital complex, and you end up with a sort of collegiate group of buildings, including that hotel which makes a vital contribution to the whole hospital process.
VS: Every trust is trying to work their estate harder and looking at commercial deals that can widen the capital or revenue streams, whilst also trying to understand how this works with the sense of ethos and community. We've been looking at a number of projects identified for the inclusion of step-up, step-down or intermediate care, which is determined around people travelling great distances for treatment.
GB: The GSI are trying to balance 35% back of house with 65% public house in hospitals, seeking to be more efficient by rationalising the estate. An expansion could be easier, but for some of the UK hospitals there might be a Victorian ward that needs to be shut down or turned into a hotel, but that's a fundamental change to how the hospital operates. You have to get both the management team and thousands of workers to buy into it – it's a serious cultural shift, but the right thing to do.
EMH: Why couldn't you transform an existing hotel into one of these properties rather than changing a hospital? Lanserhof is different in that we come from the private sector, and as opposed to people coming to us for acute care it is more preventative, however I think there is huge potential in the UK for something like this, and room for both types of project – strong preventative and acute care are complementary.
RD: This kind of project does need a different commercial model, one where you can say to a hospital group that if we can we have access to a piece of land then we will fund, build and operate it. Then, over time, they can manage and reduce the costs. I think when hospitals are trying to do it all themselves it becomes very hard to stack up.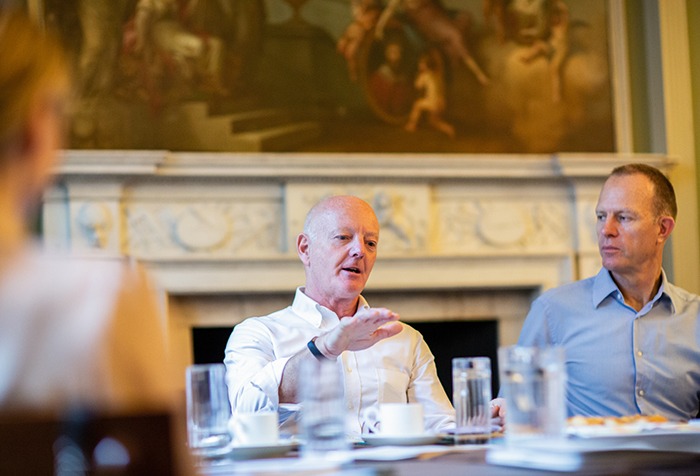 With the UK government having announced the largest new hospital building programme in a generation this September – which includes plans to modernise the NHS estate alongside over 40 hospital building projects – the £2.8 billion investment was said to be the best chance for some time for patient hotels to make their way across the North Sea. But whilst this is excellent news for developers and architects, what does it mean for patients?
NBN: Efficiency, for hospital and patient. One of our most used facilities are maternity wards. As soon as the baby is born the patient is taken from the ward to the hotel, meaning the family can stay together, and the baby can have visitors in a comfortable environment, freeing up an acute bed in the process. For cancer patients these projects are invaluable: if they come in to stay a night before surgery, then spend 3-5 days in the hospital after that, then being moved to the patient hotel actually becomes a milestone in their care – when the worst is over.
RD: If you can actually improve the experience of simply waiting around, then the process is a positive one rather than a negative one.
NBN: There are lots of hospitals where doctors come for six-month training periods, so they make use of the hotel too. For this reason, we also include conference centres, where at the Tampere location the hospital management actually have their meetings. We also keep our facilities and restaurants open 24/7, so families or guests can eat when they want in a nice environment. We even see staff who are unhappy with the hospital food coming over to the hotel. There is also an integrated booking system, and very close cooperation with the hospital, so the ward are informed which patients will be coming next week so they can prepare. We even have special fridges for any medication that needs to be handled in-room. They look exactly like nice hotel rooms, but they are tailored for patients, so there is efficiency, but also an elevated level of comfort.
GD: There is a real requirement for hospitality with purpose and this level of care. It isn't chosen, it is needed. This should be what we look at in terms of net benefits. It seems clear that there's a chance for the hospitality world to come on-board, because they don't have the expertise of looking after people in this way. You're much more likely to recuperate mentally in a well-designed environment rather than one coated in disinfectant, so getting the maverick architect involved could see guests much happier in a beautiful space.
NBN: If you talk to healthcare management it's not a difficult decision. When real estate developers have an idea or plot, they usually begin working and then bring in hospital management later, by which time they are already far along. If you actually explain to the hospitals these benefits in turnaround times, and the ways income can be generated and costs reduced whilst providing an incredible service, then it becomes easier.
VS: Especially in Central London, if you have a primary care site where you have the option for that step-up, step-down combination, then why couldn't you have that additional room basis for non-acute patients?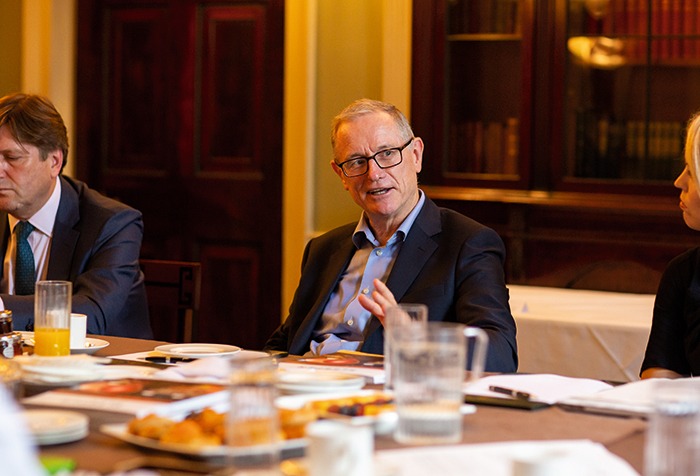 Whilst patient hotels could potentially face obstacles in the form of bureaucratic processes involved in altering an already strained health service, as well as public perception of allowing private backers into an historically public system, there was optimism that these could be overcome if the concept were carefully approached and benefits clearly stated. With Scandinavian patients and guests already seeing the positives of the hybrid model, could patient hotels become a reality in Britain?
NBN: Absolutely they can, and it makes a lot of sense: like us, you have a lot of old hospitals and very shortly the UK is going to have a huge increase in the elderly demographic, which will be a massive strain.
JM: They should be already I think, and they have clearly improved things in Europe. What needs to change though? What we've discussed today makes it obvious that we could and definitely should.
EMH: There is potential, though I doubt my company could due to political hurdles. Lanserhof Group tries to make it so people don't have to go to hospital.
GD: Lanserhof is a guiding light in how things could be though. Yes, it's privately funded and hugely expensive, but it is absolutely beautiful. You decide yourself whether you want to go and find the cure, but when you're there it feels like the right thing to do. I think Lanserhof is showing the way it could be done, so it is important that there are these facilities.
TM: There is a barrier between the public and private sectors, and certain parts of the public sector who absolutely believe it's wrong to allow the private sector in. This is fundamentally flawed, but it's gradually getting broken down.
VS: I see the absolute benefit, but we do have to be careful about the terminology, and also about anyone seeing this as a kind of privatisation of some aspects of the NHS, in terms of it being a separate provider on-board.
TM: The buzzword in the NHS at the moment is staffing issues, and the recruitment and retention of staff. One of the key things they've talked to us about is key worker accommodation, which desperately needs a fresh pair of eyes on it to deliver a different product to what was thought ideal 20 or 30 years ago. What you would need to get a patient hotel off the ground is an operator who wants to come to the UK and do something different, and once one or two of those local trusts are persuaded, then the rest will talk to each other. It's a slow process, but they've just announced a new programme of hospitals, so now would be the time.
As the NHS gears up for a series of expansive building projects across its estate, developers and hospital chiefs alike are presented with an opportunity to potentially revolutionise the healthcare landscape. For patients this could mean a new frontier of comfort and hospitality, and improvements to the treatment experience, whilst for operators and developers it offers an entirely new revenue stream. Who knows? The days of the waiting room as a daunting prospect might soon be up.
---
Words: Kristofer Thomas
Photographs: © Fran Hales
This article originally ran in Sleeper 87.