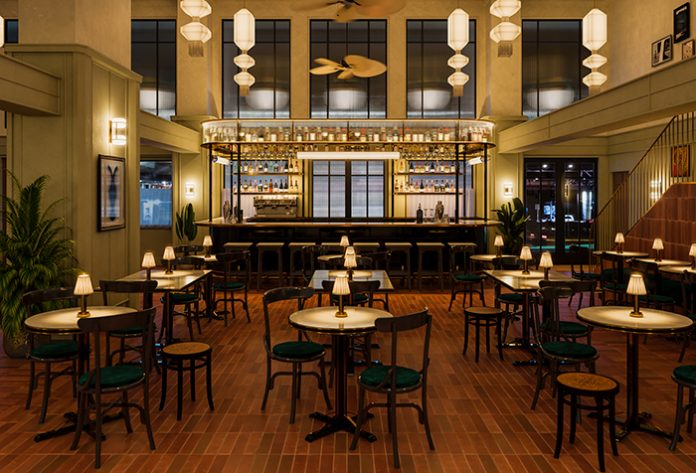 Opening in the heart of old Kuala Lumpur, The Chow Kit – an Ormond Hotel, will comprise 113 rooms and suites in the eponymous Chow Kit neighbourhood. The property will feature architecture and interiors developed by Brooklyn-based design practice, Studio Tack, who were inspired by the late-night revelry of the area's alleys and bars in the 1970s and 1980s.
As Studio Tack's first project in Asia, The Chow Kit honours and reinterprets the past, with local materials showcased throughout. This is also apparent through the hotel's art programme, made up of carefully curated artworks in the public areas and guestrooms, individually selected from private collections and commissioned from local artists in Malaysia and Southeast Asia. 
Guests will experience a fusion of local Malaysian culture and modern design without compromising on service, amenities or location. Guestrooms will offer a reflection of the layered history and culture of Kuala Lumpur, with thoughtful design touches such as plush beds, an open wardrobe and desk space, a smart TV, bespoke toiletries and a self-pick-up room service concept.
The hotel's public spaces will blend the atmosphere of its location with the serenity expected from an upscale, boutique hotel. The lobby will feature rich fabrics and textiles that would have been traded in old Chow Kit. Packed with deep, tufted banquets, lounge chairs and layered rugs, the space will be reminiscent of a casual social parlour.
Meanwhile, The Chow Kit Kitchen will be a place of social and physical nourishment, where people come together to eat. Inspired by the local Malaysian kopitiams, traditional cafés, the restaurant will be a democratic venue; nestled within the ground floor, it will be centrally located so that its energy pulsates throughout the lobby. Open all-day, the kitchen will serve an à la carte breakfast, a lunch menu and family style sharing plates, based on reimagined Malaysian favourites for dinner. The bar will offer signature cocktails from 11am to midnight, and the venue will host regular restaurant pop-ups, featuring guest chefs and mixologists from around the world, throughout the year. 
The ground floor will also be home to The Library, a wallpapered space accommodating small meetings or private dining parties of up to ten people. Designed for complete privacy, it will feature elegant furniture and a large wood and marble table adding character and warmth. 
An intimate mezzanine space – easily converted into additional meeting and event rooms – will also be located above the ground floor with a glazed wall overlooking the lobby, while The Chow Kit's rooftop has a dedicated yoga pavilion that will host a series of weekly yoga and meditation sessions. 
Guests will also be able to access a curated list of things to see, eat and do in the neighbourhood, which can be used to build their own tours, while the hotel will also offer themed walking food and culture tours of Chow Kit.
Gareth Lim, CEO of Ormond Group, says: "The Chow Kit is the perfect introduction to our new brand, Ormond Hotels. The property embodies a romantic vision of simplified luxury for the 21st century traveller. The Chow Kit will showcase great design and service whilst demonstrating a strong connection to an often overlooked part of old Kuala Lumpur, and we're confident it will be an interesting addition to the city's hospitality scene."
The opening of The Chow Kit comes in tandem with the launch of the neighbouring MoMo's, a second new social hotel brand from Ormond Group, created for the lifestyle traveller. Ormond Hotels is also set to open two further sites in Melbourne and Dublin by 2022.