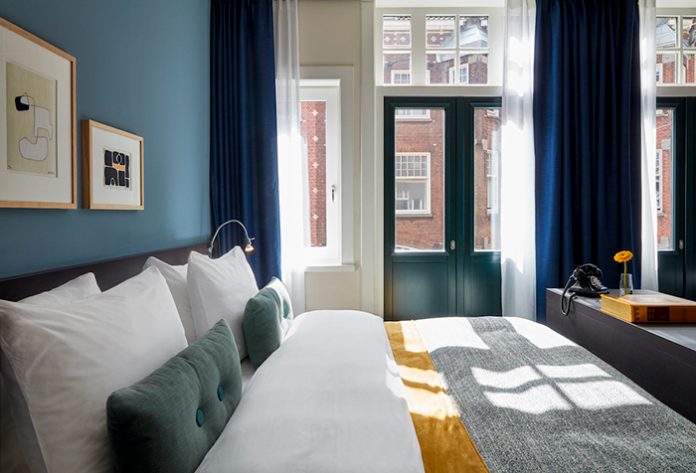 Park Centraal Amsterdam has opened its doors, marking the birth of a new Dutch hospitality brand.
Housed within the former Park Hotel – a historically significant flatiron-style building – the new property has been designed by Amsterdam-based FG Stijl, with the 189-key property blending classic and contemporary touches with Dutch influences.
Rich colours and textures paired with work by local artist Kat Klerks creates cosy and sophisticated spaces, while a three-dimensional ceiling sculpture at the entrance leads guests to a 1970's-inspired reception desk with patterned oak floors and arched mirrors. The hotel's art collection further incorporates 16 porcelain heart-shaped pieces by FOS Studio Collection, alluding to the property's location in the heart of Amsterdam.
Situated in the original hotel's former lobby space, Bar Claes offers guests and visitors a place to eat and drink. The space features a marble centrepiece bar, a tucked-away fireplace, sitting-room-style furniture and a pool table area. The F&B offer further includes classic and contemporary cocktails served alongside a small-plates menu.
"Park Centraal is a true celebration of its surroundings; a place where history, contemporary design and invigorating spaces inspired by the Dutch way of living and nearby landmarks intertwine," says Bram van der Hoek, CEO and Partner of Europe Hotels Private Collection. "The building has functioned as a hotel for over a century and we are incredibly proud to have played a role in its transition into a destination that's current and exciting."