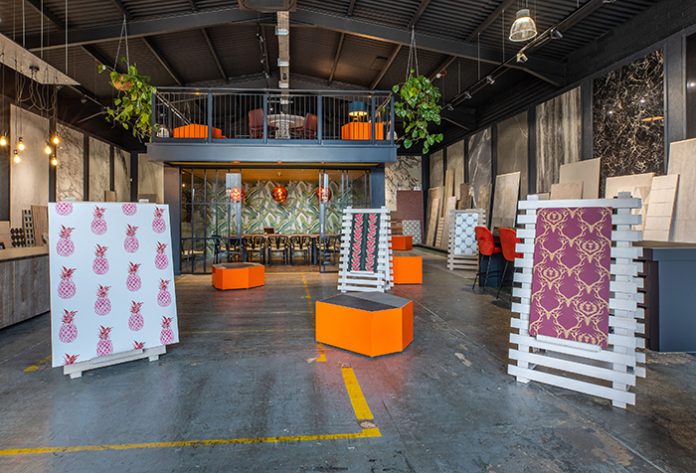 Tiling specialist Parkside has announced the opening of its Cotswolds design studio, marking its fourth UK showroom.
Spanning 300m², the showroom will continue the efforts of other branches located in Clerkenwell, Chelsea and Leicester to showcase new collections and provide support from in-house teams.
Mirroring its Clerkenwell studio, Parkside has framed extra-large format porcelain slabs around the edge of the space like artworks to create a dramatic entrance. Different-sized display boards make it easier to browse, whilst a free-standing island unit in the centre of the space houses a meeting room for up to 14 guests. There is an additional informal meeting space with views out over the Cotswolds hills.
"Many of the intricacies of modern tile surfaces need to be seen up close to be truly appreciated and we have seen a continued demand from our clients to engage with our products first-hand," says Sarah Holey, Marketing Manager at Parkside. "Our Cotswold Design Studio was an obvious progression in providing an invaluable hub for those looking for professional support from our Parkside team."
Christening the new studio, Parkside debuted its new collection in collaboration with design duo Barneby Gates which sees eight of the latter's bold wallpaper designs transferred onto extra-large porcelain tiles measuring 1000 x 500mm or 2500 x 1000mm, creating the effect of wallpaper on a high-performance, commercial-ready tile.
"Our designs celebrate the life-affirming positivity of pattern and colour and we're delighted to have worked with Parkside to bring our style to a broader range of environments," comment Vanessa Barneby and Alice Gates. "The notion of a wallpaper on tile is a great way to bring continuous pattern to areas where it has traditionally been off-limits."